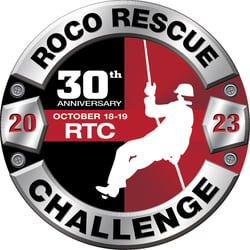 Roco Rescue Challenge 2023 marks three decades of North America's premier Rescue and Training event. Scheduled for October 18-19 at the Roco Training Center in Baton Rouge, Louisiana, Roco Rescue Challenge is much more than a competition. At its core, it is a learning event where comradery, teamwork, and networking rule the day.
"Hosting Rescue Challenge is always the highlight of our event calendar, but as you can imagine, this year is special to us. We have been truly honored to have the rescue community support this fantastic event for 30 years…and counting," says Kay Goodwyn, President of Roco Rescue. Ms. Goodwyn added, "We are also trying to make Rescue Challenge more enticing and affordable to municipal fire departments – we had several fire departments last year, and it was a great addition to the event!"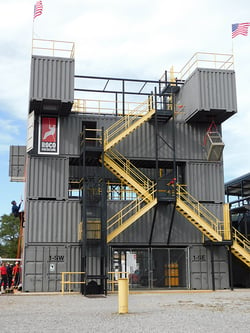 In addition to learning and competition, Rescue Challenge meets the OSHA 1910.146 requirement for annual training and covers all six (6) types of confined spaces identified in the standard. However, Rescue Challenge does far more than meet those training requirements. Teams will be thoroughly challenged by the six scored scenarios — including IDLH confined space rescues on air and multi-casualty scenarios which feature live victims with moulage for that extra touch of realism and pressure.
Roco Rescue Challenge was conceived for all rescue teams, regardless of experience level. Every year first-time rescuers work alongside experienced rescue technicians who have regularly attended Rescue Challenge's 30-year run. While there is a strong competitive element, the event focuses on building and improving skills and fostering a sense of community and camaraderie among rescuers.
Rescue Challenge's biggest success and value as a learning event is the immediate feedback the teams receive. Roco's experienced training cadre provides debriefing following each scenario. Every team receives a detailed report describing their performance at Rescue Challenge and how they can improve. Teams often find that this report provides an excellent roadmap to focus their post-Rescue Challenge training regimen.
On the competitive side, there are three awards for which teams compete. Individual Performance Evaluation is awarded to the team with the highest score on a particular rescue skill or set of skills. What is that skill set? You will find out when you arrive at that station. There is a reason it's called Challenge.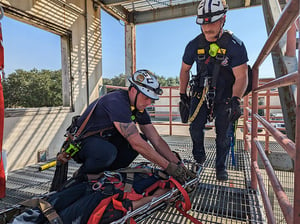 The second award — Team Performance Evaluation — is highly coveted by attending teams. The hardware is presented to the team that travels the farthest with no safety violations on the vaunted Yellow Brick Road scenario.
Finally, the Top Team award recognizes the team with the highest average score across all scenarios.
When the weather in South Louisiana turns to nice cool days, join us at the world-class Roco Training Center in Baton Rouge, Louisiana, on October 18-19, 2023, to help celebrate the 30th Anniversary of Roco Rescue Challenge. Space is limited, so enroll early to assure your team's spot. We welcome all teams, regardless of experience level. Take part in this truly unique event: part learning, competition, and all CHALLENGE.
For more information about Roco Rescue Challenge, click here. To save your spot and register, click here. Fire departments looking to challenge their rescue teams should call the Roco office (800-647-7626) for more details and savings on registration.

Additional Resources