Rescue Challenge Spotlight - Valero Wilmington
"It's an intense two days. It's exhausting and hard, but it's also a lot of fun. I tell all my guys, 'you'll work your butt off at Rescue Challenge, but you'll love every minute it.'"

- Randy Pickering, Asst Fire Chief, Valero Wilmington Refinery
If you've ever flown from LAX Airport, there's a good chance the fuel in your airplane was refined at Valero Wilmington, a leading independent refinery of transportation fuels and petroleum products.


Assistant Chief Randy Pickering oversees training for the refinery's 40+ rescuers, who are divided into four teams by shift. Made up of operators, maintenance techs, welders, electricians and more, these individuals sign up for the additional responsibilities and training because they love the challenge of it, and because they want to be there to help their co-workers in case of an emergency.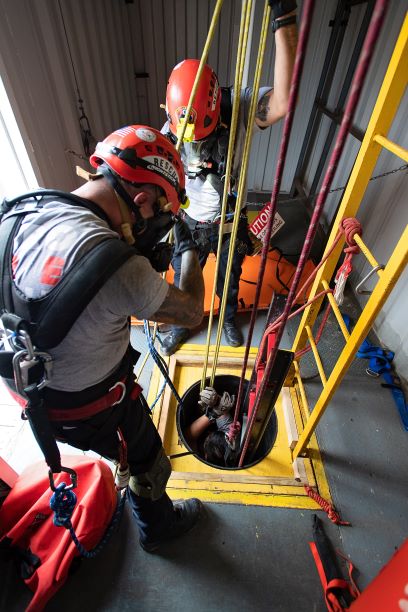 Valero Wilmington has attended Roco Rescue Challenge nearly every year since 1991 and has a stellar track record in the annual event. The safety and effectiveness of the team is a commitment taken very seriously by the group, and Challenge helps them hone their skills to the max, enhancing their culture of safety.
The team of ten rescuers who travel to Baton Rouge each October have earned the privilege to represent Valero Wilmington by winning an in-house rescue competition.


"We use Roco Rescue Challenge as a motivator for all our rescue teams and a reward for those who are selected to go," says Randy.
From unusually challenging high-line scenarios to seemingly impossibly small confined spaces, Randy is proud of the way his team thinks on their feet and works together in unfamiliar rescue scenarios. For Valero Wilmington, each Rescue Challenge has been a rewarding learning experience, as well as an opportunity to bring home a coveted trophy (the team's good-natured, friendly SoCal exterior conceals a competitive streak…).


If you're not ready to sign-up a team, join us as an observer. Watch the teams as they tackle some very challenging scenarios – it's a great learning experience.
To sign up your team or as an observer, call us at 800-647-7626.