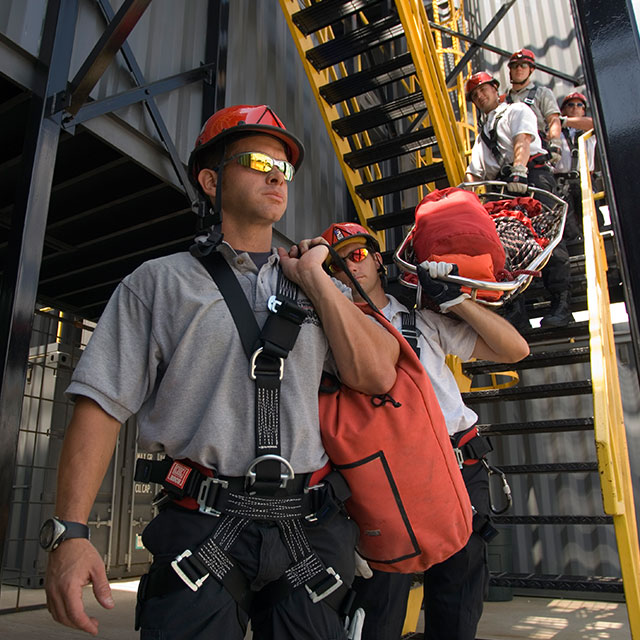 New for 2011! Practical skills training with a focus on compliance, but without the certification testing.

We've had many requests for a course that provides the skills, techniques and problem-solving scenarios for industrial rescue without the NFPA certification testing. Focusing on OSHA compliance, Roco's new Industrial Rescue I/II will prepare rescuers and rescue teams for industrial confined space and elevated rescue as well as "rescue from fall protection." Here's more…

INDUSTRIAL RESCUE I/II (50 Hours)
This course offers a very practical, hands-on approach to industrial rescue that will provide the skills necessary to meet OSHA compliance guidelines for a competent rescue team or rescue team member.
Participants will be taught safe, simple and proven techniques that will allow them to effectively perform confined space and elevated rescues from towers, tanks, vessels and other industrial structures. Rescues from simulated IDLH atmospheres requiring the use of Supplied Air Respirators and SCBA will also be practiced. This course is designed for all rescuers, both industrial and municipal, who may be required to handle confined space rescues in industrial settings. It also includes Rescue from Fall Protection (rescue of suspended workers) as well as OSHA Authorized Entrant, Attendant and Supervisor training.
The problem-solving scenarios can be used to document annual practice requirements in representative spaces as required by OSHA 1910.146 and as referenced in NFPA 1006. For training conducted at Roco's training facility, scenarios will be completed in all six (6) types of confined spaces. At other sites, the number of types completed will depend on the availability of practice spaces.
OSHA 1910.146(k)(2)(iv)
Ensure that affected employees practice making permit space rescues at least once every 12 months, by means of simulated rescue operations in which they remove dummies, manikins, or actual persons from the actual permit spaces or from representative permit spaces. Representative permit spaces shall, with respect to opening size, configuration, and accessibility, simulate the types of permit spaces from which rescue is to be performed.
NFPA 1006 A.3.3.38 Confined Space Type
Figure A.3.3.38* shows predefined types of confined spaces normally found in an industrial setting. Classifying spaces by "types" can be used to prepare a rescue training plan to include representative permit spaces for simulated rescue practice as specified by OSHA. (*Roco Confined Space Types Chart)