USAR Update from VA Task Force 1 in Japan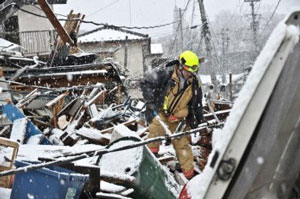 Our thoughts and prayers go to the people of Japan as well as the many incredible personnel involved in the rescue and recovery efforts. Sharon Bulova, Chairman of the Fairfax County Board of Supervisors, provided this update on VA Task Force 1, who was deployed to Japan a few days ago.

March 16, 2011 - Last night, I participated in a conference call arranged by Fairfax County Fire and Rescue Department with Chief Joe Knerr, co-head of our Urban Search and Rescue Team, VATF-1, in Japan. According to Chief Knerr the nature of the devastation in Ofunato has resulted in no live rescues.

None the less, his team has maintained good spirits, and they are holding out hope that they will find victims. They recognize that with each passing hour, the likelihood of doing so dwindles.

Unlike in Haiti or in other rescue operations, the destruction in Japan has left very few "survivable voids," which is a space created within a collapsed building that contains enough oxygen and room for people to survive. A Tsunami "wipes everything out, and then takes it out to sea," Joe said on the call.

VATF-1 is stationed in an elementary school 10 miles from the search area. On Tuesday, with a temperature of 23 degrees and a couple of inches of snow on the ground,VATF-1 searched an area of Ofunato two square kilometers in size, and located eight deceased victims.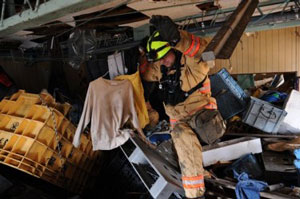 Our team and other international rescue teams are under the command of local first responders, in our case the Osaka Fire Department, so many of whom have lost so much. Despite the overwhelming devastation that surrounds them, these brave souls have chosen to lead teams of visitors into the wreckage that was once their homes, their schools and their neighborhoods, and search for signs of life in a sea of destruction.

Our team will remain on the ground until they are told by the Japanese leadership to stop. They are constantly monitoring the radiation levels and using every means available to stay informed of what's happening. The troubled reactors are to their south, and they are monitoring winds to make sure they avoid any potential problems. They've been experiencing some small aftershocks on a regular basis, but Joe joked that the last one was not severe enough to wake his team at 3:15 a.m. local time.

My thoughts and prayers continue to go out to the victims and their families as well as the rescue workers and their families back home waiting for their return. I also assured the Task Force that the work they are doing makes all of us so proud to call Fairfax County home.

For more information and videos, go to www.fairfaxcounty.gov.