Tigers trump Tide in Bassmaster College Classic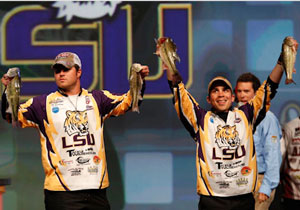 NEW ORLEANS — The Fishing Tigers of Louisiana State University met the Alabama Crimson Tide Sunday morning on Lake Verret, which lies roughly 90 miles west of New Orleans. Roco-sponsored TJ Goodwyn shows off his wares for the LSU Tiger Team. The 2011 Bassmaster Classic will be aired this week-end (Feb 26-27) on ESPN2. The Tide came into the event as reigning champs behind their victory at the inaugural Bassmaster College Classic last year.

However, the Tide proved to be a bit low this year as the Tigers won by more than 8 pounds.