When Learning the Ropes, There's Always More to Learn
By Brad Warr, Roco Rescue Chief Instructor
I took my first rope rescue class in 1995. I spent a lot of my youth in the outdoors and did some knot-tying and rappelling at scout camp. I have fond memories of flying down the (super-sketchy) zip line at summer camp. Climbing over the edge at my first rope rescue class wasn't terrifying, it was exhilarating. It was also confusing - really confusing.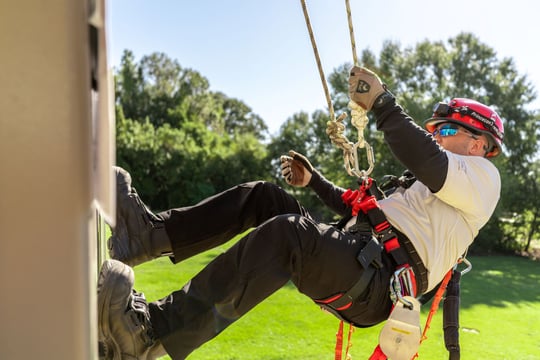 Urban and industrial rope rescue had collided with wilderness rescue techniques. NFPA regulations relating to technical rescue were being adopted by fire departments across the country. Industrial rescue teams were adopting those same standards and the race to heavy rigging was well underway.
Questions Abound
Confusion reigned, in part because it was a time of great change, but also because I was so green. I remember having so many questions. Did my rope need to be brand new for every rescue? Why did a figure 8 have ears? So, I wrap three but only pull two? Why should I avoid descenders with too many moving parts and why do my double pulleys weigh 6 pounds? Mechanical cams will strip my rope but if I wrap a couple of those little cords around my big rescue rope then I am safe? It was a lot to digest.
Now, 25 years later, I have learned so much. Mostly I have learned that there's always more to learn. I have learned that money spent on quality training is money well spent. I have been privileged to train with some of the best instructors in the world. It has taught me that if I am to be successful as a rescuer and as an instructor that I must evolve… much like the equipment has evolved and will continue to evolve over time.
Equipment Advances & New Techniques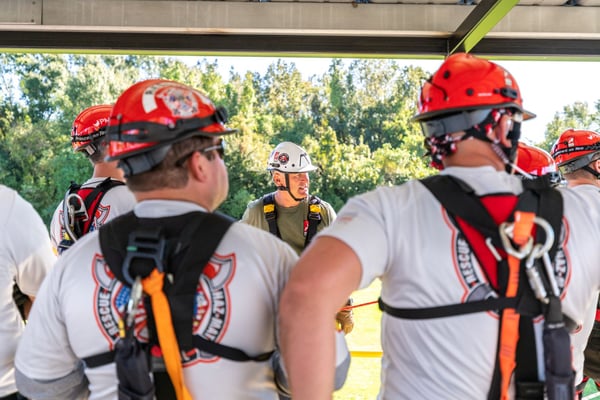 Today our descenders have pulleys, our pulleys have swivels and the equipment we use is incredibly reliable and, well, mechanical. The equipment is sleek. It's smooth. Best of all, it's not complicated.
We'll be doing a demo of some of that equipment and the techniques that drive the hardware (teachings adapted from our rope rescue training courses) at the North Dakota Safety Council's 2020 Safety Conference. We're proud to be partnering with the North Dakota Safety Council to make industrial safety training and services more accessible in a region experiencing rapid industrial growth. Roco Rescue Director of Training Chris Carlsen and I will be offering a different hands-on session on each day of the conference. Sessions and topics include:
Advanced Rope Rescue. Learn the most efficient rescue techniques, using modern rescue equipment and systems. Recent advances make it possible to perform the same task with a higher degree of safety while also being more efficient in terms of manpower, equipment and time.
Mechanical Advantage Systems. We'll teach you the principles of mechanical advantage in an easy-to-understand way. Covered topics include calculating input and output forces, determining appropriate equipment requirements for a given situation, as well as often-overlooked considerations such as frictional loss and sheave diameter. This is a hands-on class, taught on a 2-story training prop.
Vertical Mobility in Place of Traditional Means of Access. Rope access is significantly safer and in most cases more cost effective than traditional means of access (scaffolds, man-lifts, etc), which explains why it is gaining acceptance in a wide variety of industrial settings. We'll teach and demonstrate several different rope access techniques and talk about scenarios in which they might be applied.
Intro to Rescue Advancements. A great opportunity to see the latest advancements in rescue equipment, systems and techniques, attendees will get hands-on experience as we demonstrate the latest techniques and equipment - and show how many tasks can now be done with a higher degree of safety and efficiency. Today's lightweight precision manufactured equipment as well as modern synthetics have increased safety and give rescuers greater flexibility and multi-functionality than ever before.
A Safer Way
Even if you're not attending NDSC's conference this week, these are the types of topics you can expect when you come to Roco Rescue for training. We stay on top of the very latest developments in rescue and distill what's most useful and most effective into our courses, in an easy-to-remember fashion. Our instructors are skilled rescuers and teachers who adapt their methods to a variety of learning styles.
We hope to see you at the NDSC Safety Conference or in one of our rope rescue certification courses. Check out your training options below, or call us to arrange for us to come to your site for training.

Brad Warr is a Chief Instructor for Roco Rescue and a Captain at the Nampa (ID) Fire Department. Brad joined Roco Rescue in 2003 and teaches a wide variety of technical rescue classes including rope rescue, confined space rescue, trench rescue, and structural collapse. He is also a member of Roco's Contracted Safety & Rescue Team, providing standby rescue services for plants, refineries and other industrial facilities. Brad became a firefighter for the Nampa Fire Department in 1998 and was promoted to Captain in 2006. His responsibilities include training for the department's Heavy & Technical Rescue Team. Before joining the fire department, Brad worked for three years as an Emergency Response Technician for a large manufacturer in Boise, Idaho, where he was responsible for OSHA compliance, emergency medical response, confined space/rope rescue response and hazardous materials response.