Chris Carlsen: A Familiar Face Steps into a New Role as Director of Training
After 21+ years as a municipal firefighter with Albuquerque Fire Rescue, Chris Carlsen is stepping into a new role as Roco Rescue's Director of Training. He brings to the role a background that includes extensive experience as an instructor, as a developer of curricula, and as a technical rescue program manager.
Chris is a self-proclaimed technical rescue "geek," and his resume backs this up - he's trained in everything from fall protection to large animal rescue operations. Although this is a new title for Chris, he's been part of the Roco Rescue family for many years and is no stranger to Roco's students and customers. In many ways, it's a role he's been preparing for all his life.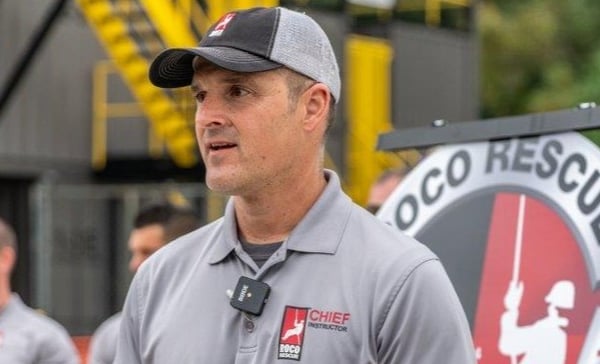 As the son of a firefighter, Chris got a lot of exposure at an early age to the world of fire and rescue. He gained a sense for how the work of first responders was highly valued and appreciated in his community. This sparked a desire in young Chris to pursue a similar life of service.
At age 23, he graduated from fire training school and joined what was then known as the Albuquerque Fire Department. Today the department is called Albuquerque Fire Rescue, and the name change reflects the changing demands of the job.
"An increasing portion of our calls involve some type of technical rescue," Chris explains. "There's a growing need for skills in trench, confined space, rope rescue, tower rescue, building collapse, vehicle extrication, machinery extrication, swiftwater rescue, and so on."
Learning and Skill Development as a Never-Ending Journey
Chris got his first real taste of technical rescue about 2 years into his career when his department sent him to a Roco Rescue course. He quickly followed that up with a second Roco Rescue course on confined space and rope rescue. At that point, he knew he was passionate about technical rescue and had a desire to develop his skills further. However, his department needed him to step into a role as an instructor of fire suppression, which put his technical rescue development on temporary hold.
"That role made it clear to me that I loved teaching. I think people who love teaching also love learning, because if you don't know your topic inside out, you'll realize it very quickly when teaching it, so you have to enjoy the process of very thoroughly learning about whatever topics you're teaching."
After about four years devoting his energy to teaching fire suppression, Chris was able to get back to technical rescue, again with a Roco Rescue course. He quickly became aware of how rusty his knowledge had become.
"It was a clear demonstration of how perishable technical rescue skills are," he says.
Chris decided that the best way to maintain his technical rescue skills was to put them to good use, so he applied for part-time, off-duty work with Roco Rescue as a member of their standby rescue team. Chris' work ethic, demeanor and communication skills made him an obvious choice as a candidate for Roco's instructor development program, and Chris began working as a Roco Rescue instructor – again, during off-shifts from the fire department – back in 2006.
The skills he acquired with Roco Rescue – both as a rescuer and as an instructor - were immediately transferable to his role with Albuquerque Fire Rescue. Chris has been the Technical Rescue Program Manager for the past 8 years, a role in which he ensures the department has all the skills and equipment necessary to perform the many technical rescue sub-specialties required of a large municipal fire-rescue department.
"Rescue work is really a team sport. There are so many different skills required, and sub-specialties, so nobody can be an expert in everything. You need to diversify the training across your team."
Keep It Safe and Simple!
Not one to get overwhelmed by all that there is to learn and train for, Chris' interests span all areas of technical rescue as well as rescue team management and skill development.
"I just really enjoy teaching as well as learning new things – and there are always new techniques and new equipment to learn about in rescue. A big part of my job at Roco Rescue is to cut through the clutter and focus our courses on core principles, and identify the methods that are simple, effective and broadly applicable. We use the K.I.S.S. rule: Keep It Safe and Simple! We're always evaluating new techniques, new equipment and making sure we're compliant with the latest standards. We love to innovate and try out new methods, because we're always trying to find a safer way. But part of that evaluation is the K.I.S.S. rule, so even if it's a cool idea, if it's more complicated than it needs to be, if it's not repeatable or practical, we won't include it in our curriculum because it wouldn't serve our customers well."
Chris' most recent role managing the technical rescue program at Albuquerque Fire Rescue gives him the perspective of many of the customers he now serves as Roco Rescue's Director of Training. He knows what it's like to be responsible for maintaining and developing the skills of a team of technical rescuers. He understands the importance of ensuring a team's equipment needs are met, and that the team is healthy from a numbers and recruitment standpoint. He knows what it's like to stand in his customers' shoes because he has been there.
5 Tips for Managing Technical Rescue Teams
When asked for his thoughts on how to best manage the training needs of a technical rescue team, Chris emphasized these points:
Do a thorough evaluation of your team. This will guide your approach to training. Identify your high-potential team members – those who are hungriest to learn, as opposed to those who are content to get to a basic level and maintain. Feed the hungry ones with additional training opportunities. If your team has skill deficiencies in particular areas, they are your best people to invest in.
Work on building a culture of growth, where every team member seeks out opportunities to develop, and where team members are supportive of each other. It's better to have a team of squeaky wheels who are constantly asking for additional training than a team that's passive, even if they're easier to manage.
Training frequency will vary greatly, depending on the make-up of the team. Teams with high turnover or lots of new members probably need to do team exercises once a month. Most teams probably need to train once a quarter.
Team training is distinct from individual practice. Individuals should be putting their hands on the equipment as often as possible. This means going to the gear locker and checking out some rope, cams and pulleys to build a mechanical advantage system in your spare time so that you know it cold. Team training sessions shouldn't get bogged down by individuals who consistently struggle to execute their role.
Variety in training is very important. No two rescue scenarios are the same, so training the same way all the time gives teams a false sense of security. That said, the scenarios don't have to be radically different all the time – seemingly small changes to the scenario can add a lot of variety. Try adding one additional corner to navigate during your confined space rescue exercise. Or try the same rescue but with the lights off to simulate a power outage. Or work a scenario on air, and designate your strongest team member as the victim, and see how the team picks up the slack.
Paying it Forward
Chris also makes frequent mention of the high caliber people he's worked with during his career as a firefighter and rescuer. "I'm very blessed to have always worked with great teammates and for great managers. Many people have steered me in the right direction, and helped me learn, grow and advance in my career. That statement applies to both my Albuquerque Fire Rescue family and my Roco Rescue family. I think it's one of the benefits of this line of work – just lots of really great people. It definitely creates a desire in me to pay it forward."