Two New York contractors indicted for manslaughter after worker is killed in trench collapse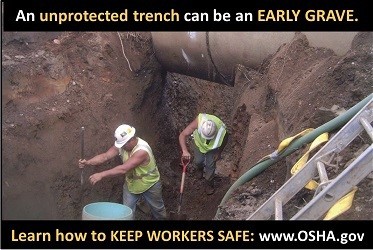 OSHA reports that two workers are killed every month in trench collapses. Just recently, OSHA cited two contractors following a trench collapse that buried 22-year-old laborer Carlos Moncayo beneath tons of soil and debris at a Manhattan construction site. OSHA found that Moncayo's death could have been prevented if the general contractor and subcontractor had provided cave-in protection for the trench or braced an adjacent section of undermined and unsupported sidewalk. In connection with Moncayo's death, officials from both companies were indicted for manslaughter and other charges in the New York State Supreme Court on Aug. 5.
"Managers from these companies were aware of these deadly hazards and did not remove employees from the trench, even after warnings from project safety officials."
OSHA issued each employer two citations for willful violations of workplace safety standards on Oct. 5. Proposed fines total $280,000 – $140,000 for each company – the maximum allowable fines under the Occupational Safety and Health Act. A willful violation is committed with intentional, knowing or voluntary disregard for the law's requirements, or with plain indifference to worker safety and health.
"Carlos Moncayo was a person, not a statistic. His death was completely avoidable. Had the trench been guarded properly against collapse, he would not have died in the cave-in. This unconscionable behavior needlessly and shamefully cost a man his life."
Quotes by Kay Gee, OSHA Area Director-Manhattan
Updated OSHA guide on Trenching and Excavation Safety
Trench and excavation work are among the most hazardous operations in construction. Because one cubic yard of soil can weigh as much as a car, an unprotected trench can be an early grave. OSHA's updated guide to Trenching and Excavation Safety highlights key elements of the applicable workplace standards and describes safe practices that employers can follow to protect workers from cave-ins and other hazards. A new section in the updated guide addresses safety factors that an employer should consider when bidding on a job. Expanded sections describe maintaining materials and equipment used for worker protection systems as well as additional hazards associated with excavations.
Remember, an unprotected trench can become an early grave. Learn how to keep workers safe. Download these OSHA Guides for details.
OSHA Guide to Trenching and Excavation Safety
Trenching and Excavation Safety Fact Sheet