Penstocks & Confined Space Rescue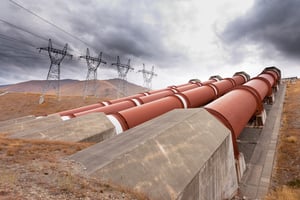 The term "penstock" is one you will hear if you work in the Energy Sector or occasionally in Emergency Response. Those working in the Energy Sector generally have a strong grasp of the term and what it entails. If you work in Emergency Response, can you say the same?
So, what exactly is a penstock? The most common usage of the word is a control structure used in various engineering applications, most commonly in hydropower plants and water distribution systems. It is essentially a large pipe or conduit that controls the flow of water, usually from a higher elevation to a lower elevation. Penstocks are designed to regulate the movement of water, whether for power generation, irrigation, water supply, sewer systems or flood control.
At Roco Rescue, we recently worked with a client who was diligently looking for a solution to protect their employees who would be working in a penstock. This penstock was enormous – 10' in diameter and 9 miles in length. It presented a multitude of logistical challenges for rescuers, including remote location, internal transportation, communications, ventilation and Lock Out/Tag Out.
As our most experienced rescue technicians worked with our management team on the best approach to providing Confined Space Rescue Standby Services for the job, one of our people remembered a confined space incident in a penstock that occurred 15 years ago. A little research refreshed our memory of the incident that ultimately took the lives of five workers.
The Chemical Safety Board (CSB) investigated the incident and produced an informative video that clearly lays out what went wrong, resulting in the deaths of five individuals.
Click HERE to see video.
(Video provided by the U.S. Chemical Safety Board)
Additional Resources