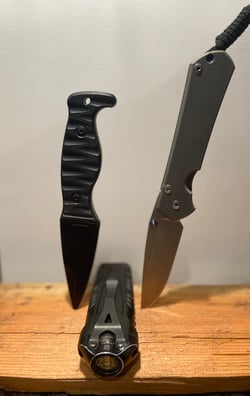 I love flashlights and pocketknives. Always have. One of the high points of my youth was when my dad finally trusted me enough to carry a pocketknife. From that moment on, the left pocket of my 501's had a two AA cell Mini Mag in it while the right pocket had an Old Timer three blade. My dad died when I was seventeen, and one of the treasures I have of his is his Old Timer three blade. His influence in pocket tools has carried on over the ensuing decades.
As I sit and write this, the left front pocket of my Truewerk T1 pants holds the spectacular Surefire Stiletto Pro. The right pocket is blessed to hold my retirement gift from my Technical Rescue Team at Nampa (ID) Fire Department. They pitched in and gifted me the incredible Chris Reeve's Sebenza. The Stiletto and the Sebenza make a wonderful pair.
The Surefire Stiletto Pro has made more than one TSA Agent grin from ear to ear. With 1000 Lumens of rechargeable power, it goes everywhere with me. Its long sleek look regularly gets it pulled from the Xray belt, usually resulting in the grin.
It gets used multiple times every day and as the days get shorter and colder, its workload increases. The value of a good light cannot be understated.
At the Roco Training Center in Baton Rouge, LA, we host students from all over the world. From novice rescuers to some of the world's best, they trust their lives to the best rescue equipment in the business – Petzl, CMC, SMC, PMI, Harkin, Paratech, Sterling and many more. When we need to risk our own well-being for the benefit of others, the one request we all have is "give us the best equipment and we will do the rest."
While students are provided with a shiny cache of the best rescue gear available, personal gear is their responsibility. We see a variety of helmets, gloves and boots. Most are good…. some a little questionable. Where we continue to see big deficiencies is in lighting, both pocket and helmet-mounted.
Like so much in the rescue industry right now, lighting kit is better than ever. My original Mini Mag light was a whopping 5-8 lumens. My current helmet light, new Petzl Aria 2R is 600 lumens of white light, uses either the Petzl Core rechargeable pack or three AAA batteries, and offers night modes in red, green or blue light. I make sure it is on my helmet when I head to the airport, because its light weight and ease of use has it pulling double duty on those early morning and evening hikes in the hills with the dog. Good lights will always have a place in my personal rescue kit.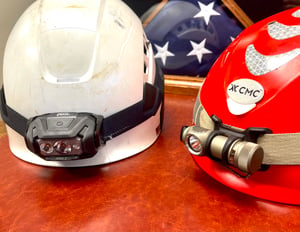 For many rescuers, a single helmet light will suffice. As a young firefighter, I learned quickly that lesser quality gear cannot be counted on in our business. Because of that I personally adopted that old military adage of "One is None and Two is One." One on the helmet and one in the pocket has been my personal rescue lighting system for almost 30 years.
There are many quality helmet lights on the market, from some of the $30 lights you can pick up at your local hardware store to $500 light reactive headlamps that lower the light output when it turns to face you. The Petzl lights have served me well over the years. From the current Aria R2 to the Swift RL Pro I wore for years at work, to the workhorse Tikka series, they have a great line up. I have also had great luck with some of the sport climbing lamps. I run into more than one Black Diamond lights in drawers around the house. The Fenix line of lights has performed well for me, as have Nightcore lights, although I have more experience with both of their handhelds. The Surefire Stiletto I now carry replaced the Fenix PD series in my left pocket.
My long-time teaching light was the venerable Zebralight H31. I ended up with the Zebralight after a student took a liking to the Spyderco Endura pocketknife I was carrying at the time. A trade offer was made, and the H31 ended up riding on my helmet for many years. Powered by a single CR123 battery and putting out a very usable 200 lumens on high, it quickly became my go to Confined Space light. The 90-degree standup light could easily be pulled from its helmet strap and stood up to illuminate a wide area for patient packaging or rigging. It was an option I came to greatly appreciate. I really like the CR123 battery system. They last forever in storage, and I trust them more than most rechargeable systems.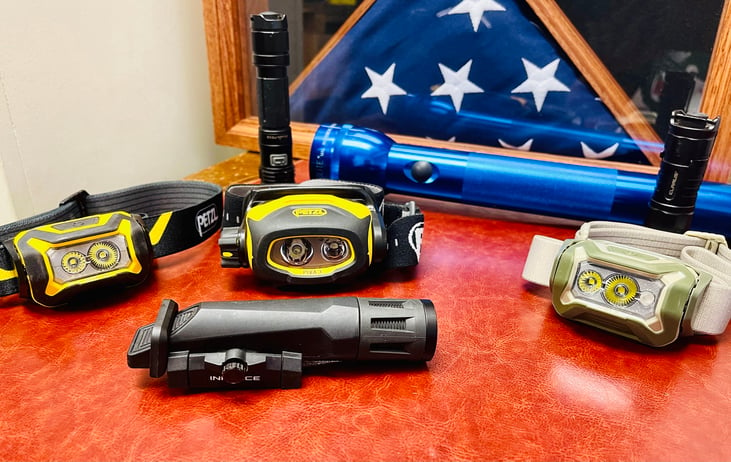 So, what should we look for in a quality rescue lighting system?
Brightness and Adjustability –

Evaluating your needs will help determine what best suits you. Do you work on a back country team that hikes to the scene, or do you work mostly inside tanks or vaults? One situation may require big light (1000 lumens +) while for the other, 200 lumens might be suitable. Having adjustability allows the user to better choose a light that will work for both situations.




Beam Type –

Do I need a spot type beam, a flood beam, or an adjustable beam? For me, the spot beam fills my needs better than the flood. I use helmet mounted lights outside a lot, and the flood beams do not provide the distance I want. Your needs may be different.




Battery Type and Life –

Rechargeable or disposable? Ten years ago, this was an easy choice. Rechargeable lights were a short-term solution at best. It was a regular occurrence to find dead rechargeable batteries when you most needed them. That has changed. My Surefire Stiletto Pro's rechargeable battery is long lasting. I plug it in before bed on occasion and am confident that it will perform at my use level (moderate to heavy) for three weeks to a month. It is incredible. That said, I treat my pocket lights different from my helmet lights. For a light that is not in my hand every day (i.e., my helmet light), I prefer a system that uses either disposable batteries that are readily available or rechargeable systems that can be backed up by disposables.




Durability and Compliance – Most name manufacturers have strong records for durability. A quick Google search will get you pages of reviews. I often use forums such as com to research lights. An IPX rating may be desirable if working in wet or dusty conditions. If you are required to have an intrinsically safe light due to work hazards, you will need to choose one of the many lights that meets those standards.


Weight, Comfort and Mounting Options –

Cavers often use large, expensive lights that will run for days. They run with them for a reason. Does a member of an Urban Technical Rescue Team need a light that big? You get to decide. For me, I have decided that I want the smallest light that will provide adjustable brightness of at least 500 lumens with a medium or low setting that will last at least two hours. Are there mounting options available for my helmet? Is the light strap strong enough and secure enough or does my helmet manufacturer make a light mount? The military is dialed in on light mounting and some of the most reliable lights available are weapon-mounted lights such as Surefire, Streamlight and InForce that can easily be mounted on a rescue helmet mounted Picatinny Rail section.




Modes and Features –

Red lights are fantastic for close up work. Confined spaces can be challenging for bright lights and a red-light option can help to solve that problem. Ease of use is also a concern. Can I easily, using a gloved hand, turn on my light, move through the different modes and shut it off without distracting myself from the rescue task at hand? If you can't, perhaps it isn't the right light for you.




Cost –

Buy the best you can afford. I say that for the purpose of reliability and durability, not lumens. There are many great suitable lumen lights out there for less than $50. Find one that works for your budget.
---
A quality lighting system is as important to your personal rescue kit as the harness you wear and the descent control device you choose. Take the time to choose the lighting system that suits your needs for the type of rescue that you do.
---

Brad Warr is a Senior Chief Instructor for Roco Rescue. He joined Roco Rescue in 2003 and currently teaches a wide variety of technical rescue classes including rope rescue, confined space rescue, trench rescue, and structural collapse. He is also a member of Roco's Contracted Safety & Rescue Teams (CSRT), providing standby rescue services for plants, refineries and other industrial facilities. Brad became a firefighter for the Nampa (ID) Fire Department in 1998 and was promoted to Captain in 2006. He retired earlier this year. His responsibilities included training the department's Heavy & Technical Rescue Team. Before joining the fire department, Brad worked as an Emergency Response Technician for a large manufacturer in Boise, where he was responsible for OSHA compliance, emergency medical response, confined space/rope rescue response and hazardous materials response.
Product Links:
Knife Photo:
Chris Reeves Sebanza (silver knife)- Sebenza 31 Plain Drop Point – Chris Reeve Knives
Amtac Blades Northman X (black knife) - The NorthmanX • Amtac Blades
Surefire Stilleto Pro - Stiletto Pro - SureFire
---
Helmet Photo:
White Helmet - VERTEX® VENT - Helmets | Petzl USA
White Helmet light - ARIA® 2 RGB - Versatile-headlamps | Petzl USA
Red Helmet - KASK SuperPlasma HD Helmet ANSI Head Protection | CMC PRO
Red Helmet light - H600c Mk IV 18650 XHP50.2 4000K High CRI Headlamp-H600c Mk I (zebralight.com)
---
Lights Photo:
Back row left – Fenix PD35 - Fenix PD35 V3.0 Flashlight - 1700 Lumens - Fenix Lighting
Back row middle – Maglight 3D - Maglite 3-Cell D LED Flashlight
Back row left – Klarus XT - XT Series - KLARUS Lighting Technology Co.,Ltd
Middle Row left – Petzl Aria2R - ARIA® 2R - Headlamps | Petzl USA
Middle Row center – Petzl Pixa 3 - PIXA® 3 (HAZLOC) - ATEX---HAZLOC-headlamps | Petzl USA
Middle Row right - Petzl Aria 2 - ARIA® 2 RGB - Versatile-headlamps | Petzl USA
Front row – Inforce WMLx -

WMLx White / IR - Gen 3 - Black or Flat Dark Earth (inforcelights.com)
Additional Resources: