Use This Time to Inspect and Upgrade Your Rescue Gear
For those of you who have had to drastically change your travel plans – which pretty much includes 90% of us – and if those travel plans were to attend rescue training, we hope that you have had a chance to read our recent blog article Roco Tips for Maintaining Rescue Skills in the Midst of Coronavirus.
If you have had to cancel or postpone your planned training, chances are there are funds that were earmarked for your rescue team that may be diverted to another department or otherwise be lost if you don't use them before the end of your fiscal year. Maybe those same funds can be used to support your rescue team in other ways.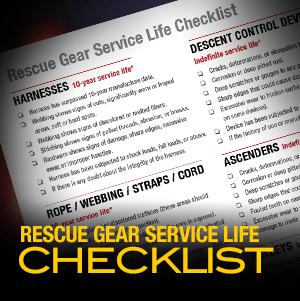 If you use your rescue equipment regularly for training, to rig for potential rescues, or during live rescues, chances are, that equipment has seen some significant wear. Nylon gear is especially prone to degradation and is a likely candidate for replacement. In addition to the ASTM F1740-96 ten-year service life of nylon rescue gear, keep in mind that several manufacturers still place a shorter service life on nylon gear than the ASTM standard.
In addition to the service life of your gear, now is a great time to do a thorough inspection of ALL your equipment. Become familiar with the inspection criteria that the equipment manufacturer may have provided. Some hardware items include built in wear indicators. Learn which items have them, and inspect those items to see if they are still serviceable. For all your gear, check for proper function, obvious damage, indication of shock loading or loading beyond the rated working load, and history of the equipment, if known.
In addition to taking advantage of any available funds to replenish unserviceable gear, now may be the perfect time to purchase some of the gear that you have wanted to introduce into your rescue equipment cache. There are some incredible new pieces of kit that make your job as a rescuer easier and safer. Visit our blog to read about some of these items. If you are still using your trusty brake rack for friction control, give one of the newer devices a try, like the updated Petzl I'D or the new Maestro. The Omni Block pulleys are another great option to try out. There are just too many to list, so take the time to find out what is out there, what may be a great fit for your team and rescue needs, and look into spending some of that money while it's still available.
We'll be posting informative videos in the coming days that showcase some of the latest equipment advances, so keep an eye on our blog and follow us on Facebook and Instagram to stay up-to-date. As always, if you have questions or want to discuss if a particular piece of gear is right for you or our team, feel free to call us at 1-800-647-7626.