Cleaning Your Rope…Here's What the Experts Have to Say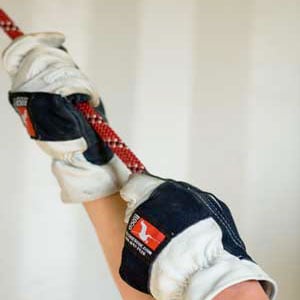 We are often asked, "How should I maintain my rescue equipment – especially rope?"
So, we went to our friends at CMC and PMI for the answers. Keep in mind, however, you should always follow your rope manufacturer's care and cleaning instructions.
CMC offers their rope cleaning suggestions: Rinse off muddy or especially dirty rope or webbing with water. Scrub any tough spots with a nylon bristle brush. Soak the rope in a tub of water with a mild detergent.
Woolite or other mild detergents that are safe for nylon may also be used. The rope can be rinsed using a rope washer or placed directly into the washing machine. Washing rope and webbing in a top-loading washing machine is the easiest method. Run the empty machine through a cycle with plain water to rinse any harsh detergents from the machine before starting. Use cold water and the appropriate amount of detergent.
Double the rope (or webbing) and "daisy-chain" it. This keeps single lines from tangling or getting caught in the agitator. Put the rope in the machine and wash on the gentle cycle. If the rope bag needs washing, put it in with the rope. During the rinse cycle, add a small amount of Downy fabric softener. (No more than one ounce of Downy to 3 gallons of water.) The fabric softener replaces the lubricant the rope loses during use and washing. Air dry the rope and webbing in a cool, shaded place. Do NOT dry nylon products in the sun because of the damaging effects on nylon from prolonged exposure to ultraviolet rays. If necessary, ropes can be stuffed into the bags wet. The ropes may mildew but this does not adversely affect the rope. Rope that has come into contact with blood or other body fluids can be cleaned using a chlorine bleach per your department's protocols for contaminated equipment.
PMI offers special precautions about cleaning exposed rope:
In cases where equipment may be exposed to blood‐borne pathogens or other infectious substances, we're often asked about appropriate methods for cleaning ropes. Certain authorities recommend specific concentrations of household bleach for disinfecting gear that has been exposed to certain contaminants, so naturally customers often wonder at what concentration their PMI rope will experience deterioration. While PMI cannot speak to the subject of infectious diseases, or what solution might neutralize a given hazardous substance, we are happy to provide at least some guidance regarding the effect of bleach on rope fibers.
Specifically, PMI has found that a mixture of 1 part household bleach (with active ingredient of Sodium hypochlorite at 5.25% concentration) with 9 parts room temperature tap water and a 10 minute or less exposure time, immediately followed by a thorough rinse of room temperature water appears not to cause any appreciable harm to nylon or polyester ropes. PMI cannot, however, speak to whether or not such a mixture will truly disinfect your rope from contaminants.
Precautionary Note: PMI's testing suggests that a "single disinfection" of ropes using the above recommended method will not cause appreciable harm to nylon or polyester ropes. However, if this process is repeated multiple times, the damage will inevitably become appreciable, and this damage is not necessarily detectable through visual inspection.
Remember, ropes are a critical element of the life safety system, and it can be difficult to make subjective decisions about the strength of rope without actually testing it to failure. The prudent course of action is to discard any rope about which there is any doubt.
Additional Resources

Service Life of Rescue Equipment
How often should I replace my rescue harness?