Fatality Reports (Sept. 2023)
Confined spaces and excavations continue to present fatal hazards to workers, and OSHA continues to take notice. While OSHA lists fewer confined space accidents in 2021 than in 2020, 100% of them involved fatalities.
Trench collapses are among the most serious dangers in the construction industry. Excavations can collapse in seconds and can potentially bury workers under cubic yards of soil, each weighing as much as 3,000 lbs. In 2022, OSHA reported that at least 39 industry workers died. From 2011 to 2018, the Bureau of Labor Statistics reports 166 workers died in trench collapses.
The following summaries are from OSHA News Releases (osha.gov). These tragedies serve as reminders to employers and rescuers of the inherent dangers involved in confined space entry and trench work.
Company's Safety Failures Led 19-Year-Old Worker to Suffer Fatal Injuries Inside Concrete Mixer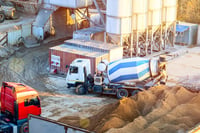 CANTONMENT, FL — A Georgia-based concrete pipe manufacturer could have prevented a 19-year-old worker from suffering fatal injuries after a concrete mixer restarted while the teen tried to clean the machine's inside in Cantonment in March 2023.
OSHA found that two workers had climbed inside the mixer initially to use a hammer and chisel to chip away hardened concrete. As one of the workers left the mixer, the machine restarted with the other inside.
OSHA inspectors cited the company for willfully exposing workers to crushed-by hazards by allowing them to enter the mixer without making sure to first follow energy-control procedures. The agency also found the company exposed workers to confined spaces hazards by not making sure a safe atmosphere existed inside the mixer before the workers entered and by failing to have an attendant ready to retrieve workers safely.
"Failure to implement well-known safeguards cost the life of a worker just beginning their adulthood," said OSHA Area Office Director Jose A. Gonzalez in Mobile, Alabama. "This preventable tragedy should serve as a reminder of the importance of complying with safety and health standards, as required by law."
Project Manager's Death in Trench Collapse
OKLAHOMA CITY – A U.S. Department of Labor workplace safety investigation found that a contractor could have prevented a trench collapse that fatally injured a project manager at a work site in May 2023.
Investigators learned that the project manager and other workers were putting gravel rock around a newly replaced 24-inch sewer line in a 10-foot-deep excavation when the trench collapsed. OSHA determined that — by not following federal safety standards for trenching and excavation work — the company exposed its employees to trench hazards.
OSHA cited the company for one willful violation for not using protective systems in a trench deeper than five feet. The agency also identified serious violations for:
Failing to secure obstacles on the surface area near the trench.

Not providing safe entry into or exit from the trench.

Allowing standing water in the trench.

Failing to perform daily inspections.
"A worker has lost their life because the company disregarded its responsibility to ensure the safety of its employees," said OSHA Area Director Steven Kirby in Oklahoma City. "Employers are required by law to follow safety and health procedures that are put in place to prevent tragedies like this from occurring."
Grain Silo Operator Failed to Provide Required Safety Procedures in Deadly Engulfment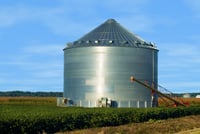 COLQUITT, GA — A federal investigation into how a 59-year-old worker at a grain silo became engulfed and suffocated in April 2023 found the operator could have prevented the fatality by following required grain-handling safety regulations.
An employee entered a half-full bin to unclog clumps of grain as the bin's auger turned below. As they stood atop the grain, the pile shifted and quickly engulfed them. One other worker onsite rushed over and saw a rope that was tied to the worker disappearing into the grain but could not rescue their co-worker.
OSHA cited the company for nine serious violations for exposing employees to engulfment hazards and failing to do the following:
Train workers on how to safely enter a grain bin.

Issue a permit and adequately evaluate hazards before employees enter a bin.

Require augers and other equipment components to be de-energized and effectively locked out.

Keep employees from performing tasks that require them to walk on moving grain inside a bin.

Make sure body harnesses and lifelines were adequate to avoid engulfment hazards.

Employ adequate communication methods, including communication with an observer to support workers inside a bin.

Provide rescue equipment for employees entering a bin.
"Our investigation found that following required federal safety standards might have saved this worker's life," said OSHA Acting Area Director Heather Sanders in Savannah, Georgia.
OSHA investigators also found the company exposed employees to caught-in hazards related to the powered auger system by not following required lockout and tagout procedures to shut down the system and prevent the auger from moving. Additionally, they failed to test oxygen levels inside the bin to protect workers before they entered.
Contractor Endangered Employees in Trench, Despite Knowing the Risks…
GUAM — Two weeks after federal workplace safety inspectors warned a construction company of hazardous conditions facing employees working in an excavation, they returned to find the company again exposing workers to potentially deadly trench hazards as they installed a sewer line.
Following a May 2023 OSHA inspection, two serious violations were issued related to the company's failures to provide adequate means to enter and exit the trench within 25 feet of the workers and test oxygen levels in the trench before employees entered.
"Working in a trench is demanding and dangerous work that requires specific precautions and protections to keep workers safe," explained OSHA Area Office Director Roger Forstner in Honolulu. "By running soil compactors and excavators within 20 feet of workers in the trench and failing to provide accessible ladders, the company chose to put production before safety, endangering the lives of its employees."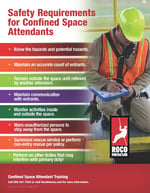 Additional Resources