OSHA Campaign for Safe Trench Operations
According to a report from the Department of Labor, 39 people died doing trench or excavation work in the U.S. in 2022. In fact, the number of worker fatalities more than doubled since 2021, continuing a troubling trend cited by the Bureau of Labor Statistics that found 166 workers died in trench cave-ins from 2011-2018, an average of 21 each year.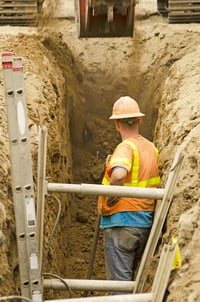 "A trench collapse can bury workers under thousands of pounds of soil and rocks in seconds, making escape and survival often impossible," explained OSHA Regional Administrator Bill Donovan in Chicago. "With proper training and use of required safety procedures, incidents like these can be prevented. OSHA and industry employers are working hard to raise awareness of hazards and protective measures and educate employers on how they must protect workers."
The new campaign is a collaboration between OSHA and on-site consultation projects across OSHA Region 5 in the Midwest. "By launching this trench and excavation safety campaign as the spring construction season gets into full swing, OSHA and its partners are determined to make sure industry workers finish their daily shifts safely," Donovan added.
Industry employers and workers should remember the following essential trench safety standards:
Protective systems must be in place for trenches 5-feet deep or deeper. These systems include benching, sloping, shoring and shielding.

A registered professional engineer must approve trenches of 20-feet deep or deeper.

A competent person must inspect trenches daily – and as conditions change – before anyone enters a trench. The competent person must be able to identify existing and predictable hazards, soil types and protective systems, and have authority to take prompt corrective action to eliminate those hazards.

Excavated soils must be kept at least two feet from trench edges.

Underground utilities must be located and marked before digging begins.

Ladders must be positioned every 25 feet of lateral travel for safe entrance and exit from the trench.
---
A trench collapse can bury workers under thousands of pounds of soil and rocks in seconds, making escape and survival often impossible.
---
OSHA has a national emphasis program on preventing trenching and excavation collapses, and developed a series of compliance assistance resources in English and Spanish to help keep workers safe from these hazards.
OSHA's trenching and excavation webpage provides additional information on trenching hazards and solutions. including a safety video and safety alert.
Source: OSHA QuickTakes April 17, 2023
Additional Resources
If you're concerned that your rescue service may not be adequately prepared, give us a call or check out these resources for more information on how to keep you and your personnel safe around trenches.