Do Industrial Rescuers Need EMR Training?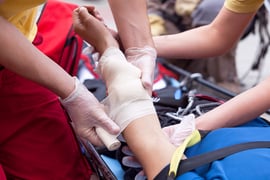 ANSWER: As a Paramedic, I strongly feel that having your rescue personnel trained to the EMR (Emergency Medical Responder) level is extremely beneficial for any industrial site. While EMR training is not required, it can truly make the difference in a life-or-death situation. From my personal experience, we found time and time again how this extra medical care made all the difference when responding to an incident.
Not only is the skill-level of first responders critical in an industrial emergency – many times the industrial site is fairly isolated. This can increase response times when rapid, critical care is so vital. Plant access and finding the exact location may also present potential delays to medical care. With EMRs initially on scene with your rescue team, you can know that your personnel are receiving a higher level of care when it matters most.
To clarify, an Emergency Medical Responder (EMR) is a well-versed medical responder who can attend to basic needs in a critical need situation. EMR's are nationally certified or state-licensed medical responders generally tasked with providing immediate emergency care to the sick and injured before an ambulance or higher level of care arrives.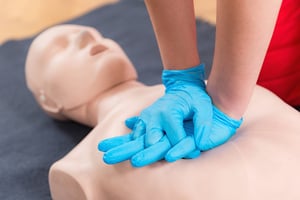 While basic first aid and CPR may be the minimum required for rescue personnel OSHA 1910.146(k)(2)(iii), an EMR is trained to provide more enhanced care – particularly, inside a confined space or for a worker who is stranded at height. Plus, they can be there almost immediately with your rescue team to provide aid. The EMR can help with airway protection, bleeding control, mechanical ventilation, symptom recognition and support of vital functions until more advanced care is reached.
So, minimally, someone on your team needs to be certified in first aid and CPR training. And, while the techniques taught in most nationally recognized First Aid and CPR courses are great for lay folk responding in environments tamer than the industrial setting – the skills, clinical knowledge, and logistic awareness taught in the typical EMR class are a far better fit for confined space rescuers. If you're looking to give your organization the greatest peace of mind and the best chance to avoid tragedy, we highly recommend EMR training.
Key Medical Questions for ERT Coordinators include:
Based on hazards identified at your facility, what types and degrees of injuries could patients sustain while at your facility?

What is the estimated response time for EMS/Fire Department? Is the service familiar with your facility and the potential hazards? Chemical, Mechanical, etc.

How will EMS access your site, or will the patient be taken to a staging area?

If air medical transport is necessary, has the facility coordinated a landing zone with EMS/Fire/Sheriff's office?

Who at the facility will assess the patient and give the information about the patient's condition to EMS?

Where is the nearest emergency room? Is the ER familiar with your facility and the potential hazards?

Chemical, Mechanical, etc.

What types of drills can your facility conduct, with or without EMS/Fire, to better prepare facility personnel for an emergency?

Prior to coming to work for Roco Rescue, Chris Warrick worked the street as a paramedic for three years, and then three years as a paramedic instructor. He was the section leader for "Cardiology" as well as "Anatomy and Physiology," and "EMS Operations" at various times. Chris holds an AAS in Paramedicine from South Louisiana Community College and is also certified to teach BLS and ACLS through the American Heart Association. He is also a licensed EMS educator in Louisiana. As a Paramedic, Chris has responded to hurricanes: Harvey, Michael, Laura, Delta, and Ida. As Medical Program Manager for Roco Rescue, Chris oversees medical protocols, procedures, equipment, and education alongside our medical director.
Additional Resources