Want a Safer Workplace? Get Employees Involved!
Safe + Sound Week is a nationwide event held each year in August that aims to recognize the successes of workplace health and safety programs and offers information and ideas on how to keep America's workers safe. Last year, more than 5,300 businesses helped to raise awareness about workers' health and safety!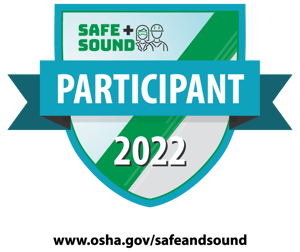 As an OSHA VPP Star Worksite, Roco prides itself on our continual quest to achieve excellence in safety. VPP worksites must operate a comprehensive safety and health management system that includes four key elements: worksite analysis, hazard prevention and control, safety and health training, and our focus for this week, management leadership and employee involvement. To be effective, a safety and health program needs meaningful participation from employees in the workplace.
Here are five examples of a way to generate meaningful employee involvement in your organization.
1. Ask workers for their ideas for improvement.
Who knows the job better than those performing the work? Give employees an opportunity and encourage them to suggest improvements to their work practices. In our experience, many of the most innovative ideas come from employees who are actively involved in the workplace. When employees have the ability to create meaningful change in their work environment, they will be more likely to participate in safe work practices. Additionally, workers will enjoy a morale booster when these innovative ideas are implemented in the workplace. This is also an excellent way for an employer to demonstrate that they care about their employees and are committed to providing a safe and healthy workplace. Consider creating a centrally located drop box to deposit safety suggestion cards; alternatively, create a digital means of submissions or email such as safetysuggestions@company.com to allow for ease of submitting ideas. You might be surprised what your employees come up with!
2. Involve employees in workplace inspections
.
No matter your industry, a safe workplace will always incorporate frequent workplace inspections into its planning and maintenance schedules. Typically, someone from the safety department or the maintenance department will conduct workplace inspections; however, having the same person perform these inspections each month can create a situation where this individual becomes "blind" to obvious hazards. Involving employees in workplace inspections allows for a "fresh" set of eyes and a new perspective as each individual will notice hazards in a different light. Consider rotating different employees into workplace inspections whenever possible. You can also make this a positive experience for the employee selected by treating them to lunch afterward.
3. Train workers on hazard identification and reporting.
If you are waiting on "the safety guy" to identify the hazards and correct them, then it could be a while. While safety professionals are a great resource to have on staff, they can't be everywhere at once! The truth is the safest companies train and involve all employees in hazard identification and reporting. When everyone in the company knows how to identify hazards and take steps to mitigate them, you now have an army of safety professionals! One VPP worksite implemented "hazard hunts" into their monthly plan for the facility. This was similar to an easter egg hunt, but for an industrial worksite. Employees spread out throughout the facility to identify hazards in the workplace. At the end of the hunt, the employee with the most legitimate hazards identified as well as the employee with the most serious hazard identified was rewarded with a gift. This is an outstanding idea for bringing fun to the workplace while also taking steps to involve employees and make a safer working environment!
4. Allow workers to lead trainings.
Most companies have periodic safety meetings implemented into their routine. These are typically led by someone from the safety department and can be a great way to highlight and emphasize current safety concerns or best practices in the workplace. As a way to get employees involved, consider selecting someone different in the workplace to develop and lead a safety training. This doesn't have to be an hour-long production! Something as simple as a 5-minute talk about heat illness prevention can work. Each person will have their own unique style which will help to keep these safety meetings "fresh". Be sure to have fun with this one; these presentations don't have to be intense or serious. The key here is to get employees involved in creating and delivering safety presentations.
5. Reward workers who take the extra effort for safety.
There is a lot of debate and controversy over incentives for safety; in recent years, there have been several flip-flops on the support for these types of programs. It really comes down to what you are promoting and how you are doing it when you incentive safety. Creating an environment that discourages reporting of accidents in exchange for a company-wide steak dinner is probably not the most ideal way to go about it. Instead, find ways to praise employees who go above and beyond in safety. When an employee submits a great safety suggestion for improvement and it gets implemented, reward the individual who submitted the idea! Perhaps an employee volunteered to perform the monthly facility inspection and take them out to lunch! If an employee identifies a serious hazard and takes action to mitigate it on the spot, reward them with something nice. Another great idea is having a near miss reporting process; consider doing a quarterly drawing for a gift for everyone who submitted a near miss for that quarter. The big takeaway from rewarding workers is to praise them heavily when they take the initiative to work safely, and coach and support them when they fail to meet those expectations.
Chris

McGlynn is the Director of Safety/VPP Coordinator for Roco Rescue. He is a Certified Safety Professional (CSP) through the Board of Certified Safety Professionals as well as a Certified Confined Space and Rope Rescue Technician, and a Nationally Registered Paramedic. As Director of Safety, Chris oversees all corporate safety initiatives, ensuring that employees at Roco have the tools and training that they need to do their work safely and effectively. He is also responsible for managing Roco's Safety Services Division, which provides trained safety professionals for turnarounds and other special projects. Finally, Chris serves as the VPP Coordinator for Roco, continuing Roco's long-standing commitment to excellence in safety and health. Roco has been an OSHA VPP Star Worksite since 2013.
Additional Resources