Working Safer with JHA's (Job Hazard Analyses)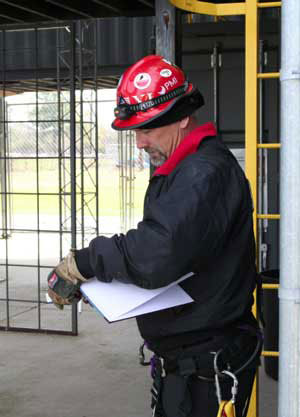 By Roco Chief Instructor Pat Furr

A Job Hazard Analyses (JHA) is a very effective tool that most every employer should consider incorporating into their safety management program. This tool, otherwise known as a Job Safety Analyses (JSA) or Risk Assessment (RA) is a process that identifies workplace hazards, and then spells out means to eliminate, control, or provide protection to employees from the identified hazards. Once completed, the JHA can then be used as both a training tool and a pre-task safety checklist. There are a variety of formats that can be used to create an effective and logical JHA.

However, the JHA should become a living document that may require frequent updating as the work process, tools, work environment, safety legislation, and the workforce changes. Even if these factors do not change, the JHA should be reviewed periodically to ensure that it's still current and still applicable to the job or task.




"The goal of the JHA is to identify workplace hazards and take corrective action BEFORE an incident occurs."

The preparation of a JHA should be a collaborative effort between safety personnel and front line workers. It's often the front-line worker who can provide valuable insight into the specific tasks involved as well as provide solutions to the most common hazards. Of course, it's always vitally important to have a safety professional intimately involved with the process to ensure that input provided works hand-in-hand with established company policy and any legislated safety requirements. By involving front line workers, they will feel like they had valuable input to the process, which is very true by the way.

Whatever format that you choose, it's important to develop your JHA in a logical, easy-to-use manner. Here are some guidelines:
1. Identify the hazards.


This may be obvious based on any history of accidents or near misses.
Interview front line workers to hear their concerns.
Evaluate the workplace to ensure it is in compliance with legislated and consensus safety standards.
Brainstorm with workers to dig deeper into the subtle or overlooked hazards. Break the work process down into individual steps or tasks to help uncover any obscure hazards.
2. Determine the consequences of exposure to the hazard and any contributing factors or triggers. It may be helpful to develop a ranking system based on a variety of factors.

Describe the likely outcome of exposure to the hazard.
Does the hazard have the potential to harm multiple employees?
How likely is the hazard to cause harm?
How quickly will exposure to the hazard cause harm?
Rank the hazards in terms of the most severe in order to determine which hazards must be given priority attention!
3. What protective measures are available to prevent the hazard from causing harm?
Can the hazard be eliminated?
Example: Eliminate fall hazards by bringing the work to the ground.
Can the hazard be controlled? Example: Install machine guards on rotating parts
Finally, if the hazard cannot be eliminated or controlled, what personal protective equipment (PPE) is required to protect the worker?
JHA's can be very simple or very complex. The goal, however, is to find a balance between overburdening the worker with exhaustive paperwork and a document that is so lacking in detail that it is essentially useless. My experience is that the JHA should be just detailed enough to provide a succinct means to identify the hazards of the task, or the various steps of the task, predict the consequences of exposure to the hazard, and to provide a hierarchical means to protect the worker from the hazard. I like to keep the JHA simple and concise as it tends to encourage the worker to think into the situation and make – for lack of a better term- a "real time evaluation of the hazard."

Remember, the JHA (JSA, RA) should be considered a living document that is updated to reflect any changes. It should also be an easy-to-use tool that workers and management can employ to identify hazards, rank the hazards in terms of their potential consequences, and provide an escalating hierarchy to abate the identified hazards. These documents should also be retained for a period of time because they may be useful in investigating any accidents after the fact.

Workers are injured every day on the job. JHA's can be very useful for discovering, preventing or even eliminating some hazards from your workplace. At minimum, the process is likely to result in fewer injuries, more effective work methods, and increased worker productivity. What's more, a simple, step-by-step JHA can be a valuable tool in training new workers to do their jobs more safely and effectively.