What piece of the "rescue puzzle" is your team missing?
As we all know, the moment you enter an industrial facility, you're instructed about who to notify in case of an emergency. And if something happens – no matter what the emergency – you can bet they're going to call the rescue team. The question is, "When the call comes in, will your team be ready?"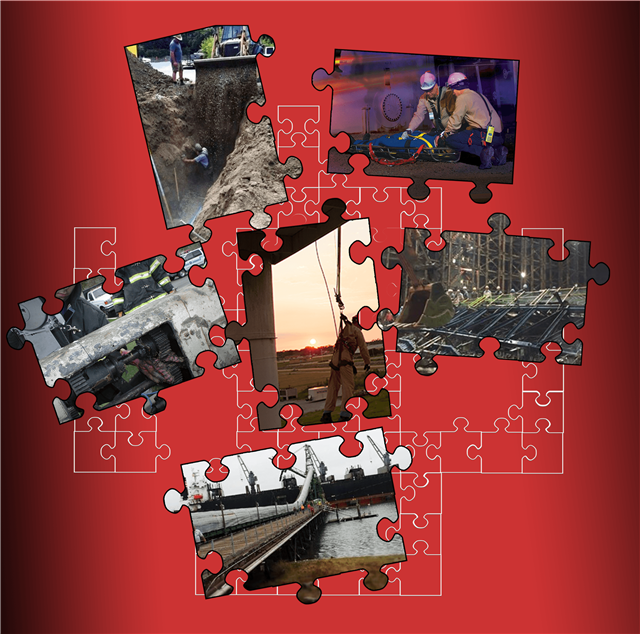 Having taught rescue in industrial plants for more than 20+ years, I've observed how industrial rescue teams have been created and how they've been trained. I've also observed how they have responded to various types of incidents – including some rescue scenarios they could have never expected.
Over the years, I've also seen how the needs of rescue teams change. That's one reason we continue to update and modify our training programs. We want the industrial teams that we train to be able to respond safely and effectively to all the various types of emergencies they may face at an industrial facility. Again, when help is needed, the onsite rescue team will be called!
Greater Demands on Industrial Responders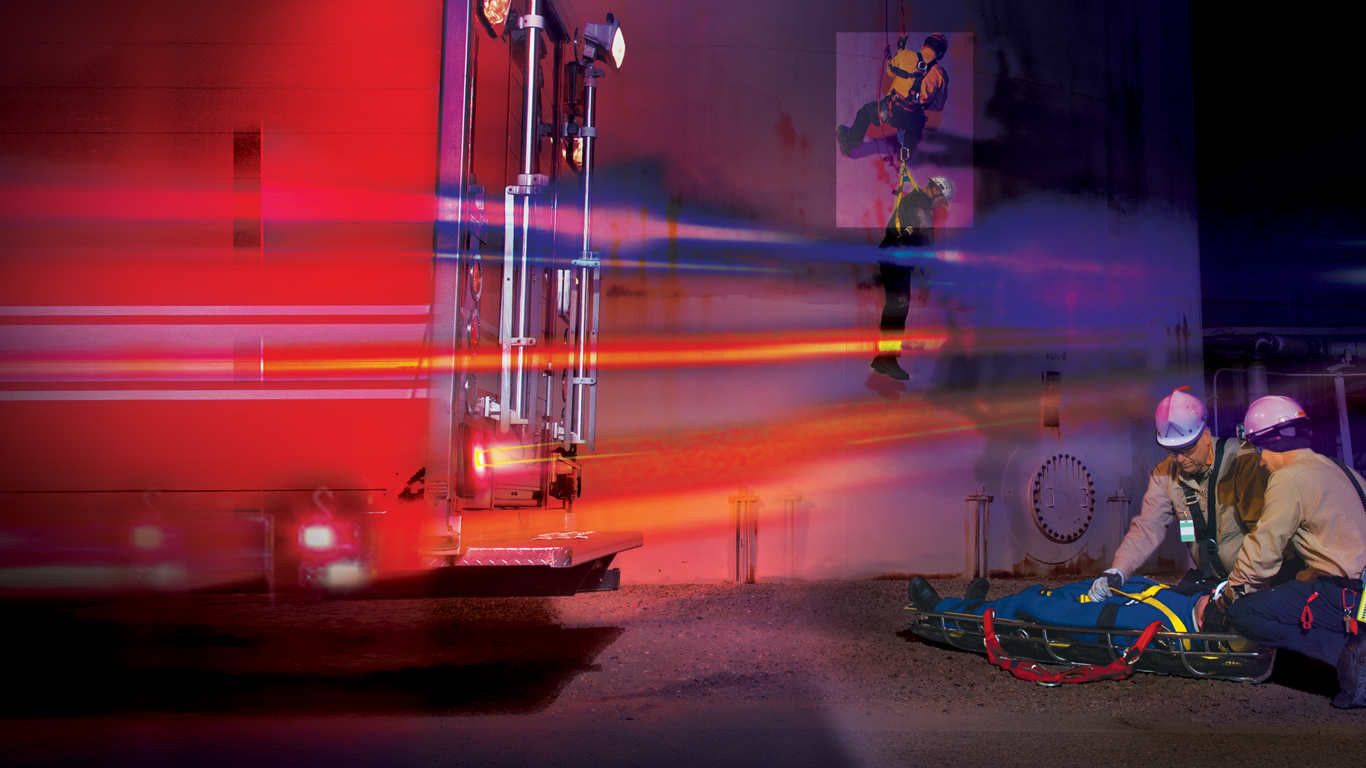 Back in the day, most sites typically only offered fire brigade training for their emergency responders. Eventually, medical was added, then hazmat, and finally confined space rescue – primarily in response to OSHA 1910.146. And, with permit-required confined spaces, most often comes the need for high angle rescue abilities as well. Once a victim is removed from a confined space, there is generally the need for raising or lowering the victim to ground level for medical transport.

As new regulations and standards have emerged, additional demands have been placed on industrial rescuers. This includes the new Confined Spaces in Construction Standard from OSHA (1926 Subpart AA). This new ruling provides construction workers with protections similar to those manufacturing and general industry workers have had for more than two decades. Differences tailored to the construction industry include requirements to ensure that multiple employers share vital safety information and to continuously monitor hazards – a safety option made possible by technological advances since 1910.146 was issued.

It is also becoming more difficult to justify "dialing 911" with the hope that the local fire department will be able to respond in a timely manner. Industrial sites are being forced to examine the reality of relying on local response agencies. And, in some cases, the plant's industrial emergency response team may be the community's best trained and equipped technical rescue capability. As one of our client's stated after evaluating local response capabilities,
"We are truly an island unto ourselves. When it comes to certain types of emergencies, we're on our own!"
What Can Possibly Go Wrong?
We often focus on the importance of confined space and high angle rescue, but what about the other potential scenarios that industrial rescue teams may face. In recent years, we've seen an increase in requests from our clients in a wider variety of rescue disciplines – including Suspended Worker Rescue (Rescue from Fall Protection), Trench Rescue, Machinery Entrapment Rescue ("man in machine" is probably a better description), Water Rescue and Building Collapse for First Responders.

Let's talk about these disciplines and how they can apply to industrial situations – keeping in mind that medical care will be required in most every situation. Many times those first on the scene have the greatest opportunity to make the difference for an injured worker. The first hour in a medical emergency is a crucial factor in increasing chances for survival.
Suspended Worker Rescue (Rescue from Fall Protection)
With expansion and construction work occurring in many facilities, you can often spot a variety of potential rescue scenarios just waiting to happen. For example, from stacks and vessels to scaffolding and towers, you will often find workers operating at varying heights

Here's where the industrial rescue team must be ready for a timely response to Suspended Worker Rescue. Because suspension trauma can occur rapidly, time is of the essence. First of all, just reaching a suspended worker can be a challenge. Then, the victim must be raised or lowered to a safe area. Rescuers must have the appropriate equipment to keep themselves from harm's way and be prepared to act quickly and efficiently.
Trench Rescue
Many sites will have some type of trenching job going on this year. Is your team trained to handle that type of collapse? Do you have the equipment for emergency shoring? Or, who can you call for help?

With an unsupported or improperly shored trench, it will collapse 100% of the time. It's only a matter of when. Also keep in mind, even a relatively small cave-in involves about 1.5 cubic yards of dirt – or about 4,000 lbs. It is imperative that rescue personnel be trained and equipped prior to tackling one of these type emergencies – they are much more dangerous than they look!

Another key concern or consideration for trench or excavation work is "who" is signing off as to the safety of the trench? In talking with many of our clients, they may send an "entry supervisor" (company representative) to evaluate and sign off on a confined space permit. These individuals may have never been taught what to look for to determine if the protective system is adequate or installed properly.
OSHA 1926.651(k)(1) states that a "Competent Person" shall inspect the shoring system. This refers to an individual who is capable of identifying existing and predictable hazards in the surroundings, or working conditions which are unsanitary, hazardous, or dangerous to employees, and who has authorization to take prompt corrective measures to eliminate them.

OSHA Reference Excerpt [1926.651(k)(1)]
Daily inspections of excavations, the adjacent areas, and protective systems shall be made by a competent person for evidence of a situation that could result in possible cave-ins, indications of failure of protective systems, hazardous atmospheres, or other hazardous conditions. An inspection shall be conducted by the competent person prior to the start of work and as needed throughout the shift. Inspections shall also be made after every rainstorm or other hazard increasing occurrence.
Machinery Entrapment Rescue
As gruesome as it sounds, another eventuality in an industrial or manufacturing facility is someone getting caught in or under machinery or heavy equipment. Is your rescue team ready for this? In these instances, the rapid use of hydraulic spreaders or pneumatic lifting bags can mean the difference in life or death for an entrapped worker.

Consider the many applications that a simple lifting bag might have for rescue or maintenance work. For example, by sliding a one-inch thick lifting bag under or between two objects, you can lift up to 70 tons, up to 20 inches off the ground, depending on bag size. A bag like this could come in pretty handy at a plant or refinery.
For these horrific incidents, you must consider how long it will take the municipal department to get to your site. Once on scene, are they familiar with the various types of equipment at your facility that may be involved? Do they understand the hazards of the working environment in an industrial facility?

Another gruesome part of machine rescue is impalement. This type of injury requires very specialized care. First of all, do not attempt to remove the impaled object! It needs to remain as is and transported with the patient to the emergency care facility. Again, the question is, who, what and where are the resources to handle this type of job?
Water Rescue

Does your facility have a dock? Do your people work over water? Do you have sediment ponds? If you answered yes to these questions, you should be asking yourself, "What will we do if someone falls in?" "Who will rescue them?" Or, are you going to depend on a coworker to jump in and try to save his buddy? Even basic "Throw, Don't Go" training and some basic water safety equipment can make a huge difference in a person's survivability. It could also prevent the situation from getting worse by failed heroic actions. Personal flotation devices are great, but what about when a worker gets swept under a dock or into a current? How will you handle these situations?
Building Collapse Rescue for First Responders
This one caught me off guard when requested by several industrial facilities, but it turns out there are some very good reasons for it. Considering weather disasters, explosions or acts of terrorism, it is a very real concern. Of course, this training for first responders isn't the full program that is provided for FEMA or USAR teams, but it includes some very specific skill sets that can be extremely useful in industrial incidents.

Here are just a few examples. Emergency shoring techniques can be used to stabilize pipe racks or damaged structures for the rescue of injured workers. They also give industrial teams the ability to move heavy loads (5,000 to 10,000 lbs.) with simple hand tools. Remember, cranes can't get everywhere, especially in a severely damaged area.

As emergency responders, we need to evaluate our capabilities continually and consider the types of rescue situations to which we may be called. We also need to know what outside resources are available – and, if it's even possible for them to respond in a timely manner. Just like with confined spaces, we can't simply dial 911 and hope they know what to do. While you hope it never happens, you've got to be prepared for the worst.