Trenches: A String of Fatalities
A rash of trench incidents has left behind multiple fatalities and untold devastation to families. The following incidents occurred in only a matter of weeks. We log these incidents as a reminder of how deadly trenches can be. Proper training and the right equipment are needed before attempting a rescue; or, as in most cases, a recovery.
These events came to our attention over recent weeks including one incident in which the victim was not even in the trench until the ground collapsed beneath him. Another incident happened adjacent to the department where one of our Roco Chief Instructors (Brad Warr) works in Idaho. His department also responded.
As you read these accounts, pay careful attention to how tragic and deadly these incidents can be.
We've also included two successful trench rescues at the end of these stories.
REMEMBER: OSHA advises to "Protect Yourself…" Do not enter an unprotected trench! Trenches 5-feet deep or greater require a protective system unless the excavation is made entirely in stable rock. Trenches 20-foot deep or greater require protective systems designed by a registered professional engineer. OSHA also requires safe access and egress to all excavations, including ladders, steps, ramps or other safe means in trenches 4-feet or deeper. The devices must be located within 25-feet of all workers.


Worker Killed After Being Trapped in 16-Foot-Deep Trench
(4/26/19) DEKALB COUNTY, GEORGIA
Fire-Rescue crews were called out to a subdivision construction site Friday afternoon in DeKalb County after crews reported that a 16-foot trench had collapsed on top of a worker.
Firefighters said that the man was helping to guide a backhoe as it dug the trench and the ground gave way, trapping the construction worker inside.
"The ground below him caved in and he fell into the hole. The hole was about 16 feet deep and about two feet of dirt on each side of the hole fell on top of the victim and covered him up," said Capt. Dion Bentley with DeKalb Fire Rescue.
Firefighters reported that two other construction workers at the site tried to rescue the victim when it first happened.
Investigators said there was no trench box inside the hole when the collapse happened. Crews said that was because no one was working inside the trench when the collapse happened. It is unclear if that violates OSHA rules. OSHA officials will now be responsible for investigating the incident.
Man Dies Before Being Rescued from Trench
(4/25/19) ALPINE, UTAH
A man working to install a pool in the backyard of a home died in a trench collapse Wednesday afternoon, authorities said.
The victim, a 53-year-old man, was pronounced dead at the scene from injuries suffered in the collapse, Lone Peak Fire Chief Reed Thompson said.
Lone Peak Fire Department crews responded to the collapse shortly after 1 p.m. When crews arrived, they found a man with dirt up to his waist.
"We were told by others on scene that prior to our arrival, he had been encapsulated up to his neck," Thompson said.
The man died before crews could rescue him from the fallen trench, Thompson added. The Lone Peak Fire Department was helped in the recovery effort by the Utah County Technical Rescue Team, which includes crews from American Fork, Lehi, Pleasant Grove and Orem.
"In this particular incident, the victim was in a trench that did not have any security measure in place — such as shoring — and was deeper than what OSHA requires at 4 feet," Thompson said. "As a result of that, you've got heavy dirt and other materials that can potentially fall or collapse into the open hole, which is what occurred."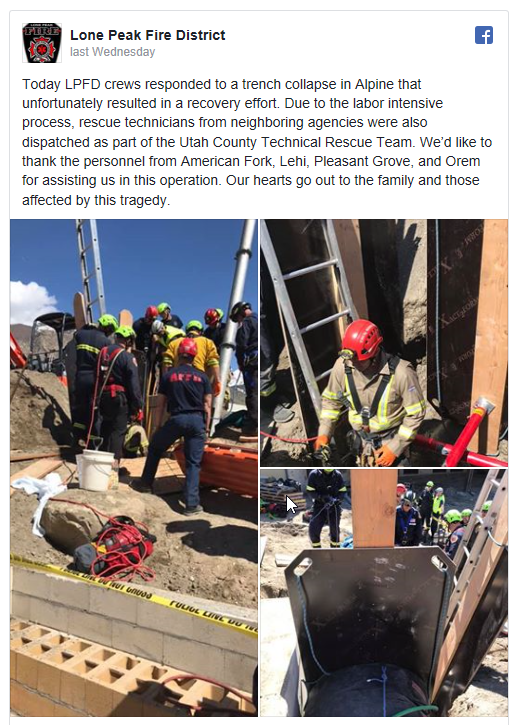 Man Dies When Trench Collapses
(4/21/19) LYCOMING COUNTY, PENNSYLVANIA
One man was killed in a rural area when a trench dug to fix a water line problem collapsed around him. The man was pronounced dead in the trench but it took nearly three hours to remove the body. Rescuers first had to shore the sides of the eight-foot deep ditch. The coroner listed asphyxiation as the cause of death.
While there were no witnesses to the collapse, family members believe he was buried about 15 minutes in the 15-foot long x 6-foot wide trench. Family members had cleared the clay-based soil from around the victim's head before emergency responders arrived at the scene.
Although no pulse was detected, rescuers continued to remove dirt down to his waist in a rescue effort. Those efforts were discontinued once a paramedic with a heart monitor determined he was dead.
Two Workers Die in Colorado Trench Collapse
(4/17/19) WELD COUNTY, COLORADO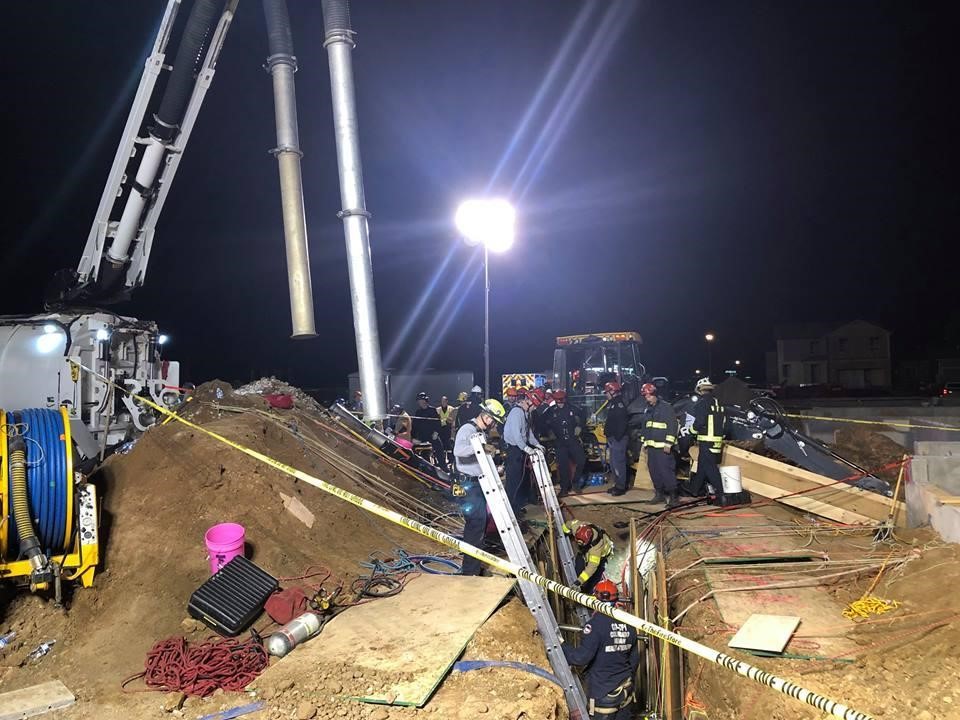 Two construction workers died after having been trapped in a 15-foot-deep trench that collapsed on top of them at a Colorado residential property.
The Fire Chief of Windsor Severance Fire Rescue said that the two men were working in the trench when it collapsed, completely burying them in dirt and compact soil.
Despite an hours-long rescue operation, both men died from injuries sustained in the incident. It was early the next morning when the fire department announced that the operation had switched from a rescue to a recovery effort, which was expected to take several more hours.
When Windsor Fire Rescue arrived on the scene, workers had been able to insert a PVC pipe to one of the trapped men, allowing him to communicate with the rescue crews above ground. No contact with the second worker was made, the release said.
The soil condition of where the workers were trapped made the excavation process more difficult as only small hand shovels and buckets could be used since the ground was both unstable and compacted.
Extreme caution was used to prevent further injury to the two men, the release said.
When rescue workers reached the trapped men, they had already succumbed to their injuries.
(Photo used above is courtesy of Windsor Severance Fire Rescue.)
Two Dead After Trench Collapse
(4/10/2019) NEW PLYMOUTH, IDAHO
Two men, working for a private company installing irrigation pipes in a rural area, were killed when the trench they were working in collapsed. Emergency responders were able to extricate the two men from the trench, but were unable to resuscitate them.
Payette County dispatchers sent three different fire departments, paramedics, law enforcement, two separate highway departments and a private construction company to the scene to extricate the men.
TRENCH RESCUES:
Man Rescued after being Buried Up to His Waist
(April 2019) FREMONT, CALIFORNIA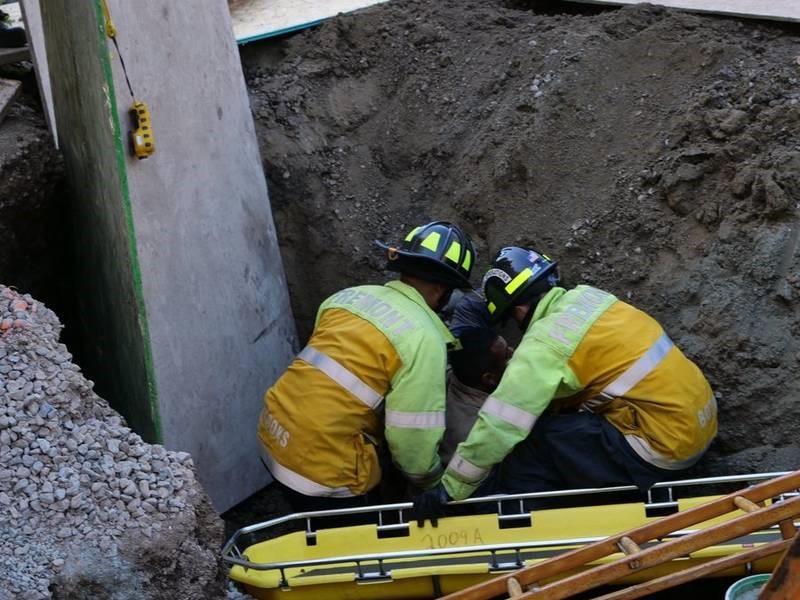 A man was rescued when he was trapped up to the waist in a trench incident. The Fremont Fire Department was able to remove the individual from the trench. The victim was hospitalized with moderate injuries.
Construction Worker Rescued from Trench
(April 2019) CALDWELL, IDAHO
A construction worker was taken by air ambulance to a local hospital after getting hit by a bucket that fell off a tractor into a trench, according to the Caldwell Fire Department.
Either water or sewer lines were being installed when a bucket detached from a tractor and injured a construction worker in the approximately 20-foot-deep trench, said Caldwell Fire Chief Mark Wendelsdorf.
The bucket had to be removed from the trench before the man was rescued, though Wendelsdorf did not know if that meant the man was pinned by the bucket, or if it was only preventing him from getting out.
The Nampa Fire Department's ladder truck was used and acted as a rigging system to get the injured man out.
The trench did have a trench box and shoring in place. OSHA is investigating the incident, according to a Department of Labor spokesperson.
The rescue took about an hour, as crews made sure that the trench would not collapse while the technical rescue took place.
NOTICE:
At some time, every emergency responder may be called to a trench incident – whether a rural area or industrial construction site. Know, at minimum, how to protect yourself. Roco Trench Rescue courses offer safe, practical techniques for dealing with trench rescue incidents. Sign up now or call to observe one of our hands-on trench classes.