Trench Deaths Up 68% in 2022!
The alarming rise in trench-related fatalities has spurred US Department of Labor to announce enhanced nationwide enforcement.
In 2022's first six months, 22 workers have fallen victim to the deadly hazards present in trenching and excavation work – surpassing 15 in all of 2021 – and prompting the U.S. Department of Labor's Occupational Safety and Health Administration to launch enhanced enforcement initiatives to protect workers from known industry hazards.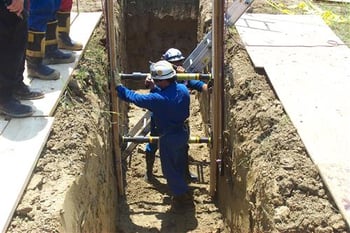 To stress the dangers of disregarding federal workplace safety requirements for trenching and excavation work, OSHA enforcement staff will consider every available tool at the agency's disposal. These actions will place additional emphasis on how agency officials evaluate penalties for trenching and excavation related incidents, including criminal referrals for federal or state prosecution to hold employers and others accountable when their actions or inactions kill workers or put their lives at risk.

Read the full press release: https://content.govdelivery.com/accounts/USDOL/bulletins/3213baa
Additional Resources
If you're concerned that your rescue service may not be adequately prepared, give us a call or check out these resources for more information on how to keep you and your personnel safe around trenches.