Training to Become a Fall Pro 'Pro' Is a Never-Ending Journey
This article appeared in OH&S, November 2015
Whatever training you attend and complete should be viewed as the launching point to get you started on learning everything you can about fall protection.
Gravity doesn't need to go to school. She is a master at pulling all objects toward the center of our blue planet and has been doing so since the dawn of time. So, yep, she is the grand master. Whereas we mere mortals are still learning how to counter her effects. Part of our learning is how to protect our workers at height from falling into her grasp. And OSHA recognizes we are still learning and thus requires employers to provide appropriate training to protect their workers at height—as well as from the grand master's constant grip.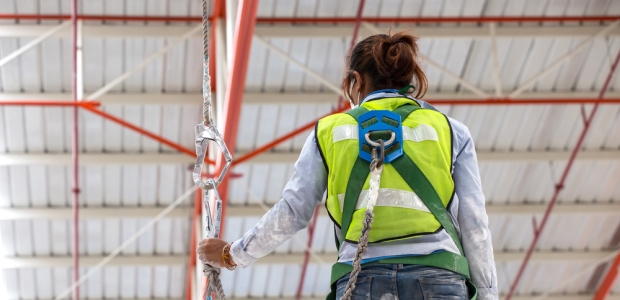 There are several roles and responsibilities within any comprehensive fall protection program, and there are just as many courses of instruction that provide a baseline of knowledge and skills designed to get the individuals occupying these positions started or to enhance their ability to perform in these roles. But no single course of instruction currently covers, nor will one ever cover, every bit of knowledge needed for every work at height situation.
There is an old joke that goes like this: "What do you call the bottom graduate of medical school?" The answer is, "Doctor, of course."
What does that have to do with fall protection training, you may ask? Well, the rest of the story is that very often that bottom medical school graduate goes on to become a leader in his or her specialty. And that happens because they practice. That's why they call it practicing medicine, I suppose.
So this is where it will begin to make sense. Fall protection training is the beginning and should not and cannot be thought of as the "end all" for whatever role and responsibility for which you are training. Whatever training you attend and complete should be viewed as the launching point to get you started on learning everything you can about fall protection. This includes compliance requirements; fall protection system capabilities and limitations; the dynamics of a fall, including clearance requirements and swing fall; post-fall rescue; and, as importantly, what is the best fit for your Authorized Persons.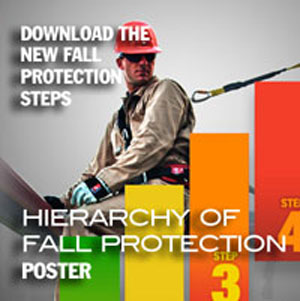 Gaining the knowledge and understanding of these and many other facets of fall protection requires continuous self-study and research. It also requires getting out and visiting your facility to find out what the structural geometry is and to learn about the processes, as well as the Authorized Persons' needs and concerns.
During the past 35 years, I have attended training for all sorts of occupational duties, and the one common denominator has been that all of them provide a foundation to build from. For the most part, I felt I could function in the role I was being trained for, but I would equate it to functioning at the "apprentice" or "journeyman" level. I knew I still had much to learn before mastering the task.
This is especially true for fall protection training. To learn every single OSHA requirement regarding fall protection is a very tall order. I don't know of any fall protection Competent Person course that covers it all or would attempt to cover it all. And to know the particular challenges of every location where work is performed at height can only be gained through experience. In order to move toward mastering the craft, it is important to take the initiative to learn beyond the formal training.
However, self-study is so much easier than it was 15 or 20 years ago. The ease of accessing OSHA standards, letters of interpretation, summaries and explanations of final rules, and other OSHA resources pertaining to fall protection on the World Wide Web opens up a wealth of information.
It is also my good fortune that I visit many different client sites where I encounter a smorgasbord of fall protection challenges that provide learning opportunities. Oftentimes, I am able to recite the information nearly verbatim that pertains to the issue, but as often as not, I need to do some research to locate the answer or to refresh my memory once again. This is expected and, in lieu of a photographic memory, there is just too much information to learn and retain with 100 percent accuracy.

With the emerging technologies in manufacturing and design of fall protection equipment and systems, it is often a great learning exercise to visit some of the leading equipment manufacturers' and retailers' online catalogs. It is actually pretty exciting to peruse these sites and see many of these modern solutions. And the equipment isn't limited to lanyards and body support, either: There are solutions such as temporary or permanent retro-fitted guardrail systems, harness mount SRLs, nonpenetrating anchor connectors, temporary user-installed horizontal lifelines, and the list goes on. Inviting a fall protection dealer representative to your site may prove to be very educational and beneficial time spent.
Sharing Lessons Learned
Back in my military days, we had a program known as "CROSSTELL," which was a formal messaging system designed to share lessons learned and to disseminate new ideas or techniques between common users. Within the private sector there are similar programs known as BKP (best known practices) or BKM (best known methods) that often provide a vehicle to share useful information within a common industry or within a single corporation. The warning here is to cross-check the BKM or BKP to ensure it is indeed compliant with any applicable legislated requirements. And if you develop what you feel is a BKM or BKP, don't be bashful about sharing.
Much of the continuing education we have talked about so far is in "black and white" in the form of regulations or interpretations, or a form of equipment that has accompanying printed user instructions. The intangibles are often the most difficult and dynamic pieces of the puzzle to learn. Getting out into the work environment is a very big part of your ongoing self-education.
Performing a fall hazard survey as outlined in ANSI Z359.2 is a great starting point for learning the various means of protecting workers from falls. Always keeping the hierarchy of fall protection in mind, performing a comprehensive assessment of the known and potential areas for work at height will definitely provide an education. Now is the time to take your knowledge of compliance requirements, the BKM/BKPs, a broad knowledge of the equipment that is available, and then determine what will work best for the configuration of the structure, the environmental conditions, and also through interviewing the workers who will be employing the equipment to learn what their needs are. Will they need equipment that provides a high degree of mobility? Are they concerned about heavy or bulky equipment or exposed to hot working environments? Do they need equipment that can be set up and taken down quickly to facilitate moving from point to point? This can only be determined by talking to and listening to the Authorized Persons and their foremen.
By considering a formal fall protection course of instruction the endpoint for your fall protection training, no matter what capacity you are working in, is doing a disservice to your co-workers and to yourself. Accepting the onus of continuing your "training" through self-study, visiting the equipment offerings, and assessing the working environment and the needs of the workers to do their jobs is all a part of your continuing—ongoing—fall protection education.