Tower Rescue: Essential Training in a Global Landscape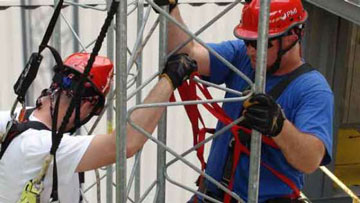 It is becoming more and more difficult to find a hilltop or a ridge in America that does not have some type of telecom tower placed on it. Likewise, there are many other types of towers popping up across the countryside and in our urban and suburban areas. Everything from wind turbine towers to high tension transmission line towers.
In this piece, Roco Chief Pat Furr shares his experience in Tower Rescue.Furr is from Burlington, Vermont, and served 20 years in the U.S. Air Force as a Pararescueman (PJ). His background includes eight years as a member of the 71st Pararescue team in Anchorage, Alaska, where he specialized in mountain, and glacier rescue. He summited Mt. McKinley and augmented the National Park Service mountain rescue team and spent two tours of duty in Iceland where he put in multiple first ascent ice routes. Furr joined Roco in 2000, where he leads our Fall Protection and Tower Work & Rescue programs and serves as a Technical Rescue Consultant.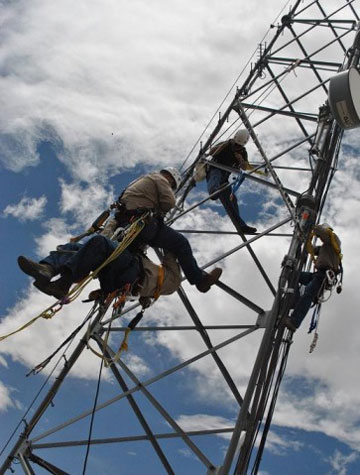 Tech Towers Demand Human Interaction
It is becoming more and more difficult to find a hilltop or a ridge in America that does not have some type of telecom tower placed on it. Likewise, there are many other typesof towers popping up across the countryside and in our urban and suburban areas. Everything from wind turbine towers to high tension transmission line towers.

One thing that is common to nearly all of these towers is that someone at some point must climb them. This is true during the initial erection of the tower, and at various times during maintenance, inspections, and equipment installations.

Sad Stats – Tower Work Claims 100 Fatalities a Year
The workers that climb these structures are a unique breed. They require specialized skills and equipment for the safe performance of their jobs. It is certainly a risky business and it is good to have both legislated (OSHA) and consensus standards like the National Association of Tower Erectors (NATE) to provide guidance to help ensure safe work practices at height. Unfortunately, accidents are still happening on these structures. With the proliferation of cell towers across the nation, it is only logical that a corresponding increase in accidents is occurring. In fact, cell tower and other communication tower climbers have a fatality rate approaching 100 deaths per 100,000 workers annually.

If you are an employer of tower climbers, or if you are responsible to respond to a tower emergency as part of a municipal or rural emergency service, are you prepared to perform tower rescue? Have you trained for and practiced these types of rescues to ensure that you have the skills and equipment necessary to provide safe and efficient rescue? Most rural communities do not have ladder trucks as part of their equipment inventory. Even if they did, ladder trucks have a limited height range and most probably won't provide adequate range to reach the victim anyway.


Easy to Learn
Tower rescue is not that complicated. In fact, it is quite straight forward as compared to other types of technical rescue such as confined space rescue, trench rescue, or structural collapse rescue. But even then, it still requires specialized training and equipment. The most obvious need is for much longer ropes than what you would require for most other types of rescues. Additionally, the need to be able to provide "one-on-one" rescue of a stricken co-worker is typical. The days of sending a single worker out to a tower climbing job are becoming less common, but there are still employers who see no problem sending a single climber out to change the lamp on a 1200-foot guyed tower.

Fortunately, in the time I have been involved with tower work and rescue, it is becoming more likely that the employer has at least a "buddy system" in place as part of their standard procedures. And, some employers now require a minimum of a three-person crew to provide a "team-on-one" rescue capability. Yes, two rescuers do qualify as a team rescue. Having two rescuers makes the task so much easier and safer than a single rescuer.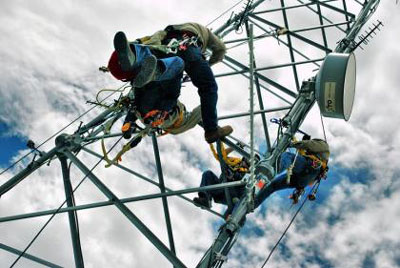 Physical Demands
One of the biggest wake-up calls for new tower climbers (and rescuers) is the level of physical fitness required to climb a significant height, especially if the weather is extremely hot or cold. Most folks have little trouble climbing a vertical or near vertical structure up to one or two hundred feet, especially if they are able to use a reliable vertical lifeline and climbing pegs. But if the height exceeds a couple hundred feet, or especially if the climb is protected with a Y-Lanyard instead of a vertical lifeline, then the task can become exhausting if proper technique is not used. Developing a "leapfrog rhythm" with the Y-lanyard or grasping the vertical posts instead of the horizontal sections on a guyed tower make a huge difference in reducing fatigue or forearm cramping.


Two Makes a Team
The techniques required for rescuing an injured or suspended worker from the tower are simple adaptations of existing rescue technique used for other rescue duties. The primary tasks require an ability to lift the victim a short ways to "un-tension" their fall arrest lanyard or work positioning system if they are suspended, and then providing a means to lower the victim to the ground. Depending on the height of the incident, the lower may be accomplished with one pitch of rope. For incidents where the height exceeds the length of the rope, a multi-pitch lower may be required. This is where having a minimum of two rescuers really pays off. Even better if the rescue rope is of sufficient length, one rescuer can operate the lift and lower from the ground, while the second rescuer performs minimal rigging at height.


Strategies for Success
There are a couple of strategies in providing rescue capability for towers. One mindset is to use a build-as-you-go rescue system that can be tailored for the specific structure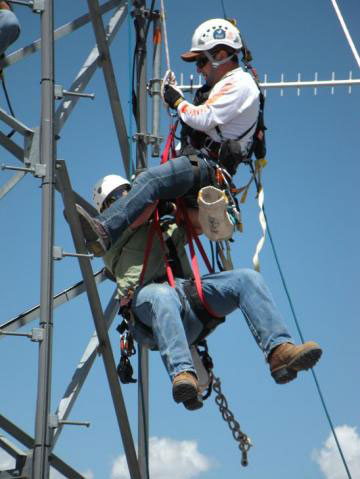 and incident encountered. A second way is to use pre-built systems in an attempt to cover all situations. Both approaches have their advantages and disadvantages. Generally, build-as-you-go systems require marginally more initial training and may not have the same degree of skill retention as pre-built systems. But their advantage is the system can be tailored to fit the situation more readily and the components of the system can also be used for planned work activities. Pre-built systems have a slightly higher rate of skill retention and are ready to be employed as soon as they are put into service. They are, however, limited to a specific function and are not typically used for any other purpose other than for rescue. These pre-built systems are typically packaged in a protective pouch and can be fairly bulky. Thus, they're typically left at ground level and must be retrieved before a rescue can commence.

At Roco, we rely on a combination of both approaches. Understanding that build-as-you-go systems require a slightly higher degree of proficiency than most pre-built systems, we use very basic techniques that have proven to be retainable, effective, and very safe.

We advocate that the tower climbers have the minimum components required to construct a build-as-you-go rescue system clipped to their harness at all times while on the tower. Simply adding the rescue rope to the system provides a tower rescue capability without the need to rely on a pre-built system. However, for instances where a pre-built system makes the task easier, we have a lightweight and versatile system that works especially well in the event a line transfer while on rappel is required.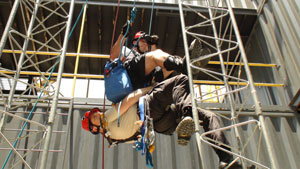 Whatever means you decide on to provide a tower rescue capability, as either a tower worker or as part of an emergency response team, it is absolutely imperative that you adhere to safe work practices while climbing by always using 100% fall protection. Seek out and attend professional tower rescue training; and, finally, ensure that the tower climbing/rescue equipment is in serviceable condition and is ready and available to be employed. For those of you in deer and elk country, be especially diligent to ensure that your pre-built system is where it's supposed to be when hunting season comes around. Not only are they great for rescue, but they come in handy at the hunting camp also.