Toddler Killed in Arkansas Building Collapse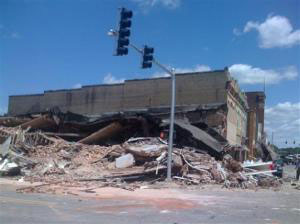 As a first responder, it's your worst nightmare… pulling up to a scene of a building collapse with a woman trapped under a beam screaming out for her child who's buried in the rubble. That's what happened yesterday in a small town in Arkansas that's located about 55 miles west of Little Rock. With an incident like this – or the recent tornados with destruction everywhere in sight – would you know how to make the best use of the tools on your apparatus while waiting for USAR back-up?

Most rescues from collapsed structures are done within the first few hours by local responders – usually before USAR teams can respond. How long do you wait for USAR back-up, and what would you do in the meantime? You already know the structure is unstable, where do you start? Do you know how to protect rescue crews from further collapse as they enter these areas? Could your team handle the job that these responders had to deal with?

It's a reminder to all of us of how important it is to be prepared for the unexpected. As an emergency responder or team leader, make sure you know how to protect yourself and your team in situations like this. Knowing the proper safety precautions along with simple, practical techniques using tools readily available can make a big difference in the first few minutes of a building collapse emergency.

Reported by Washington Post National

MORRILTON, Ark. — As residents and rescue workers arrived at the scene of a building collapse in central Arkansas, one woman trapped under a beam screamed out for her baby, and rescuers pulled a toddler's body from the rubble of a century-old building.

Firefighters used everything from backhoes to their bare hands to sift through the wreckage of the two-story brick building hours after 2-year-old Alissa Jones' body was found in the rubble and authorities had accounted for everyone else inside. At least six other people were injured when the building suddenly collapsed Monday.

Brian Matthews was at his auto detailing shop nearby when he heard the building crumble. When he looked up, "there was nothing but smoke," he said. He was among those who rushed over and heard a woman screaming, "My baby is still inside." He and other men pulled bricks and wood off the woman, exposing her injured legs as she continued to cry out.

Matthews said the girl showed no signs of life when would-be rescuers found her in the rubble of a bridal boutique and cosmetic store. Coroner Richard Neal later said the child was dead. The relationship between the woman and the toddler was not immediately clear.

Investigators, including the federal Occupational Safety and Health Administration, were trying to determine whether ongoing construction at the bridal shop was to blame. "We don't know how or why they collapsed," said Brandon Baker, the director of emergency management in Conway County. "We just know it was fast."

One wall inside the building that remains standing is still a cause for concern, Mayor Stewart Nelson said Tuesday morning. "I'm standing here looking at it," Nelson said. "It's been creaking and groaning all night … We're just waiting for that wall to collapse, too." He said Monday that people had noticed similar noises at the building in recent days.

Of the 10 people inside the building, Baker said one died and four others were injured. Neal said one of the dead girl's relatives was among the injured. A local hospital said six people were treated. Christy Hockaday, chief executive of St. Vincent Morrilton, said five of the six were released and the remaining person was in good condition.

Morrilton police resumed looking for any possible victims Tuesday, although they believed everyone was accounted for. Workers inserted tiny cameras into crevices between crumbled bricks to make sure no one else was trapped.

The collapsed building, on a corner in the heart of downtown, forced officials to shut down a portion of the town's business district. Broken bricks and twisted metal slumped over the street corner where the building once stood. A broken clothes rack showed off a few colorful dresses, mostly untouched by the barrage of debris.

Down the street, Kylie Cole, 32, thought a train from the nearby depot collided with a car when she heard the building collapse. By the time she made it near the stores, all she could see was dust. "We heard people screaming and crying," she said.