The Petzl story – It's in the DNA
This is how Petzl began, in my father's 75 square meter workshop. My family – my father, mother, brother, wife, and I – designed the first tools for verticality and the first underground lamps, which lead, in 1972, to the Petzl headlamp.

Roco recently had the opportunity to interview Paul Petzl, President of Petzl. He shared with us some insight on the history and success of his company, which is headquartered in Crolles, France. We know your father Fernand, a cave explorer, started the company in the mid 1970's. But isn't it true that the beginnings of Petzl go back farther than that?

Fernand Petzl was born in 1913. He was a passionate caver all his life. In the 1930s, he and his brothers explored the caves of the Dent de Crolles, near Grenoble. Then, in 1936, he met Pierre Chevalier; together, they explored and charted the first 17 km of galleries there and obtained the first depth record in the world of caving. It was Chevalier who had the idea to make the first nylon rope, for use in caving, which he tested with my father in the Dent de Crolles.

The early 1950s was a very active time in caving. Fernand was appointed leader of the Gouffre Berger international expedition, which reached a depth of 1,122 meters, a new world record. From 1960 to 1970, Fernand put a lot into cave rescue, developing in his small workshop some unique but very handy objects, such as a litter, a pulley, and other systems to facilitate underground rescue.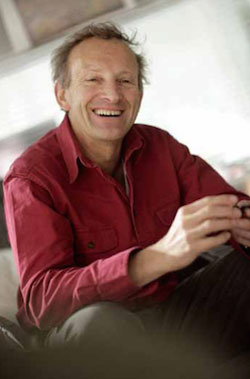 In 1969, Fernand, with my brother Peter, started manufacturing a descender and a belay device designed by a caver named Bruno Dressler. This time was also a turning point in caving, as ropes replaced ladders as the sole means of vertical movement. This technique had already been developed by Jumar, for mountaineering, but cavers took the technique and adapted it for underground use. And this is how Petzl began…in my father's 75 square meter workshop. My family – my father, mother, brother, wife, and I – designed the first tools for verticality and the first underground lamps, which lead, in 1972, to the Petzl headlamp.

What is the most innovative device Petzl has ever created?

Simplicity and efficiency for the user have always been primary goals in Petzl innovations. For example, on the first headlamp we designed, we put the battery on the elastic headband. This might seem obvious to experienced users, but we were the first to do it. When Fernand invented the SHUNT, a mechanical prussic, he created a device that could ascend or descend on one or two ropes, even if those ropes were muddy or frozen. We also created the TIBLOC, the lightest ascender in the world, with no moving parts.

But the GRIGRI is without a doubt the most iconic Petzl tool, which was first designed for climbing and later adapted for professional use. The EXO and the GRILLION are both based on the GRIGRI's design. The EXO is currently being used by fire departments around the United States as a solution for emergency escape and descent, while the GRILLON is a positioning lanyard for professionals. I would never have imagined that the GRIGRI would be so useful for so many different types of customers. It's because of our customers, who have used this tool in various capacities, that we've been able to adapt it so well. In fact, Petzl does not seek primarily to meet the market, but to solve a problem. It is an approach guided more by the solution than by business. This is probably why we have been such an innovative company – and our innovations have helped progression across many disciplines.

Here at Roco, we are big fans of the Petzl ID, and so are our students. We know that one of your focal points is innovation. Are you working on other decent control devices?

I think it's important to understand why we designed the ID in the first place: Petzl began working with rope-access workers in the 1990s, when this professional activity was just getting started. At this time, most rope-access companies were run by cavers, a group we knew well. It was easy with them; we spoke the same language. But things changed when we encountered more traditional professionals. We were not recognized – indeed, we were rejected as acrobats, people interested only in fun, not professionals. And, at first, most of these professionals rejected the rope as a means of vertical movement. So, we imagined a solution to convert them – a descender that was both reliable and that would reduce the possibility of user error as much as possible.

Today, the ID is used by professionals worldwide and has become a key component in technical rescue applications. Since its launch in 2000, we have made several modifications to the product based on user feedback. One modification involved adding a button on the descent handle, offering increased control when operating on inclines. And, in response to a specific request coming from the North American fire/rescue market, we removed the safety catch from the ID-L side plate, allowing the device to meet the general-use requirements of NFPA 1983. In early 2010, we launched a new descent-control device called the RIG. The design and functionality of this device is geared towards experienced rope-access technicians, who require a simple descender for day-to-day use in many different types of environment. Put simply, we're always innovating. Developing solutions to help people access the vertical world is at the core of our mission, and we're just getting started. In fact, we're currently building a new facility for our R&D division.

In your corporate video, you say how important it is to work with end-users in the development of products. How do climbers, mountaineers, cavers and working at height professionals get ideas to you?

When Petzl is considering new products, prototype samples are sent to Petzl prescriptors – experts in their fields who can provide very specific feedback on product design and functionality. This occurs years before we finalize the product. We also appreciate and consider the constant feedback we receive from end-users via the contact form on our website or other channels.

Because we offer solutions for professionals and those in the sport world, we're able to cross-pollinate, taking the best ideas from all across the vertical world. I think that the best example of this is the GRIGRI, which was designed first for the caver, then adapted for the climber, then for the arborist, and finally for fire departments around the United States. It is often the user who sees the possible uses of the product. It is the excellent relationship we've had with our end-users that has inspired our curiosity and driven our desire to please. It is a field-based approach used by our R&D engineers, who are passionate about verticality in the sport and professional realms.

Several products relative to rescue are now tested to the NFPA 1983 standard here in the United States. Do you see more Petzl products having US certifications in the future?

Many of our key rescue products, including harnesses, ropes, pulleys, connectors, descenders and ascenders, are certified to meet NFPA 1983 standards. Because Petzl is a global company, it is challenging to meet the domestic certification requirements of the more than 50 countries in which we distribute our products. Our hope is that international standards, such as ISO will become more universally adopted in the countries in which we distribute. For example, our NAVAHO BOD harness currently carries four different certifications from four different bodies: EN, CSA, ANSI, and NFPA. This creates a lengthy list of equipment performance and labeling requirements on such products.

Tell us about the Petzl Foundation and the Petzl Institute.

The three founding pillars of Petzl are to create innovative tools, to share expertise as widely as possible, and to share the success of the company with our employees and communities. The Petzl Foundation springs from the third pillar, as it seeks to share our business success with our communities. After all, it is our communities that enable us to exist.

I decided to create the Foundation after hearing of a wonderful initiative led by Petzl America. Thanks to a larger national effort, they were able to help preserve access for climbers to Utah's Castleton Tower. I realized then that the Foundation could be a powerful tool for good, operating outside of the business framework and competitive constraints of our company. The Foundation has already invested 1.3 million Euro in 40 projects.

After two years, I decided to invest 10% of our profits in the Foundation, to support projects that serve our communities in three core areas: safety awareness, environmental protection and preservation, and fundamental research. The Foundation's Board of Directors is comprised of members with varied background but who share the same goal, which is to contribute to the common good.

Among the Foundation's most iconic projects is a guide training we developed for Nepali people in Nepal. We've also developed training documentation for firefighters and mountaineers. We developed crevasse safety training, helped protect birds of prey living in cliff-side environments, and funded studies to better understand ice flow and formation. We contributed to save the oldest hut in the Alps, the Refuge of the Eagle, from destruction. We proposed a solution that would improve safety in the Goûter corridor, the main access to Mont Blanc. (To date, more than 200 deaths have been recorded in the corridor.)

Since Petzl's creation 40 years ago, we have always wanted to share with our customers what we learned and what we received from them. With the construction of our V.axess center, we have moved in the direction of our second pillar, which is the sharing of knowledge and expertise. V.axess, The Petzl Institute, will help bring more expertise to the Petzl distribution network and to their customers. The idea is to always move toward a better understanding of the risks that exist in the vertical world.

I wouldn't want to conclude the interview without asking about your wife, Catherine. Does she still play a part in managing the business?

Without Catherine, I would not have become Paul PETZL, and PETZL would not have achieved financial security. She was in charge of the business administration, home life, raising the children, and, especially, she has supported all my dreams. She is still a part of the business on a daily basis. As she says, it's her pleasure to satisfy her customers, so they receive their orders on time and in the right quantities. And, this is no easy job…because of the success of our products, they are not always available!