Standby Rescue: How Many Team Members?
We're often asked, "How many team members should be on a standby rescue team?"
While there is no definitive answer, we wanted to share some practical guidelines that we use here at Roco. We will offer some key points for consideration as well as address relevant standards and regulations. The safety procedures and internal policies for your organization must also be given priority consideration.
In assessing the number of personnel needed, we normally start with the various "types of confined spaces" that are applicable to the site. Other factors include elevation of the space; internal obstructions; and the potential for hazardous atmospheres. In addition, access into and out of the space; size and shape of opening; internal configuration; communications; hazard types and sources; and required PPE. Consideration must also be given to the types of injuries that may occur, which will dictate patient care and movement limitations inside the space.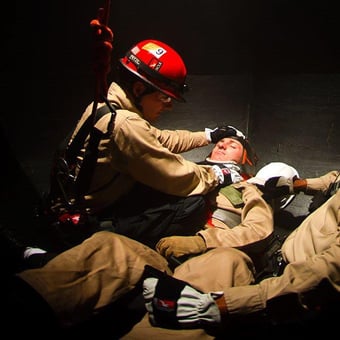 As an example, to rescue an entrant from a 24-inch round horizontal portal that is 3-feet off the ground would require fewer personnel than one that is 80-feet off the ground, or if it has an IDLH environment. This is a much different story! Careful consideration must be given to the various factors involved so that rescuers can be adequately prepared to take the appropriate action when needed.
From a regulations standpoint
OSHA's Permit-Required Confined Space Regulation (29 CFR 1910.146) is our primary reference for this topic. However, this regulation is "performance-based" – and does not provide a specific number of personnel required for stand-by operations. It simply requires that the team or service gets the job done in a safe and timely manner.
Section (d)(9) of the regulation states the requirement to "Develop and implement procedures for summoning rescue and emergency services, for rescuing entrants from permit spaces, for providing necessary emergency services to rescued employees…". However, the number of team members is left up to the employer or agency.
Section (k) provides more details regarding rescue and emergency services but again does not include a specific number of team members required. It's all based on the rescue service's ability to perform rescue from the types of confined spaces to which they may respond. OSHA's Confined Spaces in Construction (1926 Subpart AA) standard echoes 1910.146 with a few additional requirements, but again offers no specific numbers on rescuers needed for standby operations.
Next, the Respiratory Standard (1910.134), section (g)(3)(i) states that "One employee or, when needed, more than one employee is located outside the IDLH atmosphere;" and Section (g)(3)(iii) adds that…"The employee(s) located outside the IDLH atmosphere are trained and equipped to provide effective emergency rescue" – however, once again, we are given no set number of personnel.

NFPA 1670, Standard on Operations and Training for Technical Search and Rescue Incidents, (2017 Ed) Chapter 7.3.2.1, states that "The role of a confined space rescue service is intended to include entry into the space to perform a rescue and, as a minimum, shall be staffed to provide sufficient members with the following exclusive functions:
Rescue entrant/entry team of sufficient size and capability to perform the rescue…

Backup rescue entrants of a sufficient number to provide immediate assistance…

Rescue attendant…

Rescue team leader (supervisor)…"
Still, no definitive number of personnel, but at least it offers some guidance on the positions that should be taken into consideration. If you dig a little deeper into the Appendix of 1670, you can find in A.7.3.2.1, "In general, confined space rescue teams are composed of no less than six members to perform all the required functions listed. However, the size and capability of a team required to perform a specific rescue will depend on many factors, including the condition of the patient, the size and shape of the space, size of the access opening, and the hazards present...".
How Roco's stand-by rescue services would typically handle
So, how many team members does it take? We'll give you an idea of how we address this with Roco's stand-by rescue services. Our typical Confined Space Rescue Team consists of three personnel including a Crew Chief and two Rescue Technicians. Keep in mind, however, these individuals are experienced, professional emergency responders, who perform stand-by rescue operations and/or train on a regular basis.
Our teams also have the benefit of preplanning the rescue and setting up equipment in advance. Considerable effort goes into rescue planning by Roco teams prior to an entry. Preplanning precautions include:
Analyze, identify and eliminate hazards in and around the confined space.

Ensure appropriate administrative and work practice controls are being used and followed.

Hazard-specific PPE is provided and correctly used by all personnel involved.

Communication methods are defined, verified and implemented (written and verbal).
Also, with our standby teams, the Crew Chief is responsible for filling two roles during an actual emergency… (1) the rescue team leader and (2) either the rescue attendant or the backup rescuer. One Rescue Technician fills the role the Crew Chief didn't, and the other Rescue Technician becomes the rescue entrant.
This has proven to be an effective and efficient team when providing standby rescue services. Again, we have the benefit of being onsite while the entries are occurring and the opportunity to preplan the rescue. In addition, the job circumstances and scope of work are carefully evaluated prior to committing to a specific number of personnel.
As an example, we typically require a four-person team for jobs involving inert entries and other types of IDLH environments, unusual space configurations (i.e., long distances, entanglement hazards or complex obstructions), or any other high hazard condition. In certain instances, even a two-person team may be appropriate. This would include when there is no potential for atmospheric hazards; large and easily assessable openings; no secondary lowering operations; strictly horizontal movement, etc.
In closing, we must emphasize that employers are required to ensure that adequate rescue capabilities are readily available. OSHA 1910.146 is a performance-based standard that requires a safe and timely rescue response for confined space incidents. This is one reason it is so important to evaluate the rescue service you are depending upon to provide emergency services (i.e., is the team trained and equipped to provide confined space and elevated rescue appropriate to your needs?). Appendix F of 1910.146 provides a valuable tool for conducting rescue performance evaluations. It is critically important to know in advance that your rescue service is prepared, capable and ready to perform an emergency rescue.

Additional Resources
Blog originally posted in March 2011.