Sometimes, Timing IS Everything.
Whether you're a comedian telling jokes or a quarterback throwing a fade route to your favorite receiver, timing is key. And when you're rescuing a worker who's fallen into a fast-moving river, timing becomes an incredibly critical issue. In an instant, a Roco marine standby boat and rescue team can mean the difference in life or death for a fallen worker. What's more, OSHA requires prompt retrieval during construction projects over or near water, and that's just what Roco teams can provide.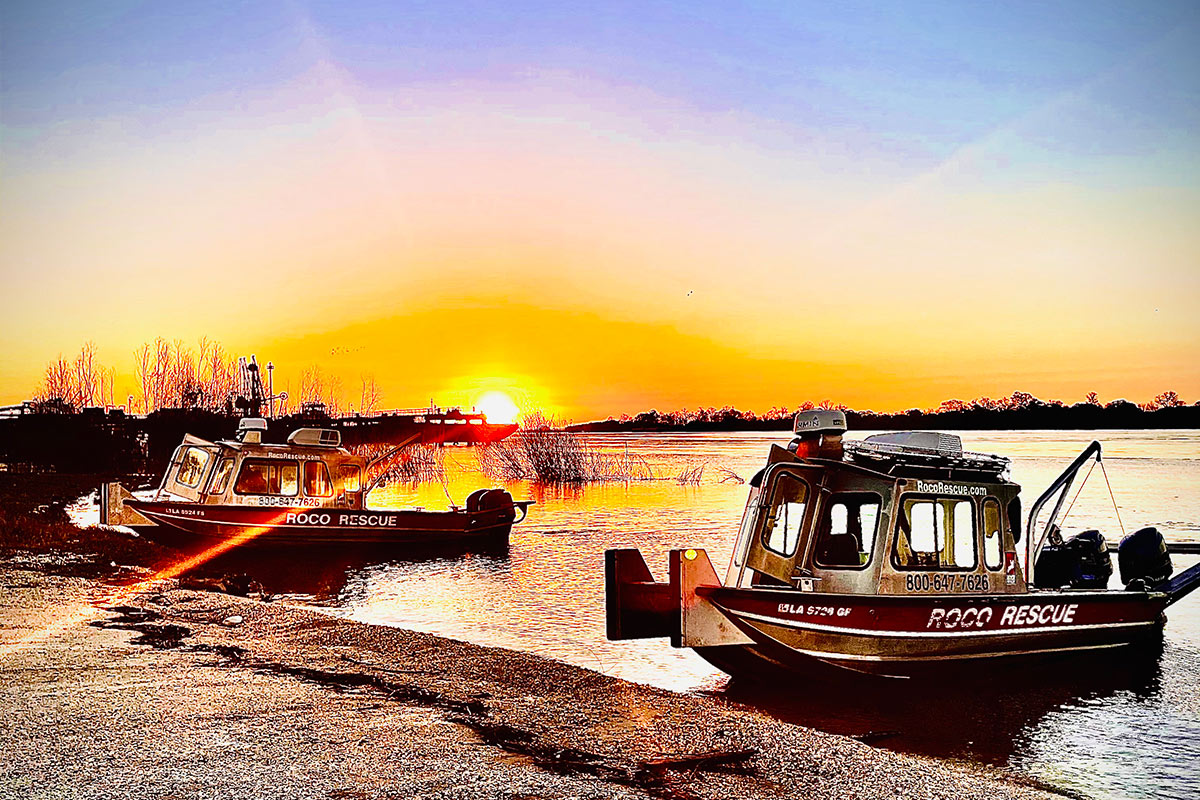 As part of Roco Rescue's CSRT Services Division, Roco marine standby crews spend hundreds of hours each year on the waterways of the Baton Rouge-New Orleans industrial corridor, ensuring the safety of those working on structures above the water. According to Brad Duplessis, CSRT Director for Roco, "By far, the majority of our marine standby work is on the Mississippi River near a dock or facility under construction, but our teams are mobile and can work most anywhere in the U.S. In fact, we recently quoted a project on the Ohio River."

Many companies performing construction work over or near waterways may not realize that a boat or skiff in the water for rescue is actually an OSHA requirement. OSHA 1926.106(d) states, "At least one lifesaving skiff shall be immediately available at locations where employees are working over or adjacent to water." In fact, according to one OSHA letter of interpretation (LOI 6/13/90), the retrieval of an employee from the water is required no more than three to four minutes from the time they entered the water. Depending upon hazards present, rescue could be required even sooner. Another OSHA LOI (12/5/03) states, "As a skiff supplies a backup to potential failures of fall protection devices, the use of fall protection systems is not a substitute for the skiff."

Simple Premise. Complicated Process.
The concept is simple. Roco Rescue places a boat on-site to monitor projects where work is being performed over water. The Roco team, consisting of a boat operator and a lead rescuer, is there to closely monitor the site and immediately retrieve anyone that falls in the water. If the worker falls and is hanging from scaffolding or dangling from the side of a structure, it is the duty of the site rescue team to assist. But the minute a worker falls into the water, Roco Rescue's marine standby team springs into action – and that's when the process becomes both dangerous and complicated.
"Our eyes are constantly on the water," explained Devin Payne, Roco CSRT Logistics Manager, who also works marine rescue standby.
"The minute a worker falls in, our two-person team goes to work striving to get that person out of the water as quickly as possible. One team member maneuvers the boat and the other uses equipment like life rings, ropes, grab poles or a davit arm, which is a specialized winch."
"There are a number of factors at play, plus the fact that the person needing rescue may be injured or unconscious," said Denver Payne, Roco CSRT Regional Manager (and twin brother of Devin).
"Most people don't realize the dangers of river water, the intricacies that go into rescue or the potential hazards that stand in our way."
Current: River water on the Mississippi generally moves at a rate of approximately 30 knots, which is just under 30 miles per hour. Rivers at flood stage can move even faster. At this rate, an individual that falls in can be swept away ending up hundreds of feet from the water entry point in a matter of seconds. For this reason, Roco Rescue boats observe closely from just downstream, ready to pull workers from the water as quickly as possible.
Temperature: Many would assume that river water, especially during southern summers, hovers around the 80-degree mark. However, in actuality, the average temperature of river water is 64-70 degrees, which can lead to the rapid onset of hypothermia. The Mississippi River averages 58 degrees during the spring and early summer due to the snowmelt coming down from the north. At this temperature, hypothermia can set in at an even faster rate.
Debris: Rivers have an unbelievable amount of debris such as tree limbs, logs, trash and more, much of which may not be visible from the surface. A worker may fall on a piece of debris or have debris strike him moving 30 mph, which can render him unresponsive during a rescue.
Visibility: Underwater visibility in a river is zero. If someone falls in without a personal floatation device, he could go under immediately making the rescue even more challenging.
Boat Traffic: The river is shared by a number of additional boats and barges of varying sizes. Maneuvering the Roco boat between traffic can also be challenging. In addition, a person being swept away at 30 mph who is slammed into the side of a parked barge or a moving boat can experience great bodily harm.

Special Equipment. Specially Trained Personnel.
Although the OSHA standard does not identify specific training for the rescue boat personnel, all Roco marine standby personnel are First Responder/CPR/First Aid trained, certified EMR or higher, and most are EMTs. Each member has passed a Boater's Education Course along with specialized Roco Rescue training developed in conjunction with the U.S. Coast Guard and EBR Sheriff's Department. Roco boats are fully equipped with first aid kits, AEDs and oxygen for prompt emergency care. These twin-engine crafts are safer and float lower in the water, making rescue access easier. Each boat is equipped with everything needed for rescue including a davit arm strong enough to lift 400 pounds. Our specialized navigation system allows for work during periods of low visibility as well.
We remind all companies who have personnel performing construction activities over or near the water, please make sure you are OSHA compliant and have a boat onsite to provide timely rescue. For additional safety and to ensure the highest level of service, rely on Roco Rescue. For more information on our marine rescue standby services, please contact us via phone at 800-647-7626 or email us at info@RocoRescue.com.