Roco Reviews the New CMC Triskelion™ Tripod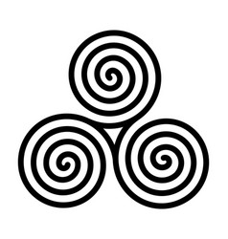 Triskelion. The name is as old as the concept, three legs coming together to a common point and sharing a load concentrated in the center of those three legs. There are numerous examples of the tripod in Greek, Chinese and Roman history. When it evolved into a design that could be moved, adjusted where needed, and used to create an overhead anchor, we started paying attention. Fast forward a millennium and the concept really has not changed. In the world of work and rescue, we are still picking things up and putting them down using tripods.
The most common tripod is the rectangular leg design that is popular with work crews covering a multitude of industries. Usually there is a bracket mounted on one leg to accept a cable winch and a couple of head-mounted pulleys in line to run that cable over. This keeps the resultant forces within the footprint and makes them very stable when loaded properly. They are designed to support a single user with a maximum capacity of 310 lbs. and WLL (working load limit) of 350 lbs. The legs are adjustable in height and come with a chain hobble. Workers all over the world are hanging below these tripods as you read this.
With the new Triskelion™ Industrial Rescue Tripod, CMC has taken that rectangle tube leg design and utilized it for rescue. If your rules of engagement require NFPA compliance with your equipment, you will be pleased to know that the Triskelion is the first industrial rescue tripod to receive an NFPA General Use rating.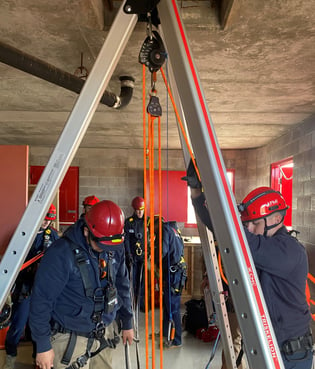 Roco recently got a chance to put our hands on one and put it through some testing and team reps with a couple of progressive fire departments in Idaho and New Mexico, as well as at the Roco Training Center in Baton Rouge. Firefighters can be tough on gear, but right out of the box they commented on its look and solid feel. Once in use, it didn't take us long to discover that rescuers wanted to get their hands on the Triskelion as soon as possible.
We beat it up, we used it hard and rough, and it performed – it really performed. When loading it as a traditional tripod with a block and tackle, it locks in tight. It locks into a never-moving position like a 35-year-old living in his parents' basement, playing Clash of Clans. He is not moving, and neither is the Triskelion. When the Triskelion is loaded correctly, it is incredibly stable. It is also incredibly quiet. For those who spend any time using work tripods, you are already familiar with that cringe-worthy feeling you get hearing the tripod creak and grind as it hopefully settles into a strong supportive position. The Triskelion is a touch more stoic. It stands up strong and keeps its mouth shut.
Despite its robust size, the Triskelion is smooth in its operation. If the CMC crew wants to send over the names of the brilliant engineering team members who set the pin location on the legs, we can find the time to buy them a round of drinks. With its new design, we think it's the best on the market. The rectangular legs are set up with stoppers so that whether you are all the way down, or all the way extended, the pinholes are lined up. Such a simple feature, but one that quickly became a favorite of the Roco teams that used it.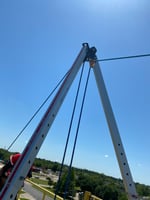 The tethered pins are big and user-friendly with ball-locks, but with big pins come big holes so be careful you don't slip a finger into one while adjusting! Graphics and adjustment markers on the legs are bold and easy to see, making coordination a breeze. The days of struggling to pin the legs at height are over.
The head-mounted pulleys are low profile and well protected. We used one of them rigged with one of our favorite Tripod systems to perform a shaft rescue (think English Reeve without the track lines and control lines).
The low profile of the pulley and the elimination of swing from not having to hang a pulley on both sides created a very compact and stable shaft system. The low-profile system also provides additional headspace when bringing out a vertical litter.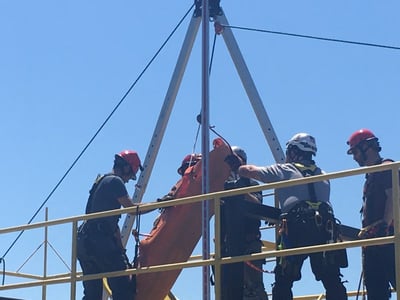 A group in an open enrollment Roco class in Baton Rouge used the Triskelion to bring up a vertical Sked and had over a foot of clearance left when the feet cleared due to the increased headspace. And just in case you didn't get all your rigging right before you raised the Triskelion to its 10ft. maximum height, the optional footsteps ensure you can still reach to add, change, or delete anything you need. CMC also offers winch mounting solutions for the excellent Harkin Lokhead winch as well as DBI/Sala offerings.
The storage bag is reinforced on each end and features sewn handles for a two-person carry. There is also a padded shoulder strap, which you will appreciate if trying to carry alone. The straps are offset towards the head to compensate for the extra weight the Triskelion carries up top.
Special thanks to the City of Nampa Fire Department and Albuquerque Fire Rescue for contributing and providing feedback. Many of us came into this evaluation thinking, "how good can it be?" and we finished by asking, "when can we get one?"
If you are interested in purchasing the new Triskelion Tripod, you can order from our online store, call us at (800) 647-7626, or order via email at info@RocoRescue.com.