Roco Rescue One Of "America's Safest Companies" According To EHS Today
Dallas, TX – November 11, 2019 – Roco Rescue, a world leader in technical rescue training and a provider of industrial rescue services, was named one of America's Safest Companies by EHS Today. The award was presented November 6th at EHS Today's 2019 Safety Leadership Conference in Dallas.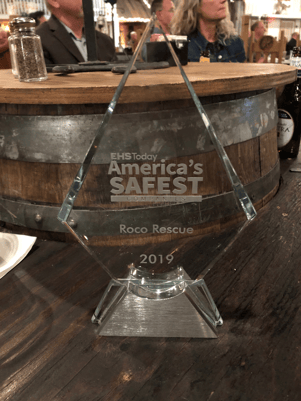 The companies selected to this prestigious list have shown a commitment to environmental health and safety (EHS) efforts that span from the executive team through all levels of the organization. This includes documented evidence of:
comprehensive safety training programs
an EHS process that involves all employees
incident prevention as a foundation of their program
clear communications about safety
injury and illness rates that demonstrate safety leadership in their industry
an innovative approach to safety challenges
data capture that measures and substantiates the benefits of the safety process
"It is such an honor to be recognized by EHS Today as one of America's Safest Companies," says Roco Rescue's President and CEO Kay Goodwyn. "We understand that our company's success is based on safe operations every single day, and I'm proud of all of our personnel who help us achieve our mission."
The editors of EHS Today noted Roco Rescue's proven track record with zero injuries and zero general liability claims as evidence of the efficacy of its safety processes. Roco Rescue trains approximately 3,000 students each year in highly-technical and potentially dangerous activities; and in 2018 and during the first two quarters of 2019, Roco Rescue conducted more than 1,200 Standby Rescue assignments at industrial and municipal sites, logging over 140,000 hours, all while maintaining a track record of zero incidents.
The editors of EHS Today also noted Roco Rescue's dedication to safe practices for its employees, as demonstrated by the emphasis placed on safety training and continued evaluation of safety practices for programs and equipment, which includes daily tailgate safety meetings before each job assignment.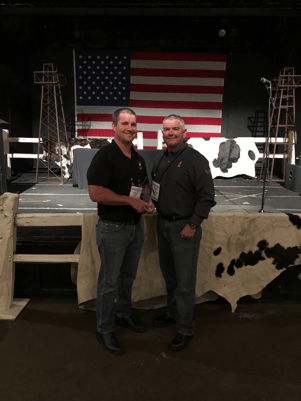 EHS Today commended Roco Rescue for adopting safety procedures that go above and beyond OSHA, ANSI, and industry standards. For example, with regards to Rope Rescue Operations, Roco Rescue exceeds NFPA 1006 and NFPA 1983 by adopting the ANSI Z359.1 standard for fall protection.
In addition, participation in OSHA's Voluntary Protection Program as a VPP Star worksite since 2013 entails development and continuous improvement of safety and health programs that go above and beyond OSHA's standard requirements.