Roco Rescue Accepts Distinguished OSHA VPP Star Award
Roco Rescue was officially awarded the OSHA VPP Star at a ceremony on April 15th, making them the first rescue training, equipment and safety services company in the United States to receive the award.

OSHA recognized Roco for their excellent safety history, practices and programs, which makes them a part of a distinguished community of approximately 2,400 other elite organizations in the nation who have met the rigorous guidelines for achieving VPP Star recognition.

Supporters gathered at the Roco Training Center in Baton Rouge to celebrate the rare designation. Senior VP/COO John Voinché introduced special guests and thanked them for their long-time support of Roco Rescue. An official OSHA plaque of honor was presented to Kay Goodwyn, President/CEO, before a VPP Star Worksite flag was raised at RTC by Chief Carroll Campbell and Denver Payne.


The Voluntary Protection Program (VPP) is based on a cooperative relationship between management, labor and government. VPP promotes worker protection, which requires active employee involvement and management commitment, while emphasizing the continual identification and elimination of hazards beyond OSHA standards.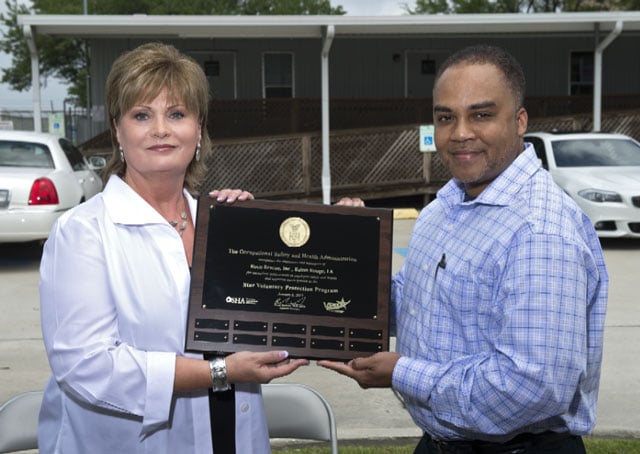 "It's a commitment our people make at every level. Being in the business of safety and rescue services, it is essential that every Roco team member engage in the utmost safety at all times," Kay Goodwyn said.
"It takes a conscious effort on everyone's part, and we are extremely honored to be a part of this elite group."
Above: The VPP Star Worksite flag is raised for the first time.

Right: Goodwyn accepts OSHA plaque from Roderic Chube, VPP Coordinator of the Baton Rouge Area OSHA Office.