Roco Receives Premier Vendor Award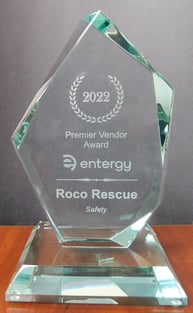 We are extremely excited to share that Roco Rescue recently received Entergy's Premier Vendor Award in the Safety category.
This award is sponsored by Entergy to recognize and promote extraordinary vendor performance. In seeking and sharing best practices, the award-winning company must have a profound and direct impact on improving the safety and reliability of the utility industry. And, we were in competition with some very large corporations.
To be eligible for the award, service and material providers who have contracted with Entergy during the award year (2021) must have achieved high levels of performance, implemented transferable new practices, or significantly improved processes in the areas of safety, diverse/local spend, sustainability, customer centricity, and continuous improvement.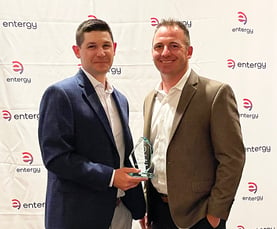 Roco provides Entergy with many highly trained and skilled confined space rescue teams across Arkansas, Mississippi, and Louisiana. Additionally, Roco's Safety Services Division now provides Entergy with highly trained and motivated Certified Occupational Safety Specialists to add another level of depth to safety on large-scale outages and turnarounds. Our Safety Specialists have been involved in overall outage planning, safety consulting and observations throughout the outage, and overall support for anything that Entergy needed during their large projects. This year, Roco had the pleasure of providing oversite for two outages, including one major outage in Mississippi.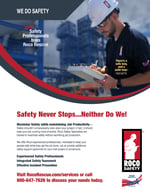 Additional Resources