Rescuing the Rescuer: When Things Go Wrong During a Rescue
by Brad Warr, Chief Instructor



The day before 40-year-old Phoenix firefighter Brett Tarver got separated from his crew and ran out of air at the Southwest Supermarket fire, the fire service felt confident in its ability to rescue a downed firefighter. That all changed when Tarver was found unresponsive thirty minutes after his mayday was broadcast over the radio. The tragic loss of Brett Tarver on March 14, 2001, left the firefighting community wondering what it had missed.

The ensuing years of self-examination and evaluation of rapid intervention techniques and operating procedures resulted in the development of NFPA 1407: Standard for Training Fire Service Rapid Intervention Crews.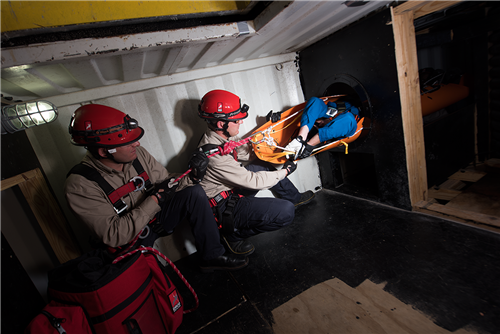 Released on December 5, 2009, the document provided a framework for fire departments to train, equip and deploy their personnel in the event of mayday. A decade later, firefighters are more prepared than at any time in history to launch a rescue operation when a brother or sister firefighter calls that mayday.
While firefighter rapid intervention techniques have continued to improve, confined space rapid intervention has not received quite as much analysis and focus for improving techniques and guidelines, despite the fact that more than 60% of confined space fatalities occur among would-be rescuers. Perhaps this is why Roco Rescue's course "Rescuing the Rescuer: When Things Go Wrong During a Rescue", which is being offered at the North Dakota Safety Council's (NDSC) upcoming 2019 Annual Safety & Health Conference, sold out in a matter of days. The industry – whether they are firefighters, emergency responders, or industrial workers, recognizes the vital importance of a subject that is truly a matter of life or death.
About the Course
Taking lessons learned from both successful and unsuccessful rescues of downed firefighters, students attending "Rescuing the Rescuer" will apply those lessons to the world of confined space rescue. The day-long session will bring together rescuers of all experience levels seeking strategies for effectively responding to what nearly everyone agrees is the most stressful call a rescuer will ever receive.
The course will emphasize the following:
- Having a plan before something goes wrong is the only chance you have.

- Simple systems are easier to use in a stressful situation than complex systems.

- There are no systems that can replace a clear-thinking, highly-trained rescue technician.
While NFPA 1407 gives a clear picture of the responsibilities of a firefighter during a mayday, the picture is not nearly as clear for rescuers responding to the mayday call or loss of contact with a rescuer inside a confined space. The sometimes-murky relationship between OSHA and NFPA standards will be explored including a review of both the construction and general industry OSHA confined space standards (1926 Subpart AA and 1910.146).

Tackling a Rarely-Explored Topic

Although training for a downed rescuer is a topic that is rarely visited in rescue training due to time constraints and the extensive requirements rescue technicians already must meet in order to carry their title, Roco Rescue believes it is a topic that shouldn't be overlooked. The popularity of the course in North Dakota demonstrates that this is a subject of extreme interest to the safety industry.

This is the first time Roco Rescue has offered the course in this format, but it most likely won't be the last. Subscribe to our newsletter to be the first to learn about new course offerings. Safety professionals interested in this training who are unable to attend the sold-out course in North Dakota may also wish to explore Roco Rescue's advanced tech level course, FAST-TRACK™ 120.

Rescuer fatalities have declined in recent years, but they aren't declining quickly enough. Let's do our part to ensure that workers in the safety and rescue fields make it home to see their families when their work is done.



Brad Warr is a Chief Instructor for Roco Rescue and a Captain at the Nampa Fire Department. Brad joined Roco Rescue in 2003, teaching a wide variety of technical rescue classes including rope rescue, confined space rescue, trench rescue, and structural collapse. Brad became a firefighter for the Nampa Fire Department in 1998 and was promoted to Captain in 2006. Before joining the fire department, Brad worked for three years as an Emergency Response Technician for a large computer chip manufacturer in Boise, Idaho, where he was responsible for OSHA compliance, emergency medical response, confined space/rope rescue response and hazardous materials response.