Rescue Toolbox: Petzl ASAP LOCK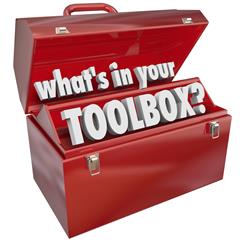 Experienced rescuers know there are several ways to belay, or provide a safety line for a live load. Traditional belays include Tandem Prusiks, aperture devices, Munter Hitch, modern devices such as the ID or the MPD, and several others. What all of these devices have in common is the belay system is anchored with the line running through it as the load moves away from the anchors, or the line is pulled through the belay to take in slack as the load moves toward the anchors. These types of belay systems must be tended by a dedicated operator.
But certain professions and even alpinists and sport climbers have been using a different means of providing a belay for many years. This type of belay has been called a self-belay, or a traveling belay and it works by having the belay device attached to a fixed safety line, and the device travels along with the load as it ascends or descends. Window washers and rope access technicians have been relying on this type of belay for many years. Even soloist rock climbers or mountaineers have been using variations of self-belay or for alpinists fixed lines to negotiate difficult pitches in lieu of a roped party climb.
Up until recently, these traveling belays required the individual on rope to pull the device along both on ascent and decent.
In fact, many times, devices that were not intended to be used as a belay device were and are still being used for this purpose. I've seen window washers using handled ascenders as their belay device and try as I might to explain to them that it would have a high potential to fail upon a shock load, they said it was the best they could come up with. The Petzl Shunt was a bit of improvement over handled ascenders, but it still needed to be "towed" up and down the line and the operator needed to remember to let go of the tow string should the mainline fail otherwise the device would not lock onto the line. Most all cam type devices will fail to lock on the rope if the body of the device is held when it is called to arrest a fall. But in the recent past a new "rolling" fall arrestor became available that overcomes many of the limitations of traditional belay devices. It is called the Petzl ASAP.

The ASAP comes in two versions, the original International version and the newer ASAP Lock (pictured here)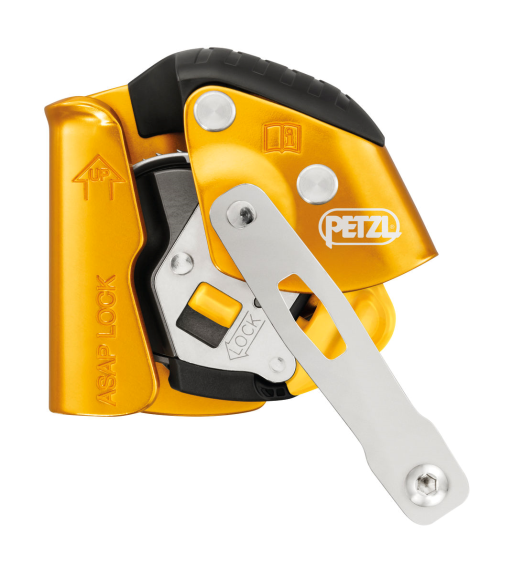 . The primary difference between the two versions is the Lock has a means to lock onto the rope when you get to your intended position, which prevents a large loop of rope building between the top anchor and the device. This feature is critical for individuals that stop to perform a function at height where the potential for wind to blow rope into a growing loop between the device and the top anchor which would create an unacceptable potential freefall distance. Both versions are compatible with 10-13 mm kernmantle rope, but to meet ANSI Z359.15 certification, they must be used with the Petzl RAY 12 mm rope, and specified connectors and energy absorbers.
One advantage of having a rolling fall arrestor is it reduces the manning requirements as there no longer needs to be an individual operating the belay.
Another advantage is there is no guesswork as to the amount of slack in the belay lane as is possible when the load is out of sight of the belay operator. This is particularly common on longer drops as the weight of the safety line can fool some less experienced operators into believing that is the weight of the load.

But there are also potential disadvantages to an automatic rolling fall arrestor. If you do not plan ahead and there is a mainline failure and the load is arrested by the ASAP, it isn't going anywhere. It will be stuck right where it arrests on the safety line – that is, unless you did think ahead and anchor the safety line into a dynamic anchor. We like to use the Petzl ID (pictured here) or the CMC MPD for this purpose.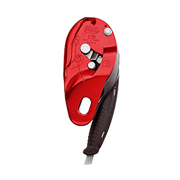 This allows for an immediate emergency lower on the safety line or even a haul by building the dynamic anchor into a Z-Rig.
We have found the ASAP in either version to be a great device on an administrative safety line during tower rescue training, as it closely replicates conditions as they would most likely be in a real world small team, or one-on-one tower rescue, while providing the required level of safety that is relatively transparent to all involved.
So, come to one of our tower classes to see the ASAP in use, and it may just turn out to be another tool for your rescue toolbox. Here is more information on Roco's 30-hour Tower Work & Rescue training. For further assistance, please call our office at 800-647-7626. Also, here's a video on these devices from Petzl.
ASAP Lock in ANSI-approved System Configuration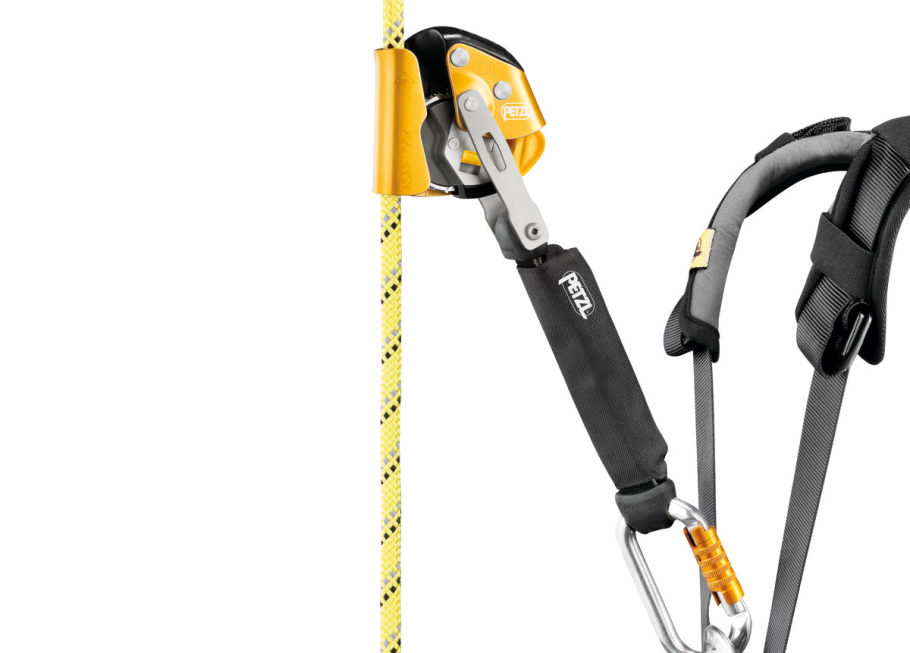 ASAP International Version (below)