Rescue Compliance…Is Your Team Ready?
We're often asked by plant managers or rescue team supervisors about how they can make sure their rescue team is ready and in compliance should a confined space emergency occur at their site. Our answer usually revolves around practice, practice, practice; but here are a few other recommendations that you may want to consider.
Consistency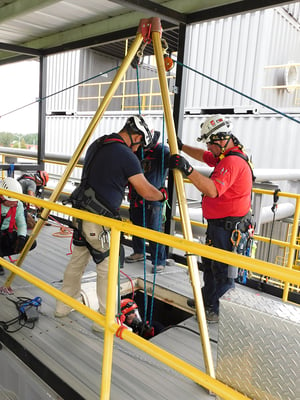 First of all, make sure you and your team are speaking the same language when it comes to rescue techniques and equipment. Consistency is key in having an organized response to a confined space emergency. We always recommend that customers evaluate and choose a single provider for their confined space and high angle rescue training. Using multiple training providers (even if they are similar) can result in confusion for team members as to what techniques and equipment are supposed to be used – especially during a rescue!
Compliance
If you have permit spaces at your site, then we assume OSHA compliance is a priority. OSHA's Permit-Required Confined Space standard (1910.146) is a performance standard and is based on operational capabilities – as is OSHA's Confined Spaces in Construction (1926 Subpart AA). While minimum practice requirements are once annually for each team member in the applicable representative spaces, the standard goes far beyond this in terms of proving that your team can function in a safe, timely and effective manner. Have you documented your annual rescue practice requirements in the relevant confined space types? Have you conducted an evaluation of your team's performance in realistic confined space scenarios? Has your team prepared recommended preplans for the permit spaces on site?
Make sure you and your team are speaking the same language when it comes to rescue techniques and equipment.
There are other national consensus standards to take into consideration as well. This includes the National Fire Protection Association (NFPA) rescue skills requirements of NFPA 1006. This standard provides an excellent means of documenting individual proficiency of your team members. If there is an incident and OSHA were to investigate, would you be able to document the individual skills proficiency of your team members? Remember, if it's not documented – with OSHA, it doesn't exist!
Credentials
Team members should be trained to an appropriate level based on the potential scenarios they may be called to respond. Do your personnel routinely work at height? Is there a potential for IDLH atmospheres? Know the hazards that your team may face and make sure they are adequately prepared. For overall team proficiency, it's important to determine what credentials or level of skills you expect of your individual rescue personnel.
Ideally, all team members would be certified minimally to the Confined Space Rescue Technician level (NFPA 1006) along with the third-party certification to back it up. Of course, all should be CPR certified at a minimum. Additional medical training may be required depending on what level of patient care you intend to provide. And, with these certifications, come recertifications and continuing education, which must be completed as appropriate.
"Can you document your team's competency and prove that your team members are capable of functioning in a safe, timely and effective manner?"
It's also important to check your team's training records and make sure everyone is "up to par" with their training currency and skill level. Do you have a particular goal or level that you want your team to strive for, achieve, and maintain? Determining an overall goal for your team is significant in planning for and achieving long-term results. If you're counting on your team to be ready and prepared, we strongly suggest that all team members be trained to the same proficiency level.
Capabilities
Here's where the rubber meets the road – how capable is your team of performing a confined space rescue? In the worst of circumstances, can your team safely rescue a patient in a confined space filled with obstacles and unforeseen hazards? Do they possess the technical skills and equipment to perform a rescue safely and timely?
One of the best ways to determine the capability of your team is via simulated, realistic rescue practice drills in the representative confined spaces they may be called to respond. Adding a time limit – without compromising safety – can increase the perceived pressure and further simulate a real rescue. It's an excellent way to see how your team would respond in an actual emergency situation and correct any deficiencies discovered.
Roco offers two great methods for evaluating rescue team competency. One is a Roco Team Performance Evaluation and the other is our annual Rescue Challenge event. Both offer realistic scenarios conducted under the guidance of experienced instructors along with a critique or debrief of each evolution. Each scenario is graded for various rescue and medical components. With each, comes a Team Performance Report to provide documentation of rescue capabilities.
Certification
If you plan to take your rescue personnel to the level of Rescue Technician, Roco has several options. The quickest way of reaching this certification to NPFA 1006 is by attending our Fast-Track™ Confined Space Rescue Technician course, which is a 70-hour program. This course meets the needs of municipal and industrial emergency responders with a mix of confined space and rope rescue. The class is geared for confined space rescue with additional rope technician skills needed for elevated or high angle rescue. The certification process includes a written exam and performance skills testing and is valid for a period of two years.

"Establish training goals for the team as well as individual team members, so that every training session stays on track and is productive."
An alternative path to certification includes attending Roco's Urban/Industrial Rescue Essentials™ 50-hour course and then completing the certification process in a Confined Space Rescue Technician 40-hour program. In either method, your personnel will receive consistent training and be certified to the same level of competency.
Training Cycle for Compliance
Once all team members have reached the appropriate training level, skills maintenance and ongoing proficiency become the norm for continuing compliance. Again, OSHA 1910.146 is a performance and capabilities-based standard that includes minimum annual rescue practice requirements for each team member.
Because our certification is valid for two years, we recommend a rotating cycle. Once Rescue Technician certification is achieved, the following year would include a Roco Team Performance Evaluation – or the attendance of Roco's Rescue Challenge event. Both events provide graded rescue scenarios, which are debriefed by evaluators to correct any deficiencies found. Each of these options includes a Team Performance Evaluation report, which provides excellent documentation for compliance. The alternative year would include attendance of a Roco Recertification program.
This cycle of training works well in documenting that you have met the minimum requirements of OSHA while also meeting the skills requirements of NFPA. The supporting documentation provided offers a realistic "snapshot" of where your team stands in terms of competency and proficiency. This information can then be used as a tool to design internal drills that correct any discrepancies while getting the most from your all too limited practice time.
Conclusion
Rescue skills are extremely perishable, and if not used or practiced routinely, they can be quickly lost. For an effective rescue, team members must be confident in their skills, their equipment and their other team members. This requires regular practice that is realistic and practical. Make sure your rescue team is ready for an actual emergency – as you know, lives are on the line.

Additional Resources