Rescue Challenge 2018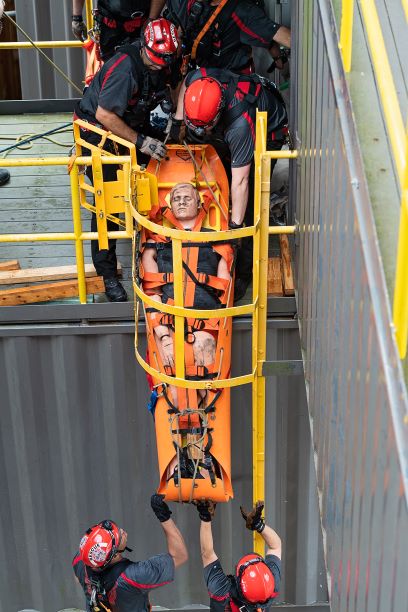 Seven challenging rescue scenarios awaited participating teams at Roco Rescue Challenge 2018 recently held in Baton Rouge. Multiple training props at and near the Roco Training Center (RTC) were used to create the realistic problem-solving scenarios, which included both props at the RTC as well as the training tower and the "industrial prop" at the Baton Rouge Fire Department. These facilities provided a wide variety of rescue scenarios and rigging environments for the teams during the two-day event.

Challenge teams were required to successfully complete scenarios in all six (6) Confined Space Types based on OSHA-defined criteria in addition to Rescue from Fall Protection and Extrication. The scenarios were designed to meet OSHA1 and NFPA2 requirements for annual practice and evaluation of team capabilities as well as the individual rescuers. Participating teams received third party testing of the scenarios and individual rescuer skills along with documentation to back up the testing. Following Rescue Challenge, each team receives a complete report of the scenarios along with their scores, strengths and weaknesses as well as debriefing notes from the instructor evaluators.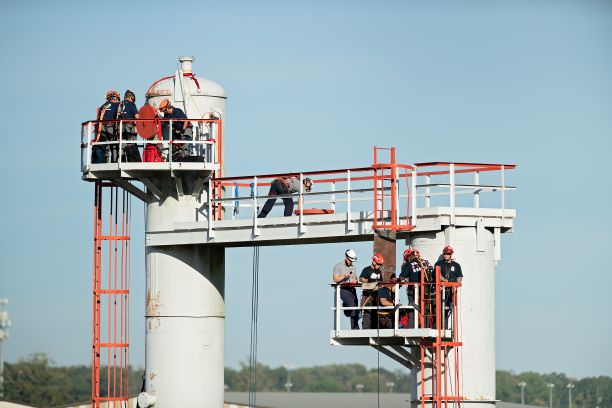 Speaking of evaluators, this year featured some of Roco's top instructors who hailed from Idaho to New York. These individuals are passionate about teaching rescue and improving the performance of their students. No doubt they're a big part of why the event is so successful and so effective in honing the teams' skills. In fact, this year's event was dedicated to the memory of one of our long-time instructors and original Roco Rangers, Mr. Doug Norwood.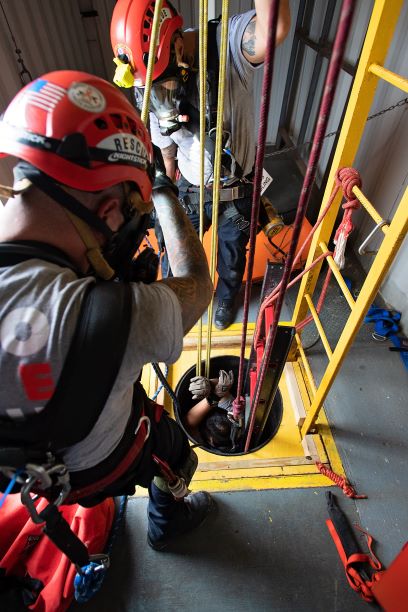 All Challenge scenarios are designed to have teaching goals that require different rescue and rigging skills. They included simulated IDLH rescue entries with the use of SAR and SCBA equipment. Also included were single-person and multi-casualty scenarios with a mix of manikins and live victims/evaluators as patients.

Challenge consisted of three different testing criteria to include:
1. Seven rescue scenarios;
2. Individual Performance Evaluations (IPE); and,
3. A Team Performance Evaluation (TPE).

Here is a quick break down of the two-day event:



DAY ONE


Station#1 – CS Types #3, #4 & #6
A worker fell approximately 8 ft. while working on a motor in a fan plenum on a cooling tower. The worker fell through the fan to the cooling pipes below and suffered from heat exhaustion and a possible broken/dislocated hip. Access and egress to the patient and ground was through a series of ladder cages at approximately the 50 ft. level.
 
Station #2 – Rescue from Fall Protection
A worker who was painting on top of a 50 ft. dome column tower fell onto his fall protection system. Access by the technical rescue team was over the top of the dome to the far side of the tower where rescuers needed to transfer the patient from his system to the rescuer's system before descending to safety.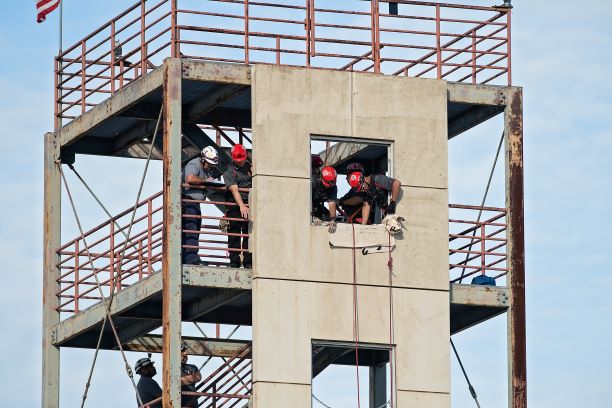 Station #3 – CS Types #3 & #2
Three workers were trapped in a "Stack" elevator that jumped off its track. The scenario simulated rescue from a height of 300 ft. requiring knot-passing techniques.

Station #4 – CS Type #4
A reenactment of an OSHA confined space incident where two entrants were injured in a flash fire in a confined space, which required on-air entry using SCBA.

Station #5 – CS Type #4
The rescue of an unconscious worker from a column vessel with multiple internal trays, requiring that the patient be lowered approximately 40 ft. to the ground.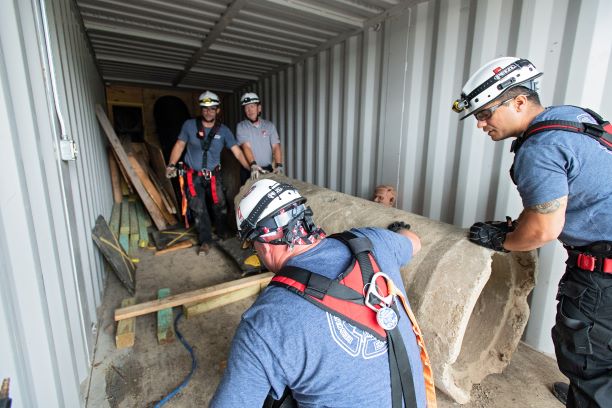 DAY TWO
Station #6 – CS Type #5
A worker was trapped under a piece of machinery (2000lbs+) in a containment vault. Teams used rescue airbags and cribbing to raise and extricate the individual from under the object before completing a low-point confined space rescue from a vertical-entry confined space.

Station #7 – CS Types #1 & #3
Report of a worker down in a low O2 atmosphere in a boiler expansion tank. Teams were forced to ascend a vertical temporary ladder approximately 10 ft. inside a 24-in. tube to access the individual while wearing SAR due to low levels of oxygen.

Station #8 – Individual Performance Evaluation (IPE)

Individual team members were evaluated on their ability to perform patient packaging, knots, rigging, and mechanical advantage.

Station #9 – Team Performance Evaluation (TPE)

Teams moved a patient along a multi-stage track referred to as the "Yellow Brick Road.

TM

" This scenario requires the teams to perform different packaging, raising and lowering techniques in order to move successfully to the next problem-solving station.

Scoring was very tight this year with all teams scoring between 85% to 90% overall. Roco scoring is based on the following: 90% and above "superior rescue team;" 80%-89% "excellent rescue team;" and 70%-79% "capable rescue team." Scores below 70% require the teams to redo the scenario once it is critiqued and any safety concerns are addressed.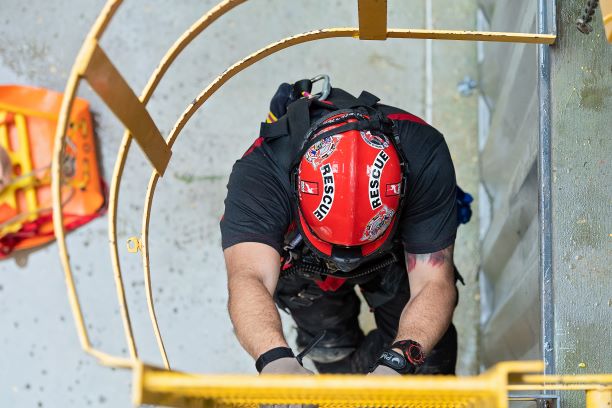 We also had numerous observers at this year's Challenge both from the municipal and industrial sectors. They reported that they were able to see "first hand" the benefits of Rescue Challenge, and that they are planning on sending teams for next year's event.
One observer commented that the format and location allowed teams to get out of their comfort zones and have a good look at how they would respond to an actual incident at their facility.
Some of the exceptional performances this year included:
Shell-Convent, LA: Overall highest average of 90% for all scenarios.
Valero-Wilmington, CA: 1st place IPE station.
CF Industries-Donaldsonville, LA: 1st place TPE station.
Two Louisiana teams (International Paper-Bogalusa and Shell-Norco) tied for "Top Score" on a single scenario scoring 490 out of 500 possible points.
If you missed this year's
Rescue Challenge
, join us next year on
October 23-24, 2019
, in Baton Rouge. Every year our instructors devise new surprise obstacles to challenge teams with hurdles they've never tackled before.
Is your team "Rescue Challenge ready?"
1

OSHA 1910.146 Permit-Required Confined Spaces
1910.146(k)(2)(iv) Ensure that affected employees practice making permit space rescues at least once every 12 months, by means of simulated rescue operations in which they remove dummies, manikins, or actual persons from the actual permit spaces or from representative permit spaces. Representative permit spaces shall, with respect to opening size, configuration, and accessibility, simulate the types of permit spaces from which rescue is to be performed.



2

NFPA 1006 Technical Rescue Personnel Professional Qualifications
1.2.6* Technical rescue personnel shall remain current with the general knowledge, skills, and JPRs addressed for each level or position of qualification. Technical rescue personnel shall remain current with technical rescue practices and applicable standards and shall demonstrate competency on an annual basis.