Rescue Airmen Angle for New Rescue Techniques
1/21/2011 - CAPE CANAVERAL AIR FORCE STATION, Fla– by Staff Sgt. Leslie Kraushaar / 920th Rescue Wing Public Affairs

What do you do with an empty, 300-foot tall, metal building that, at one time, was used to build Titan rockets?

Air Force Reserve pararescuemen (PJs) and combat rescue officers (CROs) from the 920th Rescue Wing, Patrick Air Force Base, Fla., found a way to put it to good use which included ropes, pulleys, climbing gear, helmets, gloves, and lots of sweat.

Dressed in air battle uniforms – tactical vests, body armor, radios and ballistic helmets – that added weight and limited mobility, the pararescuers assumed the task of hauling a "survivor" up-and-down the steel platforms, that at one time held a Titan Rocket.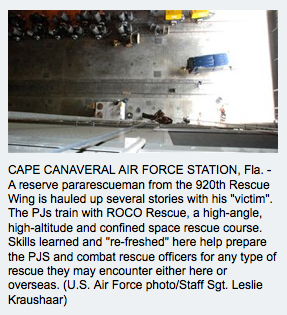 Rescuers, active duty and reserve, are attending a two-week course, Roco Rescue, held here that hones their rescue skills in a not-so-ordinary way.

"We simulate anything – any type of situation that these guys may find their selves in and have a victim to rescue," said Mr. Ishmael "Ish" Antonio, tactical program manager and instructor for Roco Rescue.

A retired PJ himself, Mr. Antonio travels all over the country with his team of instructors to "refresh" the rope skills of PJs and CROs.

"We don't tell them how to do their jobs – this is just a refresher for them. These are perishable skills, ones that must be maintained," said Mr. Antonio.

As the first scenario unfolds, it's clear the Rescuers have some work ahead of them – this is where it gets sweaty.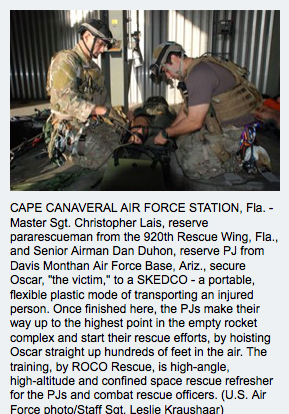 Leaving a 220 pound dummy on the concrete floor of the complex, the PJs, CROs and instructors, make the climb up the metal staircases, stopping at about 315 feet or so above the ground.

Then the clock starts – first, one PJ rappels down to the "victim" to package him up for hoisting; second, the other four or five team members make up a rope and pulley system from the gear they have on them; third, the PJs and CROs then start slowly hauling up the PJ and "victim" by heaving on the pulley systems and rope systems they made; fourth, pull the PJ and "victim" to the safety of the steel platform.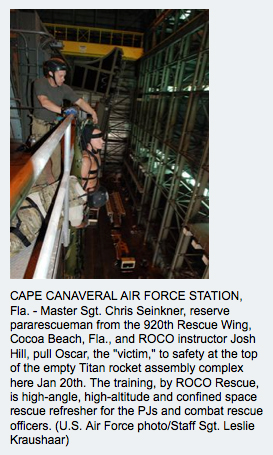 As one team finishes this – a team several stories above them, starts to rappel a PJ to pick up where that team left off for the samegoal: to get the "victim" up to the highest point in the massive complex.

"You really learn how to use the tools in your pocket," said Tech. Sgt. Adrian Durham, reserve pararescueman with the 920th RQW. "Keeping everything as simple as possible is our goal here."

The ROCO Rescue course specializes in high-altitude, high-angle and confined space rescues. The use of the very tall building works well for them to hoist a PJ and "victim" up very high, severe areas.

This training is required for all PJs and CROs both active duty and reserve.

"We are considered rescue technicians," said Capt. James Sluder, reserve combat rescue officer with the 920th RQW. "This course and our knowledge of ropes give us the credibility to be able to come in and do the rescue in a timely, safe fashion."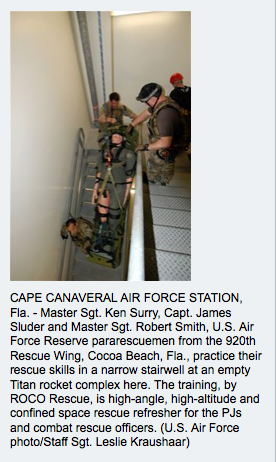 Using this training comes in handy with deployments always looming in the future and the humanitarian rescues that can happen at any time. In fact, this exact training was put to use during their last deployment in Afghanistan where they had to extract and save over 300 Afghan Nationals from buried vehicles after an avalanche swept away a road last year. "You never know what you're going to get until you get there," said Mr. Antonio.

The PJs and CROs are a unique group. Their knowledge of ropes sets them apart from the other Special Forces entities and allows them to perform their duties in technically challenging areas, such as mountains, ravines, rivers and, in some cases, industrial areas, said Mr. Antonio.

"You have to be able to think quickly in these situations," said Sergeant Durham. "Time is always against you and the best protection from being killed is speed."

The 920th RQW is an Air Force Reserve Command's Combat-Search-and-Rescue Unit. There are two geographically separated units, each with their own Guardian Angel Weapons System (CROs, PJs and search, evasion, resistance, escape specialists) at Davis Monthan Air Force Base, Ariz. and Portland International Airport, Ore.

The wing is comprised of 1,500 Airmen who live by the motto… "These things we do, that others may live." These rescuers are prepared to go anywhere at any time. According to one of the Pararescuemen, "Our mission tasking is on short notice, we go anywhere. In 72 hours, we'll be wheels up, ready to go anywhere."