Ratqa Rescue Team's Commendable Rescue Effort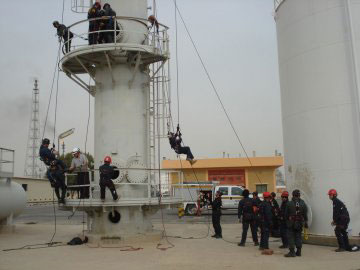 Since 1999, Roco has had the opportunity to train and equip rescue teams in Kuwait. The first team that we trained was the Kuwait National Petroleum Corporation (KNPC) Fire Officers that were assigned to three refineries located south of Kuwait City. In 2001, Ratqa Contracting was tasked with providing a Technical Rescue Team at the same refineries and Roco provided the Technician Level training for this new team.

The Ratqa Rescue Team is comprised of contracted Filipino's with the oversight of a Kuwaiti Rescue Officer. Management is committed to making sure the team receives Rescue Technician recertification every two years from Roco.

Two of our instructors from New Mexico, Tim Robson and Rich Pohl, have been the predominant instructors for this 19 member team over the years. Both agree that this is one of the most competent and dedicated rescue teams they have ever taught.

On a recent recertification trip, Rich and Tim were made aware of an event by Lead Rescue Officer/Coordinator Mohammed Al-Raqum and Fire Officer Khalid Al-Habri. Both officers wanted to recognize the efforts of the team for an exemplary response to an unfortunate event. Both Rich and Tim thought this would be the perfect forum to recognize this excellent Rescue Team.

In October 2011, the team was responsible for the removal of 4 victims that had succumbed to H2S in a PRCS that was 15-feet deep by 20-feet wide. The space was extremely congested and had over 15 different process lines. It included a 5-ft diameter by 20-ft high tank. The workers had originally entered the space to remove a skillet blind when there was an accidental release of H2S. During the investigation, it was determined that KNPC policies and procedures had not been adhered to and the entry team did not have a permit nor did they perform atmospheric monitoring prior to entering the space.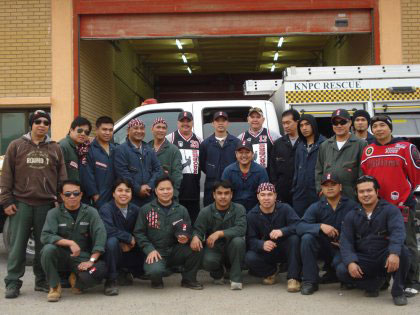 The Ratqa Rescue Team on duty at the time of the incident was located approximately 10 minutes away at a neighboring refinery. Immediately, the Rescue Team Leader terminated their current standby operations and responded within 6 minutes to the scene by utilizing a "short cut" which minimized response time by 4 minutes.

Upon arrival, the Rescue Team did a scene size-up and then created a response plan with the Rescue Officer, which took approximately 3 minutes (atmospheric readings detected 120 ppm of H2S). Two vertical hauling systems were anchored, and Rescuer 1 donned an SCBA and made entry. Three victims were removed within 6 minutes via tied full-body harnesses and were found to be pulseless. Because of this, the Rescue Officer and Rescue Team Leader decided to convert to a "body recovery" mode for the 4th victim. Rescuer 1 was relieved and sent to rehabilitate. Rescuer 2 donned an SCBA and made entry into the space. Considerable time was needed to extricate the 4th victim due to numerous process lines that ranged in diameter from ½" to 4 inches. From initial dispatch to termination of recovery took 51 minutes. In addition, the outside temperature was 101 degrees Fahrenheit at the time.

Rescue Response Timeline:
Initial Dispatch to arrival on scene – 6 minutes
Scene Size-up / Hazard Recognition / Rescue Plan – 3 minutes
Rescuer 1 enters space and removes 3 victims – 6 minutes
Rescuer 1 exits space / Response-mode revised to Recovery mode– 21 minutes
Rescuer 2 enters and removes entrapped 4th victim – 15 minutes
Outside Temperature: 101-degrees F
Overall Time: 51 minutes

We commend the team for its rescue response capabilities and for dealing with this unfortunate incident in such a timely and professional manner. It has been our pleasure to work with these emergency responders over the years.