Roco QUICK DRILL #11 - Patient Packaging (Single Rescuer)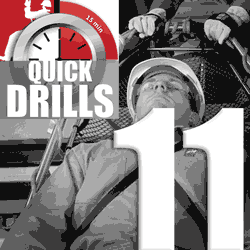 One of the skills that separates a good team from a great team is patient handling; how quickly and efficiently a patient can be packaged for movement. Patient packaging and lashing is one area that can save a lot of time during a real rescue. This becomes even more critical when rescuers are wearing SCBA. Good patient packaging skills can significantly reduce the time rescuers and the patient are exposed to hazards.

Here's the drill for patient packaging with a single rescuer:

1) Lay out a main line and safety line system with needed materials to attach to a litter for both vertical and horizontal movement as well as for taglines and attendant.

2) Lay out the necessary equipment to lash and build both vertical and horizontal bridles for a given litter. Make sure it is laid out the same way for each participant.

3) Properly place simulated patient/manikin in litter.

4) Tell participant what packaging system is to be built. Example: Sked vertical with attendant or stokes horizontal with taglines.

5) Log the time it takes for each team member to package the patient, build a bridle and make main and safety line connections.

6) Once the team member is finished, inspect the system for accuracy and correct any mistakes. Discuss the technique used and what can be done to decrease the time needed to complete the system. Possible areas to decrease times include: (a) enhancing the individual's skill level; (b) streamlining the order in which the packaging was completed; or (c) considering pre-rig options for the litter to save time during a real rescue.
7) Repeat the drill alternating with vertical and horizontal rigging and the use of tagline and attendants. This drill can also be extended to backboard lashing, short spine immobilizers or webbing hasty harnesses.

Some type of patient packaging is going to be involved in every rescue scenario where a patient needs to be extricated. This could be from a confined space, high angle environment, or low angle/low slope. Being proficient in packaging is critical for rescue efficiency as well as overall patient care. Practice often!