Petzl RECALL
We have learned that Petzl America is recalling about 375,000 shock-absorbing lanyards that were sold worldwide beginning in 2002, according to an announcement on July 12 from the Consumer Product Safety Commission. Consumers are advised to stop using the devices immediately, and contact Petzl for more information.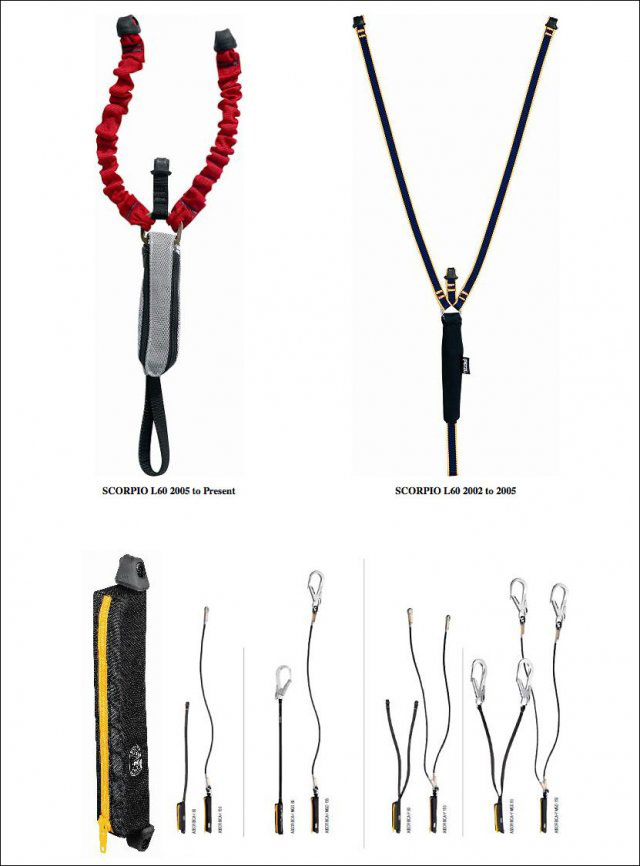 Petzl America Inc. has voluntarily recalled about 375,000 Scorpio and Absorbica shock-absorbing lanyards that have been sold since 2002, the U.S. Consumer Product Safety Commission announced July 12. Some of the lanyards are missing a safety stitch on the attachment loop, which could cause the lanyard to separate from the climbing harness, the posted announcement states. No injuries have been reported in the U.S., but one fall injury in France has been. Consumers should stop using them immediately; CPSC notes that it is illegal to resell or attempt to resell a recalled consumer product.

The lanyards were made in France. All Scorpio and Absorbica lanyards manufactured before May 2011 are included. Scorpio lanyards manufactured between 2002 and 2005 with model numbers L60 and L60 CK, which are yellow and blue, Y-shaped lanyards with yellow stitching on both ends, connected by a metal O-ring to one end of a blue pouch containing the tear-webbing shock absorber, are included. The pouch has a tag on it with the word "PETZL" in white letters, and the other end of the blue pouch has a blue and yellow webbing attachment loop that connects to the climbing harness. Scorpio lanyards manufactured between 2005 and 2011 are model numbers L60 2, L60 2CK, L60 H, and L60 WL. They are red, Y-shaped lanyards connected by a black metal O-ring to one end of a grey zippered pouch containing the tear-webbing shock absorber. The other end of the pouch has a black webbing attachment loop that connects to the climber's harness.

Absorbica lanyards included in the recall have model numbers L70150 I, L70150 IM, L70150 Y, L70150 YM, L57, L58, L58 MGO, L59, and L59 MGO. They have a black zippered pouch with yellow trim and the Petzl logo on the side and a tear-webbing shock absorber accessible through the zippered pouch. The pouch has a connector attachment on one end and a connector attachment, a single lanyard, or a Y-shaped lanyard on the other end. Authorized Petzl dealers in the United States and Canada sold them from January 2002 through May 2011.

For a free inspection and replacement, contact Petzl America Inc. at 877-740-3826 between 8 a.m. and 5 p.m. Mountain time weekdays or visit Petzl's website.