Is the Petzl Maestro Good for Industrial Rescue?
By Brad Warr, Roco Rescue Chief Instructor
Question: "I noticed that some mountain rescue teams are making the switch to the Petzl Maestro descent device – is this something an industrial rescue team should consider?"
Thanks for the great question. It's been almost a year since the Petzl Maestro has been on the market, and we have noticed a big uptick in back country teams adopting the Maestro as their primary anchored descend control device. In fact, many of our instructors' own home-based rescue teams have already made the switch to the Maestro and many of these teams respond to mountain rescue calls.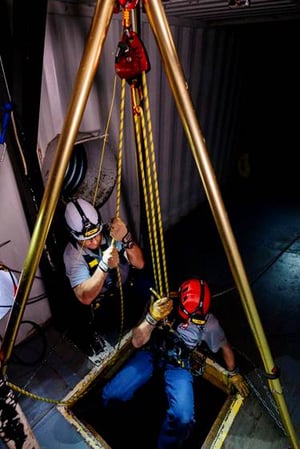 To decide whether the Maestro would be a good choice for an urban/industrial rescue team, let's look at why a mountain rescue team would choose the Maestro. Mountain and back country rescue teams covet light weight, easily transportable equipment. Smaller diameter ropes, lightweight carabiners, pulleys and rope grabs are the norm when you must pack in your own gear. Anyone that has hefted a Petzl Maestro would never consider the device to be petite. At nearly two and a half pounds, the device is far from the featherlight kit usually found in back country response packs. Yet despite the rotund nature of the device, it continues to find its way into the equipment caches that ride on the shoulders of mountain rescue teams. That says a lot about how these teams feel about the Maestro's performance.
The "intuitive nature" of the Maestro is one of the descender's strong suits. This is also one of the reasons we chose it for use in our new entry level Roco Urban/Industrial Rescue Essentials™ course. Often attended by brand new rescuers taking their first steps into technical rescue, the Maestro was the perfect fit. At the completion of the first 50-hour course, all Roco instructors commented on how much easier it was to train new rescuers to use the Petzl Maestro compared to other popular descent control devices. It allowed our students to progress quickly while increasing their safety as well.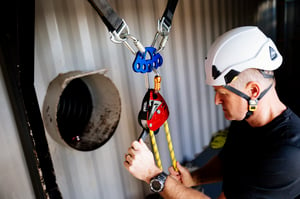 Mountain rescue teams are also very aware of the corollary between "friction management" and system efficiency. When you are working in small teams with potential for lots of friction running over rock and dirt, a device that can greatly increase friction reduction during hauls is very appealing. The Maestro delivers friction reduction in spades. The faceted sheave in the Maestro delivers up to 95% pulley efficiency.
The Maestro's ease of use, consistent control and efficient operation were a few of the reasons we chose it for our courses. While Roco's advanced classes delve into other personal and anchored descenders, we feel the Maestro gives the highest likelihood of success for new and experienced rescuers. The Petzl name behind the device gives us confidence in its dependability.
As an Urban/Industrial rescuer, we can take the experiences of top mountain rescue teams in the country to heart. If they are willing to carry the extra weight of the Maestro based on its performance, then perhaps we should carefully consider the Maestro as our primary choice for descent control.
To learn more about the Petzl Maestro, read our full review or join us for one of our newly designed rescue courses for 2021. Roco's new Urban/Industrial Rescue Essentials™ 50-hour entry level course strives to create rescue team members that can contribute from Day 1.
Check out our current open-enrollment course schedule for upcoming training dates, or review our complete course descriptions to find the right course for your needs.

Brad Warr is a Chief Instructor for Roco Rescue and a Captain at the Nampa Fire Department. Brad joined Roco Rescue in 2003, teaching a wide variety of technical rescue classes including rope rescue, confined space rescue, trench rescue, and structural collapse. Brad became a firefighter for the Nampa Fire Department in 1998 and was promoted to Captain in 2006. Before joining the fire department, Brad worked for three years as an Emergency Response Technician for a large computer chip manufacturer in Boise, Idaho, where he was responsible for OSHA compliance, emergency medical response, confined space/rope rescue response and hazardous materials response.