OSHA-1926 Dockside Rescue Requirements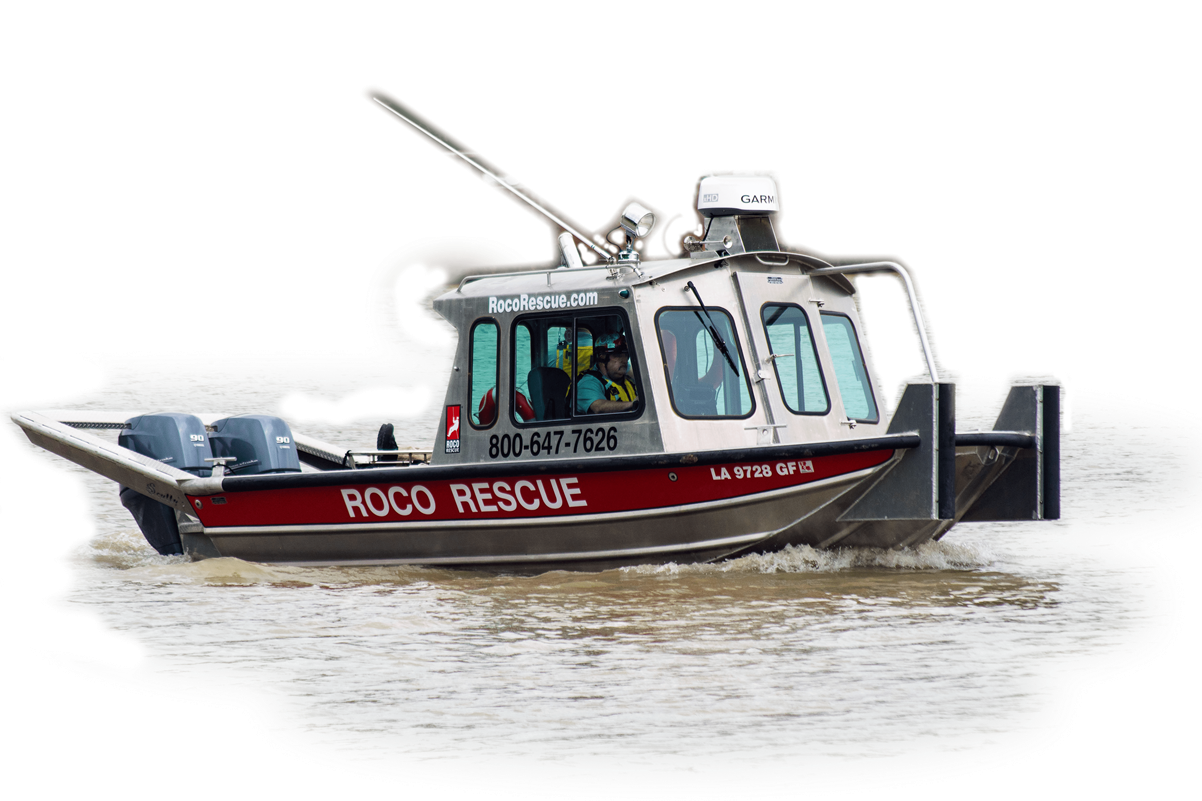 Roco now offers marine rescue standby services for the Baton Rouge-New Orleans industrial corridor. As with other Roco services, our personnel are experienced emergency responders trained to provide lifesaving skills when it matters most.
All Roco marine standby personnel are First Responder/ CPR/First Aid trained, and most are EMT's. Our boats are fully equipped with First Aid kits, AEDs and O2 for prompt emergency care.
For construction work over or near waterways, OSHA 1926.106 requires certain safety precautions – including the timely response of a boat to rescue a fallen worker. In fact, according to one OSHA LOI, the retrieval of an employee from the water is required no more than 3 to 4 minutes from the time they entered the water. And, depending on hazards present, it could be required even sooner.
Section 1926.106(d) states:
At least one lifesaving skiff shall be immediately available at locations where employees are working over or adjacent to water.
The intent of the paragraph is to ensure prompt rescue of employees that fall into the water, regardless of other precautions taken to prevent this from occurring. Thus, OSHA requires that employers supply a skiff to affect a prompt water rescue. As a skiff supplies a backup to potential failures of fall protection devices, the use of fall protection systems is not a substitute for the skiff.
The requirement in 1926.106(d) addresses the hazard of falls that may occur in the event of a failure of the operation of fall protection devices or a lapse in their use. An employer is also required to comply with all other applicable standards including, but not limited to, the requirements that an injured employee be treated by medical personnel or an employee certified in first aid within 3 to 4 minutes from the time the injury occurred. This could mean that first aid treatment would have to begin in the lifesaving skiff or boat.
For more information on this service, please contact Roco at 800-647-7626 or email info@rocorescue.com.
Resources: OSHA 1926.106 as well as Letters of Interpretation (LOI's) dated 8/23/04; 12/5/03; 12/6/91; and 6/13/90.
NOTE: In this article, Roco cites OSHA 1926.106 which applies to construction activities while working over or near water. For other industries such as shipyard (Part 1915), marine terminals (Part 1917), or longshoring (Part 1918), please refer to those standards for specific requirements, particularly for PFDs and rescue skiffs. OSHA does not require rescue skiffs for all industry activities. However, keep in mind, OSHA sets minimum standards. And, remember, there's a safe way and a safer way!