New Items for Your Rescue Toolbox: Petzl ID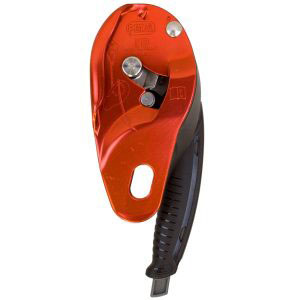 By Pat Furr, Roco Chief Instructor/Technical Consultant

OK, who has not had the opportunity to use the Petzl ID? The ID is one of the most versatile bits of rescue hardware that I have in my kit. It comes in both NFPA G and L(*) rated versions and provides the closest thing to a "Jack of all Trades" capability that I can think of.

It was originally designed as an evolutionary improvement to the Petzl Stop and Gri Gri and as its name suggests, it was intended to be an "Industrial Descender" thus ID.

In very short order it became apparent that this device could do so much more than provide an auto stop capability during rappels.

The "auto stop" feature also acts as an instant progress capture, or ratchet while pulling rope through the device in the direction opposite that it was designed to control friction. This feature provides the option of using the ID as the first change of direction and ratchet in mechanical advantage systems. Granted, the bobbin of the ID is not nearly as efficient as a true pulley, but the efficiency gained by having virtually every fraction of an inch of progress captured and the ease of changing over from a haul to a lower far outweighs any efficiency loss at the bobbin.

My go-to system for situations where I need to change over from lowers to hauls, or from hauls to lowers, is the ID with the addition of a cam, a biner, and a pulley (Omni-Block), which gives me an easily assembled 3:1 Z-Rig. If I need more MA ratio, I just use a double sheave pulley at the load end and an additional single sheave pulley at the anchor end -- now I've got a 5:1 MA.

In addition to the use of the ID as the foundation of MA systems, it can also be used for short ascents, and the manufacturer is now allowing it to be used as a belay device. The ID-L still retains the quick load side plate that allows it to remain anchored while loading or unloading the rope from the device.

If you have an extra 5 minutes, watch this video where Roco Director of Training, Dennis O'Connell shares some tips about using the Petzl ID as a part of your confined space rope rescue equipment kit.

(*) Note: The 2012 edition of NFPA 1983 has changed its Light Use (L) designation to Technical Use (T).