Manslaughter Charges in Trench Collapse Death
BRECKENRIDGE, CO – The owner of a Vail construction company facing felony manslaughter charges has surrendered to local law enforcement. This is related to the findings of a federal safety investigation into a deadly trench collapse in November 2021. A worker installing residential sewer pipes suffered fatal injuries when the trench around him caved in. The collapse resulted from deteriorating conditions at the project, which could have been prevented by using legally required trench protection systems.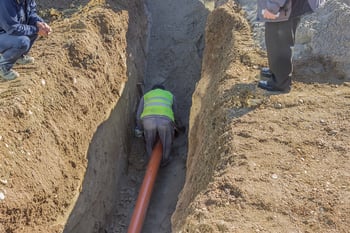 OSHA issued three willful citations for not ensuring the excavation was inspected by a competent person, failing to instruct employees on the recognition and avoidance of unsafe conditions and not having a trench protective system in place. Investigators also issued an additional serious citation for not having a safe means of egress within 25 lateral feet of employees working in a trench.
"There is no excuse for failing to protect workers when federal requirements clearly outline and require safety measures proven to save lives," explained Regional Solicitor of Labor John Rainwater in Dallas. "Today's arrest cannot recover a life lost in this senseless tragedy but it is a step toward seeking justice for the family."
Collapses and cave-ins pose the greatest threat to trenching and excavation workers. In 2022, OSHA reported that at least 39 industry workers died, 22 of them in the first six months of the year. The Bureau of Labor Statistics reports that 166 workers died in trench collapses from 2011 to 2018.
"Let this tragedy serve as a reminder to other employers who willingly fail in their responsibilities to keep workers safe that the U.S. Department of Labor will exhaust every resource to hold employers accountable for protecting workers, including recommending criminal prosecution."
OSHA has a National Emphasis Program on trenching and excavations. Trenching standards require protective systems on trenches deeper than 5 feet. Additionally, trenches must be inspected by a knowledgeable person and have a safe means of entering and exiting prior to allowing a worker to enter.
Additional Resources
If you're concerned that your rescue service may not be adequately prepared, give us a call or check out these resources for more information on how to keep you and your personnel safe around trenches.