Manhole Rescue Effort Ends in 2 Deaths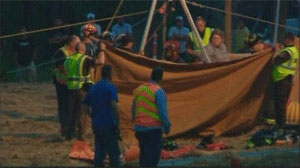 Authorities are investigating the suffocation of two North Carolina workers in a water system manhole—one of whom apparently died trying to rescue the other.

The victims were employees of Triangle Grading and Paving Inc., a Burlington NC-based utility contractor that has been cited dozens of times for federal health and safety violations.

In 1997, a company employee burned to death on a job. Luis Castaneda Gomez, 34, of Durham, and Jesus Martinez Benitez, 32, of Clayton, perished in the accident about 6 p.m. EDT Tuesday (June 7) in a section of water system under construction off U.S. 70. The men had been laying water lines in the system, near the Durham-Wake County line.
Lack of Oxygen Note

North Carolina's Division of Occupational Safety and Health is investigating.

Officials are not sure what happened, but the local fire department and county hazmat team that responded to the scene found that the 12-foot-deep hole had insufficient oxygen to sustain life, said Capt. Don Ladd of the Durham County Sheriff's Office. They donned breathing equipment to bring the men out.

Rescue workers recover the bodies of two men who suffocated in a manhole in Durham, NC. "What you've got down in the bottom [of the hole] is any number of things—whatever is connected to that manhole, could be methane gas or could be any number of things—that would cause oxygen deprivation," said Allen McNeely, deputy director of NC DOSH.

The men were in a shaft that goes down 12 to 14 feet, then leads into a 4-by-6-foot bunker where several water pipes come together, Ladd said.


911 Call Released

Authorities believe that either Gomez or Benitez was having trouble breathing, or was unconscious, in the hole and the other went down to help him before he, too, suffocated.

A third worker at the site flagged down a passing motorist to call 911. According to a tape of the 911 call, the pair had been in the hole for about 15 minutes and were unconscious when the motorist arrived.

The third worker said he had dropped off Gomez and Benitez 30 to 45 minutes earlier to retrieve some equipment and returned to find both men in the shaft, not moving, Ladd said.

The men were pronounced dead at the scene.


Company Responds

Triangle Grading & Paving installs large and small sanitary sewer, water lines, storm sewer, pump stations and vacuum sanitary systems. The company released this statement Wednesday:

"Triangle Grading and Paving grieves with the families of Jesus Martinez and Luis Gomez, two valued members of our utility division who lost their lives in an accident at one of our projects yesterday.

"We take great pride in our safety and education programs at Triangle. We do everything in our power to prevent injuries and deaths in a dangerous occupation. Over the past three years, we have spent hundreds of thousands of dollars to ensure the safety of hundreds of employees.

"Yesterday, a deadly incident occurred in spite of those efforts, and we are now cooperating with the North Carolina Department of Labor's Occupational Safety and Health Division's investigation of this matter and conducting our own investigation as well. Because our investigation is ongoing, we will not have further comment about this today."


Extensive OSHA History

Triangle Paving has an extensive record with the Occupational Safety and Health Administration. The company has been cited 68 times for violations since 1997—most of the charges, if not all, significantly reduced in severity and monetary penalties before settlement.

The company settled three cases with OSHA in the first three months of 2011, two cases in 2010, and four in 2009. Still pending is a 2010 case involving one willful and two serious violations. A willful violation is OSHA's highest level of infraction and carries major penalties.

In that case, the company was fined $57,000 for failing to protect workers from cave-ins while they labored in an eight-foot trench at a project on Fort Bragg. The fine has tentatively been reduced to $40,000, but the case remains open.

"Triangle Grading and Paving has a history of trenching violations and is fully aware of required safety standards to protect its workers," Suzanne Street, OSHA's area director in Raleigh, said last year in announcing the fines.

"This employer continues to put workers at risk by ignoring these safety standards."

In 1997, an employee of Triangle burned to death after a hydraulic line on the bulldozer he was operating ruptured and the fluid triggered a fire that engulfed the cab. The company paid $3,300 in fines for poor maintenance, infrequent inspections, and inadequate training.


Record Not Checked

Asked by a local NBC affiliate how Triangle continued to operate with such a checkered safety record, a North Carolina Department of Labor official replied: "We're not in the business of putting people out of business, but we are in the business of making sure that it's a safe working environment that workers work in."

In Tuesday's accident, DOL is investigating whether the company followed training, equipment and other requirements for working in enclosed spaces with poor ventilation, said department spokesman Neal O'Briant.

Jerry Morrone, Durham Engineering Supervisor, told the NBC affiliate that the city had not known about Triangle's safety record. Morrone said his department had checked "at least three" references but had not checked DOL records. He said none of the references mentioned Triangle's safety record.

"It is a tragedy," McNeely told the Charlotte News Observer. "If it turns out that it was one worker going in, and the other went in to save him when he got no response, then it's almost what you'd expect a buddy to do."