Real Rescue: Mandan Refinery Technical Rescue Team
The Mandan Refinery in North Dakota is the biggest refinery in the state. The site and its leadership take its rescue program seriously, having made significant investments in rescue equipment and training for employees. This paid off recently when an employee's previous knee injury decided to rear its ugly head and lock up 30' off the ground, requiring technical rope rescue skills to safely move the employee to ground level.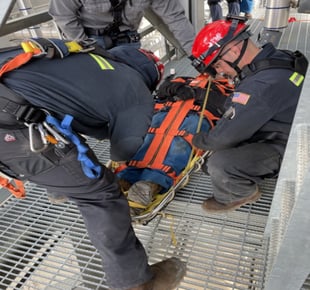 Mandan Refinery Fire Chief Jamie Reinholt was in the area when a radio call came in for a response to assist the employee. He arrived to find that the employee was on a 30' elevated unit deck and was unable to straighten out their knee due to a prior injury. Chief Reinholt quickly determined that a limited rescue response would be needed to lower the patient to the ground.
Late morning temperatures were in the 50's, but high winds in the 30-mph plus range added to the challenge. Ten rescue team members ultimately responded to the scene and were assigned to patient packaging and rigging teams.
The packaging team assisted the patient into a horizontal stokes basket, where they were secured to a backboard using Tiger Straps. Because the patient was unable to straighten their leg, a rope bag was used to fill the void under the knee, placing the patient in a position of comfort. A Roco horizontal stokes bridal was connected, readying the patient for lower.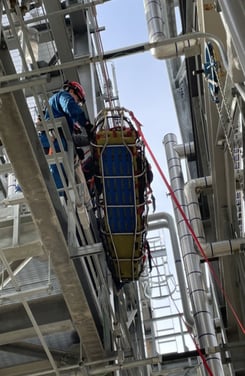 The rigging team accessed the deck above to set up a mainline and belay system. The anchor location provided a ready-made high point to assist with loading the patient over the edge. The rescue involved deploying the tried-and-true CMC MPD descent control device paired with an anchored Petzl ASAP, utilizing the rescue-rated Petzl Asap'Sorber Axess deceleration device. Tag lines were added, and the experienced rescue team lowered the patient to the ground where he was driven off-site for medical follow-up.
The site did an on-scene tailboard review of the rescue, which led to ongoing planning of similar rescues.
Roco Rescue is honored to present the Mandan Refinery Technical Rescue Team with the Roco Rescue "Real Rescue" Award.

Roco

Would Like to Recognize Your Outstanding Rope Rescue!
Nominate your rescue team so we can recognize your professional efforts with a Roco Outstanding Rope Rescue Plaque. All reports that we receive highlighting an actual rescue event will be considered.

Click here to download the Real Rescue Form. You can then email form to info@RocoRescue.com.