Chad Roberson Named Interim Director of Training
"My drive is to help us get better."

Growing up in a small northern Louisiana town, Chad Roberson admits he was "around the fire service a lot." His father was a volunteer firefighter and from a young age, Chad understood what a life of service looked like. From age 16, Chad served as a volunteer firefighter at the same department where his father worked. After earning his bachelor's degree from Louisiana State University, Chad became a full-time firefighter with the St. George Fire Protection District.

Chad excelled in the Fire District, working his way up to Captain, District Chief, and eventually Assistant Chief – the role he serves today. He also returned to school for two additional degrees: an associate degree in Fire Science from Louisiana State University and a Masters in Executive Fire Service Leadership from Grand Canyon University.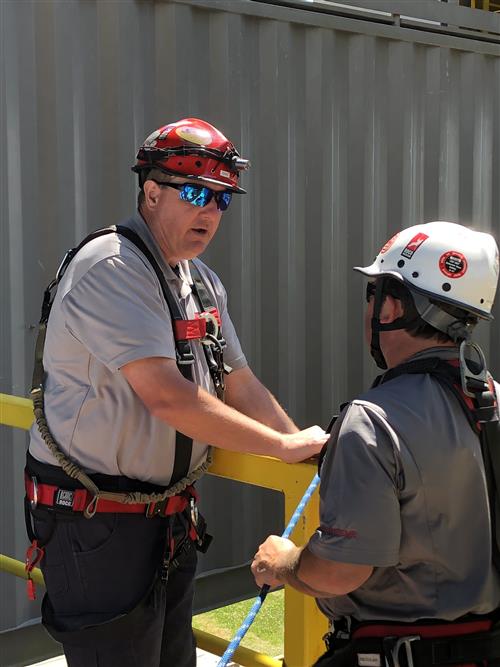 Chad's first introduction to Roco Rescue was as a student in the mid-1990s, when he took a training course funded by his fire department.

After taking a few more courses, his instructors invited him to apply for a job, and he began his career journey with Roco Rescue working part-time on one of the company's contracted safety and rescue teams.



In 2001, Chad completed an instructor development course and has been teaching for Roco Rescue ever since. In 2007, he was promoted to Chief Instructor and now serves as the Interim Director of Training.



A Career Steeped in Service

In his role at Roco Rescue, Chad draws heavily from his experience with the St. George Fire Protection District, where he leads technical rescue operations, manages vehicle, trench, structural collapse, rope, confined space, flood water, and boat rescue, as well as hazardous materials training. His exposure to technical rescue on the municipal side has benefitted his work at Roco Rescue. In his new role as Interim Director of Training he oversees all aspects of the training program, including instructor recruitment and development, curriculum updates, assessment and evaluation of both new equipment and new rescue techniques, and modifications to the Roco Training Center. He also spends a significant amount of time speaking with customers about course content, private training and custom classes.

His experience with the Fire District has also enhanced his people management skills. "When it comes down to managing people, it doesn't matter what industry you're in," he says. "Management, leadership and supervision all go hand in hand. I've had a number of great mentors and role models, and the things I've learned at the fire department have been very useful to me at Roco Rescue, and vice versa."

It is especially important, he says, to develop the ability to teach to a broad range of learning styles. "Everybody has a different learning style," he says. "To be a successful instructor you have to understand this and be able to step back and think of different approaches; you've got to be versatile in your communication style and method."

"Our instructors at Roco Rescue are especially skilled at recognizing and adapting to each student's learning style," says Chad, "and this is a key factor that sets us apart. It exemplifies how we care about our students and work hard to help them become great rescuers. It starts at the top, with the leadership style and the example Miss Kay sets. We treat everyone like family, whether we are training a team, doing a refresher course for a long-time customer, or providing a service at an industrial plant."

Chad also cites the instructors' willingness to encourage students to problem-solve and be versatile in their approach to performing a rescue, as something that differentiates Roco Rescue. "There are multiple ways to get things done," he says. "There is no one correct way to do a rescue. But you need to make sure it's an efficient process. We tell our students, 'this is just one way to get it done.' That sets us apart as a company as well."

His "Why"

When asked why he has devoted his entire career to rescue, Chad's answer is simple. "My drive is to help us get better," he says.

"In Louisiana, we've seen so many natural disasters. And when that happens, you really see the areas for improvement and the need to help people out. Managing the incidents and being involved in process improvement to make rescues more successful and efficient – that's my drive."

What's Ahead

Currently Chad's priority is to expand Roco Rescue's instructor base; a large part of his time is spent implementing strategies to search for and train the best of the best to join the team. He will also be playing a significant role in planning the annual

Roco Rescue Challenge

, a team performance evaluation in which rescuers put their skills to the test in a variety of realistic, hands-on scenarios.

Keeping up to date on developments in rescue technology and evaluating equipment to ensure it is optimized for both comfort and safety is one of the most critical parts of his job. "Technology is driving just about every industry worldwide, and it's no different in the rescue business or with the equipment we use," he says.

Finally, he is excited about finding new and better ways to listen to the voice of the customer in order to keep improving everything Roco does.

Chad is trained extensively in executive leadership and planning, technical rescue operations, hazardous materials management, and more. He holds a COSS (Certified Occupational Safety Specialist) certification and a CFO (Chief Fire Officer designation). He is a certified EMT and is certified by the American Heart Association in Basic Life Support. He received accolades from the St. George Fire Protection District as Chief Officer of the Year in 2016 and a Unit Commendation Award in 2014. He is also a sought-after speaker, having presented at first responder training conferences nationwide, and his work has been published in a variety of national publications.

In his spare time, Chad enjoys spending time with his two young sons, coaching their basketball teams, and taking them on trips to visit family. He attends St. Jude Catholic Church in Baton Rouge, and he is a big fan of the LSU Tigers.