Illinois Worker Drowns in Confined Space
As a rescuer, it's your worst nightmare. A person is trapped and the space is rapidly filling with water. That's what rescuers faced recently in Westmont, IL.
A public works employee became trapped in an underground vault that was rapidly filling with water due to a water main break.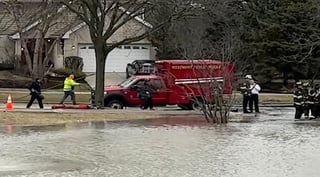 In a press release, the Village of Westmont said the worker was unresponsive when they were pulled from the underground water main vault at the intersection of 60th Street and Deming Place around 12:40 p.m., about an hour after first responders were called to the scene.
Nearby residents could only watch helplessly as a swarm of first responders mounted a desperate rescue effort.
"Everybody was running, frantic trying to get something done, doing what they were supposed to be doing. You could tell that it was, that it was pretty, an emergency situation from the very beginning," said Sue Jay, resident.
Lifesaving measures were administered and the worker was transported to Good Samaritan Hospital, where he was pronounced dead. The worker was identified by village officials as Matt Heiden.
"To lose somebody like that that you think is just going off to work for the day is sad," Jay said.
Officials said Heiden has worked for the village since 2019 and recently became a full time water maintenance worker. He attended Westmont High School, where he was a student athlete before graduating in 2020.
"Hard working, humble. He played baseball, and he was well-liked by his classmates, and his family is very admired by the Westmont community," said Principal Jack Baldermann.
Westmont officials released a statement expressing condolences to his family and loved ones. Flags were lowered to half-staff at the village hall. Baldermann said counselors will be on hand at the school in the morning.
An investigation has been launched into what happened and how Heiden became trapped.
Source: Eric Horng and ABC7 Chicago Digital Team.
See full story here: https://abc7chicago.com/westmont-il-news-public-works-worker-killed/12866995/