Honouring Those Who Serve…
Roco's Tim Armstrong (Roco Rescue of Canada) recently told us about a most worthwhile project for military personnel and first responders that's called Honour House. The first of its kind in Canada, Honour House is a newly renovated $4 million home that provides temporary housing for injured or disabled military personnel or first responders and their families while seeking medical care in the Metro Vancouver area.

Just so happens, Honour House is located in New Westminster, B.C., where Tim is currently the Fire Chief. According to him, "The citizens and surrounding departments have been very supportive of the project, because it truly is a way to help those who have been injured in the line of duty or while serving their country. When recovering from a serious injury or returning home after military service, it is wonderful to have a resource such as Honour House to rely on for support."

In fact, Honour House sounds very much like the special housing and support provided for the families of children receiving critical medical care at facilities such as at St. Jude's here in the US – but this home is for military forces and first responders – fire, police and emergency response personnel – who are injured in the line of duty. It's the first of its kind that we've heard about.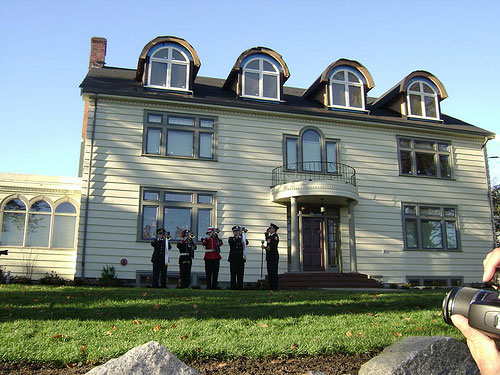 The idea for Honour House came about following a special benefit to recognize Canadian troops for their service in Afghanistan. It became apparent that special assistance was needed to those individuals returning home – especially those who were returning injured or wounded. It was determined that Canadian forces and first responders who were receiving care or rehabilitation in the Metro-Vancouver area medical facilities were experiencing difficulty in finding temporary housing for their families.

We salute Honour House of Canada – what an incredible way to honor (or honour) your country's military personnel and emergency responders than to provide assistance to their families while medical care is being provided.

The Honour House Society, an independent registered charity whose objective is to provide free interim accommodation for the families of Canadian Forces and first responders, is pleased to have met its goal of opening the first of its kind home for families of Canadian forces and first responders.
Fact: Canadian troops have served in Afghanistan since 2002, with more than 35,000 men and women having completed at least one tour of duty. More than 150 Canadians have been killed and over 4,500 have been injured.
Here's a great quote by Rick Hiller, Chief of Defense Staff… and we couldn't agree more!
"When a soldier steps on foreign soil in a high-risk environment, every single Canadian [or American] should be walking with him or her."~
Check out the Honour House's website.
You can also view the
YouTube video
to learn more about the Honour House.