Heat Is On…Take Action Now!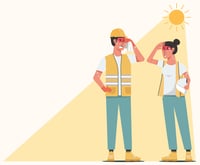 It's all over the safety news right now – heat stress is finally getting the recognition it deserves for the millions of employees who have to work out in the heat every day. As the heat wave continues, we've got to do a better job of taking care of our personnel and watching out for any signs or symptoms of heat distress.
The July/August 2023 issue of ISHN featured an article written by our own Chris McGlynn and Chris Warrick that explores what we can do to combat this dangerous hazard. Click HERE to read the original article.
Additional Resources