Hazcom 2012 & GHS: What Rescuers Need to Know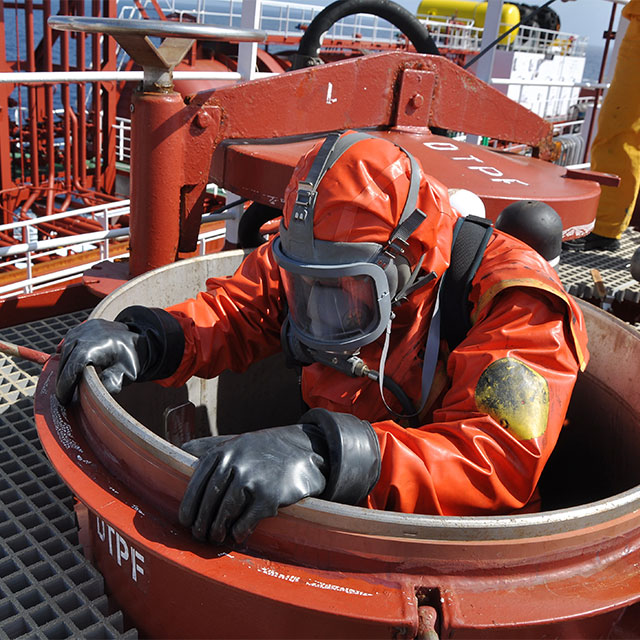 As an emergency responder, it is important to have a good understanding of the dangers and precautions regarding hazardous chemicals. Whether you're a member of an in-plant industrial team or a municipal fire department, chemical hazards are always a critical factor in emergency incidents. That's why it's imperative to identify any particularly hazardous chemicals in your response area. Learn as much as you can, before the emergency happens.

The Time is Now
The first requirement went into effect in December 2013, which means that workers who use hazardous chemicals must be trained to understand the new Safety Data Sheets (SDS), formerly known as Material Safety Data Sheets (MSDS). While employees must already have fluency, manufacturers of these products have until December 1, 2015, to switch over to the new format.

OSHA's HazCom 2012 standard (29 CFR 1910.1200) was revised to align with the Globally Harmonized System of Classification and Labeling of Chemicals (GHS). The changes make the information easy to understand across industries, countries and education levels. By adopting and enforcing one standard for labels and safety data sheets that accompany chemicals, employers, workers, health professionals and emergency responders will be better able to address the risks associated with these substances.

As in the past, the HazCom standard imposes certain requirements on manufacturers and importers of chemicals - as well as on employers whose employees can be exposed to chemical hazards in the workplace. The standard "applies to any chemical which is known to be present in the workplace in such a manner that employees may be exposed under normal conditions of use or in a foreseeable emergency."

Note: This article addresses rescue teams that are subject to Federal OSHA requirements or State Plans operated in lieu of Federal requirements. In states that are not OSHA State Plan states, rescuers employed by a state or political subdivision of the state may not be subject to these requirements.

Q&A for Rescue Teams
Is my rescue team required to meet the HazCom standard?
For rescue services or in-house rescue teams in certain types of industrial facilities, the answer is normally yes. HazCom requirements would apply because team members are working inside the facility and can obviously be exposed to chemical hazards under normal working conditions or in a foreseeable emergency. For others, however, what appears to be a simple answer may not be that simple.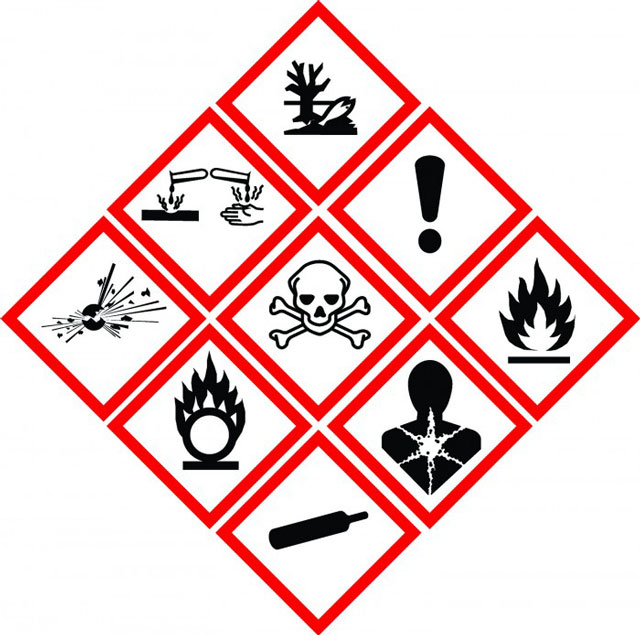 Is compliance required if we don't work around hazardous chemicals?
The simple answer would seemingly be no, but that answer can be, and likely is, incorrect. In fact, the rescue team often needs to look no farther than its own cache of equipment to find the "hazardous chemical." The reason the applicability of HazCom to rescue teams is often overlooked is because of assumptions that we make - in this case, rescuers often assume that the term "chemicals" means what we commonly think it means. But, as is often the case with regulations and statutes, words may be specifically defined to include or exclude certain things that common usage does not.
For example, under the HazCom standard, "chemical" means "any substance, or mixture of substances." "Hazardous chemical" means "any chemical which is classified as a physical hazard or a health hazard, a simple asphyxiant, combustible dust, pyrophoric gas, or hazard not otherwise classified."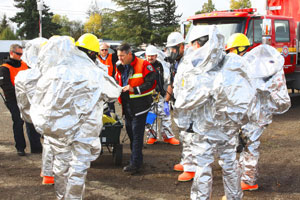 As explained by OSHA in its Guidance for Hazard Determination:

The definition of a chemical in the HCS [Hazard Communication Standard] is much broader than that which is commonly used. The HCS definition of chemical is "any element, chemical compound, or mixture of elements and/or compounds."

According to this definition, virtually any product is a "chemical." By this definition, it would mean that "air" is considered a "chemical" under the standard, and OSHA includes "gas under pressure" in its definition of "physical hazards." Consequently, as one example, the rescue team needs to look no further than its SCBA bottles or its air source for supplied air respirators and charged airlines to find a "hazardous chemical" for purposes of the HazCom standard. Even facilities with comprehensive HazCom programs sometimes overlook their rescue team's air sources in their programs.



As a rescuer, it's important to get familiar with the new formatting of Safety Data Sheets (SDS) and the GHS symbols now. Make sure to review these standards in their entirety as well as your organization's HazCom policies and procedures. You and your team will be more prepared as these changes are put into place.

Here's a quick guide to the new GHS symbols from OSHA, which will be required by June 1, 2015.

Note: These new OSHA pictograms do not replace the diamond-shaped DOT labels required for the transport of chemicals.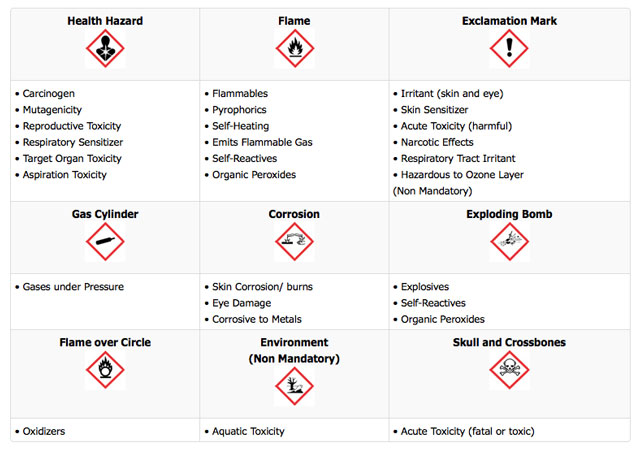 Resources:
National Safety Council's newsletter, "Safer Workplaces"

OSHA Fact Sheet – Hazard Communication Standard Final Rule

OSHA Quick Card – Hazard Communication Safety Data Sheets