Firefighter and Worker Die in Confined Space Incident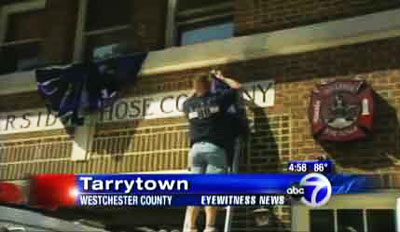 TARRYTOWN, NY (WABC) — A fire department official says oxygen levels were dangerously low in a manhole where a sewer worker and a firefighter died.

No cause of death has been established in Monday's deaths of sewer worker Anthony Ruggiero and Tarrytown firefighter John Kelly. At firehouses throughout Tarrytown, there are the ceremonial displays that no department ever wants to have to put up: black and purple bunting and flags at half staff.

Inside the headquarters there's a memorial for one of the fallen men, John Kelly. "Our prayers all go out to the families of these two men, who were doing their jobs," Tarrytown Mayor Drew Fixell said. "One of them a firefighter, acting heroic and trying to save the other one."

Ruggerio was trying to clear a backup of sewage as part of his full time job in the village's Public Works Department. He was overcome by fumes and collapsed. Kelly had tried to save Ruggiero, but also the fumes overwhelmed him as well.

Assistant Fire Chief John McGee said Tuesday that a hazardous materials team measured the oxygen level at 14 percent. The normal amount of oxygen in air is about 21 percent. He said he did not know if other, deadly gases were detected. Those are life threatening conditions that may have taken the men by surprise.

Village Administrator Michael Blau said neither of the men who died had put on a protective masks before entering the manhole. He said autopsies were planned. The deaths were being investigated by federal, state and local agencies.

"It's very, very sad," resident Susie Poore said. "I'm speechless, because…I don't know even what to say. I don't know what to say, other than I must have said 'Oh my God' 100 times already."

Both victims spent over 20 years as volunteer firefighters. Ruggerio was a supervisor in the DPW by trade. Kelly worked as a state Department of Transportation worker.